Europe's charter industry: Tui Travel, Thomas Cook Group and Monarch June 2012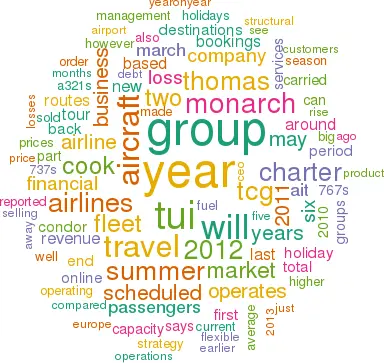 Europe's last "Big Two" tour operators — TUI Travel and the Thomas Cook Group — have just posted massive losses for the first-half of their financial years. Can these travel giants recover in the face of the continuing decline in the charter industry, or are we close to seeing the collapse of the All Inclusive Tour (AIT) market in its current form?
In our last look at the charter industry (see Aviation Strategy, July/August 2010), we reported on the optimism of the Big Two in the face of continuing evidence of the structural decline of the AIT market.
That structural decline has continued. As can be seen in the chart (below), UK charter passengers have continued to fall, although it must be noted that last year's total was only slightly down on the 2010 figure. But looking at the split of scheduled versus non-scheduled capacity offered by UK airlines (see chart, page 5), non-scheduled ASKs fell to 19% in 2011 – the first time it has ever fallen below the 20% level.
Of course the current double-dip UK recession is forcing people to spend less on foreign holidays in general and more on "staycations", and the European Travel Commission says in its Q1 2012 report that "the growth trend for UK outbound appears
Regardless of the UK economy at present, the fundamental reasons for the continued decline in the AIT market are not going away — LCCs, the internet and the disintermediation of the travel agent, whose role any competent computer user can replicate with ease.
The effects of those trends are all too obvious when looking at the financial results of what survives of the European charter industry (consolidated into two giants – TUI Travel and the Thomas Cook Group). While western tour operators traditionally post a loss in the cost-heavy first-half of the year, with most profit coming in the second half-year — coinciding with the summer holiday season — in the October 2011 to March 2012 period the "Big Two" reported stunning pre-tax losses of £1.2bn – almost double the combined losses they made in the 2010/11 half-year.
The Big Two say they are changing their strategies and business models away from mainstream AITs to higher margin specialist holidays, but this about-turn just might be be a case of "too little too late", given that the structural changes in the AIT market have been clear to all for at least five years.
TUI Travel
In the first half of the 2011/12 financial year (the six months ending March 31st 2012), TUI Travel reported a 5% rise in revenue to £5.4bn, but the operating loss worsened to £407m (compared with a £303m loss in H1 2010/11) and the pre-tax loss reached £457m (25% worse than the £366m gross loss in the comparable period a year ago).
In addition, TUI is still struggling to improve its debt position. Long-term debt rose 17% year-on-year to £2.5bn as at March 31st 2012, and net debt was £1.2bn as of March 31st – £2m higher than a year earlier.
Based in Crawley in the UK, TUI Travel undoubtedly has been embracing the structural changes in the AIT industry, although perhaps too slowly. When TUI Travel emerged from the merger of First Choice Holidays and the tour operating division of TUI AG in 2007, it had no less than 997 travel agency shops in the UK, but by 2011 this had eased back only to 853 outlets — a reduction over four years of just 14%, or an average annual reduction of 3.8%.
Over the same four year period the proportion of sales TUI makes online has risen from 29% to 39% — and surely that figure would have been far higher if the company had prioritised online distribution more. TUI says that its "flexible retail estate network is adaptable according to demand", but with 70% of leases on its travel agencies expiring within five years, and with 35% expiring within two years, the refocus on online distribution must surely quicken. For the crucial summer 2012 season, 41% of all UK outbound holidays booked with TUI Travel have been made online (5% up on the previous year), and it's possible that online bookings could become the majority in 2013 if TUI Travel is aggressive with pruning back its high street presence.
From commodity to exclusive
As well as overhauling distribution, TUI Travel's other key strategic focus is on differentiated and exclusive products, and it's keen to stress that the group is moving away from "commodity" holiday packaging – which "is a crowded market with no differentiation" and available from multiple intermediaries, to product-driven, holiday concepts that are "designed to give the customer what he/she wants".
For what TUI terms the modern mainstream, the company is attempting to move from providing low margin, price driven commodity packages to a differentiated/all-inclusive product that offers customers "unique and innovative concepts and products" – i.e. packages that are better able to hold a decent margin. TUI argues that it's the only supplier that has the capability to offer such differentiated, higher margin product. The strategy can clearly be seen in its summer 2012 brochures for the Thomson brand, while by the summer of 2013 its holidays will have "in excess of 90% exclusive product".
Another strategic push is the development of an accommodation wholesale business. TUI believes the global market for accommodation wholeselling is "large and growing", in particular for the Asia-Pacific region and the Americas. TUI's businesses in this market (under the brands Hotelbeds, Bedsonline and Hotelopia) connect around 50,000 hotels globally (of which 75% are independent and 25% part of hotel chains) with 27,500 tour operators and travel agencies. The business is scalable and low risk, TUI believes, and it has built up total transaction value (TTV) in its wholesale accommodation business from £518m in the 2006/07 financial year to £1.3bn in FY 2010/11- which it says makes it the leader globally in the market and well ahead of its nearest competitor Kuoni/GTA, which has a TTV of £0.95bn.
Separate to this is TUI's online accommodation business, which sells hotels direct to consumers under the LateRooms.com and AsiaRooms brands. For the coming summer season average selling prices in this business are up 11% year-on-year and customers are up by 17%, resulting in a hefty 28% increase in revenue.
Peter Long, the chief executive of TUI Travel, says that: "The UK delivered a strong winter performance which attests to our focus on differentiated and exclusive product and being online driven – key elements of our modern mainstream strategy". That can be seen in the table, (see page 8), where although customer bookings for the summer of 2012 are down 6% year-on-year, a substantial 9% rise in average selling prices has resulted in a 3% rise in revenue at that stage of the year (early May) compared with last year. In other markets, however, average selling prices have risen only slightly year on year, while in western Europe (defined as TUI tour operations in the French, Belgian and Dutch outbound markets) — despite flat prices — customers and revenue have fallen each by 3% (driven largely by sluggish demand for traditional French holiday destinations such as Egypt, Tunisia and Morocco).
TUI insists that "summer 2012 trading overall remains in line with expectations, with continued outperformance of the market in the UK". In absolute figures, as at May, TUI has 6.7m customer bookings for the first half of FY 2011/12, some 58,000 more than a year earlier. Those increased bookings give some hope to the group, which says that challenging economic conditions mean that it remains cautious. The group's share price has fallen sharply since the summer of 2007 (see graph, on left), although there has been a small recovery through the early part of 2012.
The TUI fleet
TUI Travel's fleet comprises 143 aircraft, split between six different airlines – Thomson Airways (59 aircraft), Corsairfly (seven), TUIfly Nordic (nine), ArkeFly (10), Jetairfly (20) and TUIfly (38). More than 130 of these are on operating leases, which allows the group considerable flexibility in fleet planning – which given the underlying structural trends in the AIT market, means medium-term fleet reduction.
The group has 30 aircraft on order – eight 787s, two A330-300s and 20 737NGs (the latter of which are unallocated as yet to any of the group's airlines), which are being delivered from this year to FY13/14. However, over the next three years no less than 65 aircraft leases will expire, so after planned disposals and a handful of new leases the fleet will ease back by more than 30 aircraft by the 2013/14 financial year, where it will be around the 112 aircraft mark.
Based in Luton, Thomson Airways carried 10.6m passengers in 2011 – well down on the 12.2m it carried back in 2008. The airline operates a fleet of 59 aircraft with five different models, and has eight 787s on order, which will start arriving in the summer of 2013 (making Thomson the first UK airline to operate the model) and which will be used initially on routes to Mexico and Florida. Thomson's charter network out of the UK currently covers more than 80 holiday destinations, more than 60 of which are in Europe.
Outside the UK the group's largest airline is TUIfly, the Langenhagen-based charter carrier that operates 737s to more than 80 destinations in Europe, North Africa and the Middle East. In Belgium Zaventem-based Jetairfly operates 737s and 767s for local tour operator Jetair, and carried 2.2m passengers last year, while ArkeFly is based at Schiphol and operates 737s and 767s for TUI's Dutch tour operator subsidiary. And based in Stockholm with 737s, 747s and 767s is TUIfly Nordic, which provides charter capacity for the group out of the Norwegian, Finnish and Swedish markets.
French airline Corsairfly operates A330-200s and 747-400s on charter and scheduled routes around the globe, but is being repositioned by TUI Travel as a specialist long-haul scheduled airline. The group had been struggling with an effective strategy for Corsairfly for several years, as the 580-seat capacity of its five ageing 747-400s were too big for the AIT market, often leading to flights that had load factors well below those needed for charter operations. Over the last two years 25% of the workforce has been made redundant and plans made for two A330-300s on order to replace 747s (which will arrive in the 2012/13 financial year). In the first half of the 2011/11 financial year (the six months to the end of March 2012), Corsairfly made an underlying operating loss of £16m, but the group is hopeful it can break even soon as a scheduled airline, under a new brand that will be called Corsair International.
Jet4you is a Moroccan LCC based in Casablanca that TUI Travel fully acquired in 2008 and which formerly operated 737s, carrying 0.9m passengers in 2011. However it didn't fit in with the group's overall strategy and was put up for sale in 2011, though an expected deal with Royal Air Maroc failed to materialise. The airline is now being integrated into Belgium's Jetairfly, and this process is expected to be completed by the end of the year.
TUI Travel also owns 6.9% of German LCC Air Berlin, which operates a fleet of 118 aircraft but which is not analysed as part of this article as it provides no charter capacity to TUI Travel's AIT operations.
With such a large fleet, fuel accounts for approximately 10% of all of TUI group costs, and as at early summer TUI had hedged 88% of its fuel needs for the summer season.
Thomas Cook
The Thomas Cook Group (the company that was created from the merger of Thomas Cook AG and the UK-based MyTravel Group in 2007) is perhaps facing the greater challenge.
Back in 2010, Manny Fontenla-Novoa — the CEO of the Thomas Cook Group (TCG) at that time — insisted his company was adapting well to change in demand, and that its performance "demonstrates the resilience of the package holiday".
That optimism has clearly turned out to be wrong. In the six month period to the end of March 2012, the TCG saw revenue rise 2.5% year-on-year to £3.5bn, but the operating loss worsened from £198m the same period in 2010/11 to £643m in H1 of the 2011/12 financial year. The pre-tax loss similarly rose from £269m a year ago to £713m in the six months to March 2012. To underline the challenges facing TCG, net debt rose from £1.1bn as at March 2011 to £1.4bn at March 31st 2012.
As a result of these troubled set of results, TCG — based in Peterborough in the UK — has had to undertake drastic action. In late May TCG sold Spanish hotel business HCV and sold and leased back a number of aircraft, in deals that raised £293m, but which – ominously – were recommended for shareholder approval with a plea that if rejected that would "result in the company seeking the appointment of administrators". Earlier in May TCG had already sold Thomas Cook India for gross proceeds of £94m.
Also in May this year the group agreed a new financing deal with its banks, with existing facilities for £1.4bn extended until May of 2015, with all but £200m of that being at a rate of 3.5% over LIBOR.
Those deals are crucial to the ongoing survival of the group, but equally as important will be two key management changes — Harriet Green (currently at Premier Farnell, an electronic parts distributor) will become group CEO from July 30th (taking over from Sam Weihagen), while a new group CFO, Michael Healy, starts work from July 1st.
Strategic review
This new management team will have to consider a strategic review held by the group earlier this year, out of which the following key priorities for the business arose:
Continue to drive the turnaround of UK business;
Build on "solid performances" in Northern Europe and German businesses;
Address underperforming businesses, particularly in North America, France and Russia;
Stabilise the capital structure through the agreement of longer dated, more flexible financing facilities; and
Reduce debt and "improve the resilience of our financing and capital structure" through asset disposals.
In the UK, TCG has a target of a £140m increase in profitability by the 2013/14 financial year, and the group says that in the current FY it will reduce annual costs or improve revenue by around £60m, which will "help mitigate the difficult trading environment".
That total £140m target will come via from a variety of measures, but in terms of the fleet TCG has already reduced UK-based aircraft by six over the 2011/12 winter season, with 300 associated employees (pilots and cabin crew) leaving by the end of the financial year. Long-haul flights will be cut back and seat-only sales will be increased and these measures will increase the bottom line by £10m a year, the group says — which still leaves £130m a year cost-savings or revenue improvement to come from other areas.
These will include better yield management with, for example, cutting the average "discount level" in retail shops from 5% to 3%; and reducing the number of retail travel agencies (100 closed since October 2011 and another 15 going by the end of the current FY), which will result in a reduction in headcount of approximately 850. More than 500 "under-performing" hotels — around 22% of all former TCG properties — have also been axed from the group's summer 2012 brochures and replaced by 150 new hotels that are focussed on "differentiation and exclusivity". Finally, other measures being introduced include paperless ticketing and a 20% reduction in the number of holiday brochures.
Separate to these actions, in May TCG sold 19 and leased-back 19 aircraft for total proceeds of around £183m – this comprised 11 757s and two 767s sold to Guggenheim Aviation Partners (which realised $203m) and six 767s sold to Aircastle Advisor (which generated $92m). These 19 aircraft were originally delivered between 1992 and 2000, and 17 of them are operated by Condor and the remaining two are in the UK fleet.
Overall, total UK bookings for the summer of this year are 1% down as at the same period last year, but as the table (on left) shows, there is a significant difference between mainstream bookings — where a reduction in capacity and a higher average selling price has resulted in an 8% fall in bookings year-on-year — and specialist and independent holidays, where bookings are up 10% (though no capacity and average selling price data has been released by TCG).
While the UK business is the most troubled part of the TCG empire (and the largest part, accounting for 28% of entire group revenue and 66% of total underlying losses), similar — but less drastic — measures are being taken in other territories, such as signing a contract with WestJet to supply flexible capacity in the North American market. TCG's most troubled outbound market outside of the UK is western Europe, and specifically France, where unrest in north Africa is hitting summer bookings.
Overall TCG argues that its UK turnaround programme is making good progress and that "underperforming businesses are being addressed", but the new management team will have a very tough job to turn the group around and maintain a future for the group in anything resembling its current scale. Since early 2010 the TCG share price has plummeted (see graph, page 6), and it will take a superhuman effort from the company to recover.
The TCG fleet
In terms of its fleet, TCG operates 93 aircraft, split between the UK-based Thomas Cook Airlines (37 aircraft), Thomas Cook Airlines Scandinavia (12), Thomas Cook Airlines Belgium (6), Condor (26) and Condor Berlin (12).
Manchester-based Thomas Cook Airlines carried 7.5m passengers in 2011 from more than 20 UK airports to around 80 holiday destinations, but this passenger figure was 7.6% down on the total for 2010. Its mixed fleet includes A320s, A321s, A330s, 737s, 757s and 767s, and TCG appears tortuously slow in slimming down its range of models. It also has six A321s on order. Thomas Cook Airlines Scandinavia operates out of Copenhagen with A320s, A321s and A330s, and has 12 A321s on order, while Thomas Cook Airlines Belgium operates six A320 family aircraft.
Based in Frankfurt, Condor operates from multiple German airports to 57 charter destinations around the world, including Africa, the Asia/Pacific region and the Americas, with a fleet of A321s, 737-800s, 757s and 767s. In May Condor received its first A321, on lease from BOC Aviation, and this is the start of a complete fleet overhaul, with all its 757s being replaced by A320 family aircraft over the next five years. In 2011 Condor carried 6.2m passengers, 7.7% up on 2010, and had an impressive load factor of 89.6%. Sister airline Condor Berlin is based out of Schoenefeld airport with A320s, and it too is undergoing a medium-term fleet renewal programme.
The Condor airlines are reported separately in the Thomas Cook Group as the "Airlines Germany" business unit, and in the six months to the end of March 2012 it saw revenue rise by 11% to £506m, though it made an underlying operating loss of £3m (compared with a £12.3m profit in the previous half-year period), thanks to higher fuel costs and lower yield.
Fuel accounted for 10% of the Thomas Cook Group's entire costs in H1 2012 (compared with 9% a year ago), As at the end of May TCG had hedged 86% of its summer 2012 fuel needs and 37% of its winter 2012/13 needs, though no details of what prices they were hedged at have been released.
Monarch Airlines
The largest of the remaining independent charter airlines is Monarch Airlines. The carrier is part of Monarch Holdings, which is owned by travel group Globus that in turn is controlled by the wealthy Swiss-based Mantegazza family, which started its first travel company back in the 1920s. The Monarch group employs 3,125, of which 355 are in tour operations, 700 in aircraft engineering and 2,070 in Monarch Airlines (with the latter including 400 pilots and 1,260 cabin crew). Its brands include tour operators Cosmos Holidays and Archers Direct, as well as charter flight-only specialist Avro.
Monarch has gone through a torrid time in recent years. In the 12 month period ending October 2011 Monarch reported an operating loss of £45m (compared to a £1.4m profit in 2009/10) thanks partly to rising fuel prices (which took £50m off the bottom line) and the Arab Spring (which knocked another £25m away).
As a result, in October 2011 the Mantegazza family put a reported £75m cash injection into the group – just two years after similarly putting £45m into the company following losses in that year. Incidentally, just a month after this injection Monarch — which is reticent to release any financial information other than the minimum required by law (and which makes analysis of its finances almost impossible) — switched its legal status in the UK from a public limited company to private limited company.
That £75m is being used partly to fund the group's current strategy to expand its scheduled services significantly, with the AIT business taking a relative backseat in favour of seat-only flight sales, as part of a major turnaround plan aimed at returning it to profit by 2013 after a small loss in 2012.
However, the shift from charter to scheduled was signalled at Monarch as long back as a decade ago, but the group has found it difficult to wean itself away from charter flights. Now, however, given the structural changes ravaging the AIT market, it has little choice but to try and make the changes it should have completed many years ago. Of course this brings Monarch Airlines into direct competition with Ryanair, easyJet and others on its scheduled leisure routes into the Mediterranean, and whether there exists a viable niche between the LCCs and full service airlines on leisure routes remains to be seen.
As with the Big Two, Monarch's AIT operations are becoming more flexible in terms of what customers can choose and package together. For its airline product the company has launched so-called "Air Packs", which allow customers to buy extras such as allocated seating, hold baggage, online check-in and flexible booking alterations.
Based at Luton airport, Monarch Airlines operates a mixed 32-strong fleet, including A300B4-600s, A320s, A321s, A330s and 757s. In 2011 those aircraft carried 5.7m passengers, some 2.4% down on the total for 2010 and 13% less than the 6.5m passengers Monarch Airlines transported in 2008. The airline operates from various UK airports to more than 50 leisure destinations, on both charter and scheduled services (with the scheduled operation having an FFP called the Vantage Club).
Monarch had six 787s on order and options for four more aircraft, which were to be used for long-haul charters and potentially transatlantic scheduled services, but these orders were cancelled in September last year, and the airline will focus on short- and medium haul scheduled routes in the future.
In May the airline announced it was opening a base at East Midlands in the late summer, as it seeks to fill the gap left by the imminent closure of bmibaby, with new scheduled routes to Tenerife and Lanzarote being added to existing services out of the airport to Malaga, Faro and Alicante. An Ibiza route will open in the summer of 2013.
This summer Monarch is also starting routes from Birmingham to Barcelona and Nice and it is adding extra frequencies on other routes out of the airport, which last year had services to 20 destinations and carried 0.9m passengers. And for the winter 2012/13 season Monarch is launching 12 new routes, including services from Leeds Bradford International airport for the first time.
In the next two years Monarch wants to increase its fleet to 40 aircraft and carry 10 million passengers a year, but that may prove to be overly ambitious.
The challenges that Monarch faces are not helped by the recent turnover of top management. CEO Conrad Clifford stepped down in February this year after just 18 months in the position and executive chairman Iain Rawlinson has taken on the CEO functions in the meantime. Group finance director Simon Tucker resigned earlier this year, to be replaced by Robert Palmer (a former CFO at BMI), while Monarch Group COO Richard Mintern left at the end of May.
However in a recent announcement, ex-easyjet and Royal Jet CFO Richard Roth has been appointed group director of performance management and turnaround, and the board has also been strengthened, with the non-executive appointments of Sir Roy McNulty (former head of the UK's CAA) and Austin Reed (former CEO of BMI), who will both join in July.
The inherent problem that the group faces is that that it doesn't have the scale of TUI Travel or the Thomas Cook Group, and it faces fierce competition in the UK from easyJet and Ryanair on scheduled services to leisure destinations.
TUI TRAVEL FLEET
TUI TRAVEL FLEET
Thomson
TUIfly
Airways
TUIfly
Jetairfly
Corsairfly
Nordic
rkeFly
Total
A320
1
1
A321
2
2
A330
2 (2)
2
(2)
737-3/4/500
2
2
737-700
10
4
14
737-800
26
28
12
6
5
77
747-400
5
1
6
757-200
20
20
767-300
10
2
2
5
19
787-8
(8)
(8)
Total
59 (8)
38
20
7 (2)
9
10
143 (10)
SUMMER 2012 BOOKINGS (Change on summer 2011)
SUMMER 2012 BOOKINGS
(Change on summer 2011)
Average
Capacity
selling price
Customers
Revenue
TUI TRAVEL
Mainstream holidays
9%
-6%
3%
UK
Nordic Europe
1%
3%
3%
Central Europe
1%
3%
4%
Western Europe
0%
-3%
-3%
Specialist/activity holidays
N/A
N/A
5%
Online accommodation
11%
17%
28%
THOMAS COOK GROUP
UK mainstream
-12%
4%
-8%
UK specialist/independent
N/A
N/A
10%
Central Europe
0%
1%
1%
West Europe
-13%
4%
-10%
Northern Europe
-3%
4%
-6%
Airlines Germany
7%
5%
4%
THOMAS COOK GROUP FLEET
THOMAS COOK GROUP FLEET

| | | | | | | |
| --- | --- | --- | --- | --- | --- | --- |
| | Thomas | Thomas | Thomas | | | |
| | Cook | Cook A/L | Cook A/L | | Condor | |
| | Airlines | Scandinavia | Belgium | Condor | Berlin | Total |
| A319 | | | 1 | | | 1 |
| A320 | 7 | 2 | 5 | | 12 | 26 |
| A321 | 4 (6) | 6 (12) | | 1 | | 11 (18) |
| A330 | 4 | 4 | | | | 8 |
| 737-800 | | | | 1 | | 1 |
| 757-200 | 17 | | | | | 17 |
| 757-300 | 2 | | | 13 | | 15 |
| 767-300 | 3 | | | 11 | | 14 |
| Total | 37(6) | 12 (12) | 6 | 26 | 12 | 93 (18) |