TAP Portugal: Last of the Western European privatisations June 2011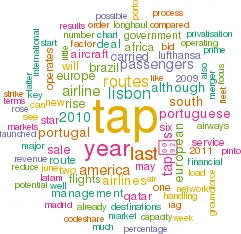 With the Portuguese government putting TAP Portugal up for sale, rumours are swirling about potential buyers and/or merger partners — from British Airways to LATAM and Qatar Airways. What can TAP offer its new owner, whoever that may be?
Launched just after the Second World War, the Portuguese flag carrier was nationalised in the 1970s and rebranded as TAP Portugal (from TAP Air Portugal) in 2005. Today, TAP employs approximately 7,000 people and operates to more than 70 destinations over 30 countries in Europe, Africa, North America and South America.
After turning in a huge operating and net loss in 2008 (see chart, page 11), TAP has recovered well in the last couple of years, and 2010 proved to be its best ever year in terms of financial results. In 2010 TAP saw a 37.5% rise in revenue to €2.2bn, based on a 7.7% rise in passengers carried to 9.1m (above the 7% targeted rise for the year) and — impressively — a six percentage point rise in load factor to 74.5%.
Operating profit rose to €101m last year, compared with €65m in 2009, while net profit reached €62.3m, 8.7% up on the 2009 result. That set of figures would have been even better were it not for that fact that TAP's fuel costs rose 45% in 2010, to €523m, while Iceland's volcanic disruption knocked €20m off the bottom line.
The improvement is continuing through 2011. In the first quarter of 2011 passengers carried rose by 6.2% compared with the same period in 2010 — with load factor up by 2.1 percentage points to 71.2% — and TAP looks well on the way to reaching its target of 9.5m passengers carried in 2011.
2010 results show that TAP is maybe starting to reap the benefits of its latest strategic plan covering the 2009–2012 period, the key parts of which include the continuation of debt reduction, to "strategically reduce capacity and seek new niches in Africa", the sale of ground handling unit Groundforce and "incisive action on all actionable costs".
Much of that cost push has been on labour, and TAP only narrowly avoided a strike by its pilots in March last year before pilot union SPAC signed a deal with management for a 1.8% pay rise, alongside an agreement on productivity improvements.
However, an attempt by management this year to reduce by one the number of attendants on its flights is facing intense opposition, and in early June cabin crew announced a series of 10 one–day strikes, to be held in the latter half of June and through July. The National Union of Civil Aviation Flight Attendants says management is imposing the measure without any consultation, and unless a compromise is found then damaging strike action over the summer is a real possibility – and could put potential buyers off the airline.
Network focus
TAP's main base is Portela airport in Lisbon, which although it has space constraints is a hub operation, linking TAP's European network with flights to Africa and the Americas, and specifically Brazil in the latter. Around 70% of TAP's revenue is generated abroad and the airline operates to 49 destinations in Europe, while in the first six months of 2011 TAP launched six new European routes, between Lisbon and Athens, Vienna, Düsseldorf, Bordeaux, Manchester and Dubrovnik.
TAP's most important international market in Europe is Spain. In 2010 the airline carried 846,000 passengers between the two countries, 12% up compared with 2009, and load factor increased by five percentage points last year. The key routes are from Lisbon to Barcelona and Madrid, with more than 40 flights a week on each service.
The profitability of these European routes is variable, but as a standalone airline TAP has little choice but to provide a reasonable European network in order to provide feed into its much more profitable long–haul routes.
Africa and South America are the two key long–haul sectors. TAP operates more than 60 flights a week to 13 African destinations, most of which are in the former Portuguese colonies of Angola and Mozambique. The latest route was launched this June – a three–times–a-week service to Bamako, the capital of Mali – while a 14th destination will be added in July with the start of services to Sao Vicente in the Cape Verde. In 2010 TAP carried 602,000 passengers to/from Africa, 12% up on 2009, and this year it is looking for another double–digit rise.
In South America TAP serves 10 destinations — all but one in Brazil — with a route to Porto Alegre launching this June. The business market is a key market for TAP on the Portugal–Brazil sector, as is the VFR Europe–bound market and Brazil–bound leisure traffic.
In these three main markets, TAP's strategy over the next year or two is consolidation of the South American route network, focused expansion in Europe (concentrating on major European capitals where possible) and continued expansion in Africa. As can be seen in the chart, opposite, TAP cautiously increased capacity last year, with the prime focus not being ASK growth but rather keeping an upwards trajectory on load factor.
Last year, although Europe still accounted for the largest single share of revenue — at 37% — Brazil was close behind with 35% of turnover. Interestingly there were 5.2m passengers on European routes in 2010 (out of a total 9.1m carried by TAP), while routes to/from Brazil accounted for 1.4m passengers. In terms of individual markets Brazil and Angola were the fastest–growing, with revenue out of those markets rising by 55% and 30% respectively in 2010.
TAP is also looking to expand routes outside of Europe, South America and Africa. A route to Miami will launch in the summer, with a non–stop service between Lisbon and Miami operating five times a week. Last year the airline carried 175,000 passengers between the US and Portugal on its sole route — Lisbon to Newark — using A330–200s. That number should rise considerably in 2011, as last October TAP began code–sharing with Continental on Lisbon–Newark and on domestic Continental routes from Newark. Last October TAP also began code–sharing with Star partner Air China on flights between Lisbon and Oporto to Beijing and Shanghai, with connections in Spain, Germany and Italy.
However, a major constraint for TAP is long–haul–aircraft. TAP currently has 55 aircraft in its fleet, all of which are Airbus models (see chart, left), with 39 A320 family aircraft, 12 A330s and four A340s. A major overhaul of the medium–haul fleet was completed in 2009 that saw the replacement of older A320s by six new air–craft. Other than the retirement of one aircraft there was very little movement in the fleet last year. TAP also owns regional carrier PGA- Portugalia Airlines, which it bought from Grupo Espirito Santo in November 2006 for €140m. PGA has kept its brand and operates domestic and international routes from Lisbon and Porto, as well as a number of charter flights. Portugalia operates 16 aircraft, including six F100s and eight Embraer ERJ 145EPs out of Lisbon and Porto.
The only aircraft on order for TAP are 12 A350s (four -900s and eight -800 models), for delivery from 2014 onwards, so until then new long–haul opportunities can only be served through leasing in capacity. That's why senior TAP management is keen to get the airline privatised as soon as possible, so as to obtain the fresh capital needed to improve its balance sheet and – perhaps more importantly – to buy or lease more long–haul aircraft.
Up for sale
The sale of TAP, already planned in the medium–term by the Portuguese government (which owns 100% of the airline), was made a certainty in May this year when Jose Socrates, the country's caretaker prime minister, agreed a deal with the EU and IMF for €78bn of financial assistance in order to help the country out of its current economic troubles. The EU and IMF attached a number of conditions to the deal, in which the Portuguese government has to adopt a series of tax increases and cost–cutting programme in order to reduce its budget deficit. The latter includes privatisation of national assets — and TAP Portugal is at the top of that list. Although TAP now needs to be sold by the end of the year, the privatisation process is likely to start only after the sale of its handling services subsidiary Groundforce — which has consistently been dragging down the airline's financial results — is completed. The sale of Groundforce was kicked off earlier this year although TAP has apparently only received interest in the cargo handling side of the business, and not in the passenger handling side.
But whenever the official process of selling the airline starts (and presuming that the imminent cabin staff strike is either avoided or else has relatively little impact) there will undoubtedly be many interested "trade buyers". Among those already being linked with a potential bid is International Airlines Group, with claims that informal talks have already begun between TAP and IAG. IAG will not comment on the speculation, and while its operational focus for now is undoubtedly making the synergies between BA and Iberia work, the combination of the Lisbon and Madrid hubs would give BA/Iberia a very dominant lock on traffic flows between South America and Europe – although that's surely something that regulators would be concerned about.
A deal with Qatar Airways looks far–fetched, even given the very deep pockets of the Qataris and the recent major investment in Cargolux. The Portuguese prime minister visited Qatar in January this year and reports out of Portugal claim he specifically presented the government's plan for the privatisation of TAP to the Qataris. In the same month Fernando Pinto, the CEO of TAP, said that Qatar Airways wanted to start routes between Doha and Portugal, although TAP has implied that routes of its own to Qatar were not a priority, and that if Qatar started a service "it's one more volume of passengers that we can distribute to other locations".Arguably the most sensible speculation has been over a bid by LATAM Airlines, the imminent merger of Brazil's TAM and Chile's LAN Airlines (once regulators have approved the creation of the largest airline in Latin America). A merger between LATAM and TAP would be the most comfortable fit in terms of culture and language, and TAP's management would prefer this deal too, with Fernando Pinto famously saying last year that a merger between the two would be "a good idea".
Pinto was born in Brazil and headed up Varig before moving to TAP in 2000. There remains a suspicion that this may be TAP's preferred option because its management may then see itself as being the more "senior" in a combined airline — a situation that certainly wouldn't be the case if someone like IAG took over TAP.
A bigger problem for the LATAM bid is whether it could actually afford the cost of the deal without substantial financial help from governments in South America.
Air France/KLM interest has been mooted, but it already has a strong network to Brazil, with 1m seats recorded last year (see chart, below). AF/KL, like Lufthansa, remains reticent and wary of too much disclosure to the Portuguese government.
TAP joined the Star alliance in 2005, which implies that Lufthansa would be a possible investor. TAP has code–share deals with almost 30 airlines, most of which are Star members – although in February the European Commission said it was investigating the code–share relationship between TAP and Brussels Airlines (as well as between fellow Star members Lufthansa and Turkish Airlines, although the two cases are independent). The TAP investigation relates to the Lisbon–Brussels route and the Commission says that, airlines "should, in principle, be competing with each other … this form of free–flow, parallel, hub–to–hub code–share agreement may distort competition leading to higher prices and less service quality for customers." It's unknown as to how the investigation is progressing, and when the EC will announce a decision.
Lufthansa would like to counteract oneworld's Madrid gateway into South America by locking in the Lisbon hub through an acquisition of TAP – or, put another way, it can't afford for TAP and Lisbon to be picked off by a rival at oneworld or SkyTeam. Lufthansa is ominously silent on the issue, so when the Portuguese government officially starts the sale process it will be no surprise if TAP's senior Star partner is one of those that makes a bid.
TAP PORTUGAL'S FLEET
TAP PORTUGAL'S FLEET
Fleet
Orders
Options
A319
19
5
A320
17
A321
3
A330
12
A340
4
A350
-
12
3
Total
55
12
8
SOUTH AMERICA - EUROPE 2010 TOTAL SEATS (m)
SOUTH AMERICA - EUROPE 2010 TOTAL SEATS (m)
Iberia
2.7
TAP Portugal
1.9
Air France
1.8
TAM Linhas Aereas
1.5
Lufthansa
0.8
KLM
0.8
Avianca
0.7
Alitalia
0.6
LAN Airlines
0.6
Aerolineas Argentinas
0.5
Air Europa
0.4
British Airways
0.3
Santa Barbara Airlines
0.2
SWISS
0.2
Others
0.7
Grand Total
13.6
ALLIANCE SHARES
14%
TAP (Star)
Other Star
18%
oneworld
26%
SkyTeam
23%
Source: CAPSTATS
BRAZIL - EUROPE 2010 TOTAL SEATS (m)
BRAZIL - EUROPE 2010 TOTAL SEATS (m)
TAP Portugal
1.7
TAM Linhas Aereas
1.5
Air France
0.8
Iberia
0.6
Lufthansa
0.4
British Airways
0.3
KLM
0.2
Alitalia
0.2
SWISS
0.2
Others
0.3
Grand Total
6.2
ALLIANCE SHARES
TAP (Star)
28%
Other Star
33%
oneworld
10%
SkyTeam
20%