LCC-within-a-Legacy concept revisited June 2011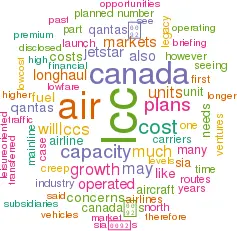 Air Canada and Singapore Airlines have announced plans to establish wholly–owned LCC subsidiaries for long–haul leisure–oriented markets within a year. Are such ventures worth pursuing?
Air Canada disclosed on May 5, when announcing its first–quarter results, that it is looking to set up a Canada–based LCC that would eventually operate 50 aircraft (20 widebodies and 30 narrowbodies) serving leisure markets in Europe and sun destinations in the Caribbean (see Air Canada briefing).
Singapore Airlines announced in a statement on May 25 that it intended to establish a new "no–frills, low–fare airline operating widebody aircraft on medium and long–haul routes". The wholly–owned unit would be operated independently and managed separately from SIA.
There are similarities in these airlines' situations and LCC plans. Both Air Canada and SIA focus on premium traffic, saw a sharp deterioration in their financial fortunes in 2009, are seeing significant market share losses to LCCs, and are finding their growth opportunities limited by their higher cost levels.
The LCCs are intended to be growth vehicles. Air Canada's executives noted that the markets targeted for their venture (in Europe cities such as Amsterdam, Dublin, Casablanca, Nice, Lisbon and Manchester) "present strong opportunities that we can and should access based on our franchise but that we are leaving behind because of our high cost structure".
SIA's leadership declared: "We are seeing a new market segment being created and this will provide another growth opportunity for the SIA Group". This was a reference to the rapid growth of long–haul LCC competitors such as the Singapore–based unit of Qantas' Jetstar subsidiary and AirAsiaX, the longer–haul unit of Malaysia's AirAsia Bhd.
The LCC units are also defensive moves in the sense that both airlines have lost market share, including premium traffic, to lower–cost competitors (SIA especially in the past two years and Air Canada steadily over a longer period) and therefore are keener to grab any decent growth opportunities that come their way.
Despite their premium traffic focus, both companies like to have a complete platform to cater for all customer needs. Both have already dabbled with LCCs. Air Canada experimented with low–cost units called Tango and Zip almost a decade ago. SIA has a 33% stake in Singapore–based short–haul budget carrier Tiger Airways and owns regional carrier Silk Air.
Air Canada has said that it would like to get the LCC off the ground quickly because, partly due to the 787 delivery delays, it will have many years of virtually no growth.
Both ventures can be expected to be "capital–light". They will begin operations with aircraft transferred from the parent airlines, with longer–term fleets to be determined later.
Air Canada has disclosed that its LCC would pay lower wages and have different work rules, therefore requiring labour concessions. The airline has presented the plans to its unions, which all happen to have open contracts and are considering the LCC as part of their current contract negotiations.
The LCC plans have not been that well received in the financial community. The response from North America–based analysts to Air Canada's plans has been quite negative, reflecting the extremely poor track record of LCC subsidiaries operated by the region's legacies (Delta's Song, United's Ted, etc.) and concerns about industry capacity. But in both North America and Asia the plans are regarded as controversial for a number of reasons.
First, a high fuel cost environment is not the best time to launch LCCs, let alone longhaul LCCs. Higher fuel prices hit low–cost carriers harder, because fuel is a larger component of their operating costs and because their low–fare models typically offer less pricing flexibility.
Second, if the planned LCCs are growth vehicles, it implies capacity addition, as opposed to focusing on capacity discipline. In Air Canada's case, there is the added worry that it might add capacity in the off–peak, contributing to excess industry capacity on the transatlantic. However, such concerns may be unfounded if most of the aircraft are transferred from the mainline. Also, Air Canada has said that its LCC would grow gradually over a number of years.
Third, LCC units are risky ventures. Setting one up and doing it right is a complex undertaking, probably not for those aspiring healthy profit margins or ROIC in the short–to–medium term. It is inconceivable that US or European legacy carriers would take such risks these days, but they also do not have LCC competition in many long–haul markets. An airline like Air Canada may feel that it needs the LCC to achieve long–term viability.
Fourth, many of the past LCC units operated by legacy employees failed because of cost creep, or because they never reached their target cost levels in the first place. Air Canada has decided that it will not go ahead unless the LCC "is and has the ability to remain truly low cost over the longer term".
Fifth, one of the biggest concerns about legacy–operated LCC units everywhere is potential cannibalisation of mainline yields. Much will obviously depend on how carefully the markets are chosen.
Still, Qantas has been using its Jetstar unit very successfully to turn around loss–making leisure–oriented routes or to launch routes that Qantas could not have operated profitably. It has apparently not cannibalised any of Qantas' domestic business. Jetstar has also remained highly disciplined on the cost side, seeing no creep over time.
Jetstar has very much been the model for Air Canada in the design of its LCC, and the same may be the case with SIA's planned LCC. Jetstar's costs are as much as 40% below Qantas', and it is the fastest growing part of the group (see Aviation Strategy briefing, June 2010). Ironically, however, much like Air Canada, Qantas now needs to cut costs and in recent weeks has faced continued threats of industrial action.