Tiger Airways: Expansion post-IPO June 2010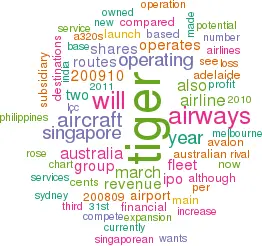 Tiger Airways launched in 2004 as an LCC by Singapore Airlines and a number of investment companies, and carried out an IPO in January this year, raising S$247.7m (US$178.2m) through selling shares worth just over 30% of the expanded share base. The shares were sold at S$1.50 each, giving it a market capital on listing of S$781.3m (US$562.1m), with 92% of shares going to institutional investors and the rest to the Singaporean public. Unsurprisingly they were heavily oversubscribed — at the institutional tranche by 4.5 times the shares on offer, and by 21 times for the public shares — and since then the shares have risen to above S$1.70 (see chart, below). Following the IPO the largest shareholders are now SIA Group, 34.4%; RyanAsia (owned by the Ryan family), 11.2%; Indigo Partners, 15%; and Dahlia Investments (which is owned by Temasek Holdings), 7.7%.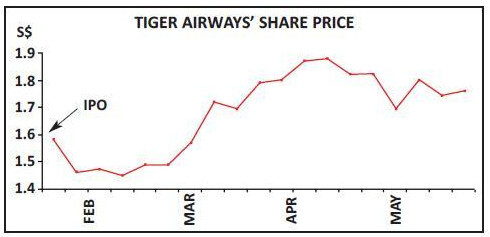 The Tiger group currently operates to 11 countries in Asia out of Singapore Changi, Melbourne Tullamarine and Adelaide, and this is split into two operations – the main Tiger Airways, based in Singapore, and an Australian subsidiary, Tiger Airways Australia, which was set up in 2007.
The main airline operates to 17 destinations in Singapore, the Philippines, Indonesia, China, Australia, Thailand and Vietnam and is aiming to expand routes out of Singapore substantially over the next three years, with its current fleet of 10 rising to 12 by March 2011.
In the 2009/10 financial year (ending March 31st) the Tiger Airways group recorded revenue of S$486.2m (US$349.8m) — 28.6% up on 2008/09 — based on a 53.8% rise in passengers carried, to 4.9m. RPKs rose by 29% in the 12 month period, ahead of a 21.5% increase in capacity and leading to a 5.7 percentage point rise in load factor, to 85.1%. But while ancillary revenue per passenger rose from S$15.9 in 2008/09 to S$19.3 (US$13.9) in 2009/10 (see chart, below), the average fare per passenger fell sharply, from S$103.5 in 2008/09 to $80.5 (US$57.9) in 2009/10 – although that's partly due to a steep fall in average sector length, from 1,614km to 1,371km over the two financial years. Revenue per ASK rose from S$ Cents 5.85 in 2008/09 to S$ Cents 6.20 (US$ Cents 4.46) in 2009/10, with costs per ASK falling from S$ Cents 6.59 to 5.84 over the same period.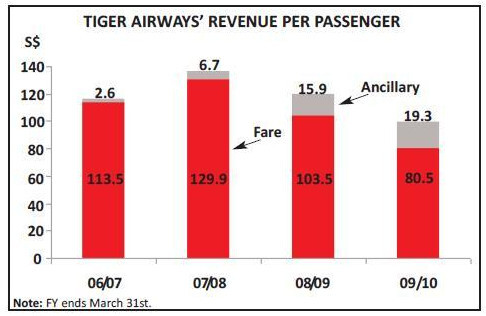 In 2009/10 the Tiger group made an operating profit of S$28m (US$20.1m), compared with a S$47.5m operating loss in 20008/09, and a S$28.2m net profit (compared with a S$50.8m net loss in 2008/09).
Australia close to break-even
As at March 31st 2010 the group had long–term debt of S$132m (US$95m), compared with S$30.3m a year earlier, although thanks to the IPO its cash stood at S$206.7m (US$148.7m), compared with just S$13.2m as at March 31st 2009. Within that group result, the Singaporean operation earned a S$25m (US$18m) operating profit on revenue of S$277.9m (US$200m), while Tiger Airways Australia made an operating loss of S$0.6m (US$0.4m) on revenue of S$208m (US$150m). So while the Singaporean operation made a third straight year of operating profit, the Australian business has still to break even, although the 2009/10 result was much improved on the previous financial year (see chart, below) and if it follows the progressive pattern of the Singapore business, then it looks well placed to break into the black in 2010/11.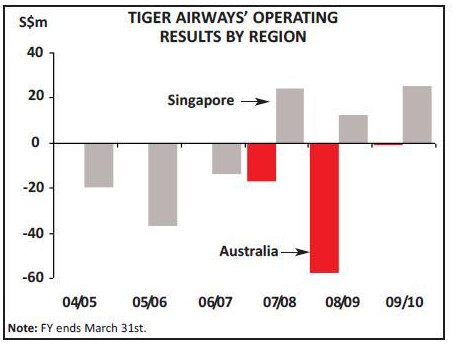 International ambitions curbed for now
Tiger Airways Australia operates domestically to 12 destinations with a fleet of nine A320s and is based at Tullamarine, the main airport in Melbourne. It also has a base at Adelaide (it based a third aircraft there recently) and will open a third base, at Melbourne's Avalon airport, later this year. Two aircraft will be stationed at Avalon, increasing to 11 the number of aircraft at the subsidiary. Tiger says that Avalon has "Australia's lowest cost airport infrastructure" and will give the airline a significant advantage. Services advertised on Tiger 's website for November bookings, but awaiting regulatory approval, include Adelaide, Sydney, Alice Springs, Perth, Rockhampton, Gold Coast and Mackay. The Sydney route out of Avalon will compete directly against Jetstar, which operates services to Sydney and also Brisbane out of the airport. In March Crawford Rix, previously managing director at bmibaby, took over as managing director of Tiger Airways Australia, succeeding Shelley Roberts, who has headed up the Australian operation since its launch. Tiger wants to launch international services to/from Australia but until now this has been prohibited, so the airline will have to concentrate on adding frequencies domestically through 2010. In June, Tiger Airways Australia is resuming its Melbourne–Darwin route, which it suspended back in October 2008 after complaining about the high cost of operating from Darwin airport, and is launching a Melbourne- Cairns service from September, where it will compete against Qantas, Jetstar and Virgin Blue, its fierce competitors in the domestic market.
Incidentally the reaction of Tony Davis, CEO and president of Tiger Airways, to the AirAsia–Jetstar alliance (see Aviation Strategy, May 2010) was telling, and while he was undoubtedly annoyed by the timing of the announcement (coming as the Tiger IPO was occurring) Davis's harsh words also revealed deep concern about the impact the allied rivals could have on Tiger.
Most of the cash raised in the IPO is going to fund fleet expansion. Currently Tiger Airways (including its Australian subsidiary) has a fleet of 19 A320 family aircraft, and it wants to increase that to 33 by March 2012 and 68 by the end of 2015, with 52 A320s on firm order.
Until recently Tiger had leased all its aircraft, but its new policy is to own its fleet, and in January it received its first two owned aircraft, which were financed through the Standard Chartered Bank. These were used for a Singapore–Hong Kong service that started in February, while in March extra frequencies were added to routes from Brisbane to Adelaide and Melbourne.
A "cub" airline
These two aircraft were originally due to be delivered to Tiger in 2016, but were brought forward in order to provide much needed capacity for the airline. Three other aircraft scheduled for 2016 delivery have been brought forward, for delivery in 2011, and again they are being financed with help from Standard Chartered, while in the 2010/11 financial year a total of seven A320s will be delivered, although two aircraft will leave the fleet when their operating leases expire in early 2011. Part of the IPO proceeds will also be used to "establish potential new airlines and/or operating bases". Tiger believes that the LCC model has lots of potential for growth in the Asian region and wants to launch what it describes as a new "cub" airline in Asia, and is in negotiations with a number of potential joint venture partners across the region.
Tiger previously tried – and failed – to launch airlines in the Philippines and South Korea, and instead has seen main LCC rival AirAsia forge ahead outside its home country of Malaysia into Thailand, Indonesia and now Vietnam. While Tiger claims it's not playing "catch–up" with its rival, in effect this is precisely what it is doing, and no doubt Tiger is looking again at both the Philippines and Korean markets.
The Indian sub–continent is also a key target for Tiger Airways. It already operates to Chennai and Bangalore, and routes between Singapore and Trichy in the south of India and Trivandrum (the capital of Kerala state, on the west coast of India) will start in November. Interestingly the latter will compete against service from SilkAir, the subsidiary of SIA. Other destinations are also under consideration but again Tiger is playing catch–up with rival AirAsia, which has already announced a major expansion of routes into India.
The other key target country is China. Tiger currently operates to Haikou, Guangzhou, Hong Kong, Macau and Shenzhen, but would like to add other destinations, such as Hangzhou, Shantou, Xiamen and even Taipei in Taiwan.
Earlier this year Tiger also started a cargo trial on routes from Singapore to Bangkok, Jakarta, Kuala Lumpur, Kuching and Penang, as part of a push to increase ancillary revenue. If successful, the trial will be extended to other routes and then potentially to a full roll–out across the airline, with cargo space being sold on all aircraft.
TIGER'S FLEETS
TIGER'S FLEETS

| | Fleet | Orders | Options |
| --- | --- | --- | --- |
| Tiger Airways Australia | | | |
| A320 | 9 | | |
| Tiger Airways | | | |
| A319 | 2 | | |
| A320 | 8 | 52 | |
| Total | 10 | 52 | 0 |