Jetstar: the growth part of Qantas' two-brand strategy June 2010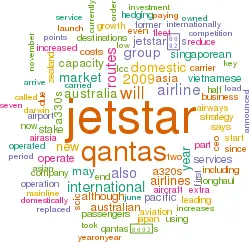 In the second part of a series on Asian LCCs, Aviation Strategy takes a look at Jetstar and Tiger Airways, both of which have ambitious expansion plans for the Asia/Pacific market.
In November 2003 Qantas bought domestic carrier Impulse Airlines and relaunched it in 2004 as a low cost, low fare subsidiary under the name Jetstar. International services started later that year and today the Melbourne–based Jetstar group has three separate airlines that operate 62 aircraft to approximately 30 destinations domestically in Australia and New Zealand, and internationally to 14 Asian destinations.
Jetstar (plus the Valuair airline/brand) is now controlled by a holding company called Newstar Investment, which is owned 49% by Qantas and 51% by Westbrook Investments, which is controlled by Singaporean businessman Choo Teck Wong.
In the first half of the 2009/10 financial year (the six month period to December 31st 2009), the Jetstar group (including the main Australian operation, a Singapore–based airline and a minority stake in a Vietnamese Jetstar) recorded revenue of A$1,131m (US$958m) — 18.1% up on H1 2008/09 — and "underlying EBIT" of A$121m (US$102.5m), compared with A$43m in July–December 2008.
LCC with frills
In the second half of 2009 Jetstar flew 4.3m passengers domestically in Australia, 2.7% up year–on–year, with a 3.3% rise in RPKs despite a 0.1% fall in ASKs leading to a 3.3 percentage point increase in load factor, to 83.6%. The main Jetstar operation carried 2m passengers internationally, up 107% year–on–year, with capacity up 34.9%, RPKs up 40.2% and load factor 2.9 points higher at 77.6%. The Singaporean business carried 1m passengers in the half year, at a load factor of 79.6%. Although it is an LCC, with passengers having to pay for extra leg room, in–flight entertainment, meals etc, it does offer substantial frills, such as the ability to earn points in Qantas's FFP and a premium/ business service called StarClass on international routes using A330s, which includes leather seats, meals and in–flight entertainment. Jetstar also interlines with a number of airlines, including Qantas, Japan Airlines, Etihad, Qatar, Royal Jordanian and, since April, with Air Canada.
Jetstar is a key part of the Qantas group's "two brand" strategy, with the mainline Qantas being the premium brand and Jetstar being the "low fare" carrier; on average Jetstar's fares are around 35%-40% lower than Qantas's.
Indeed the Qantas group has been switching capacity aggressively from Qantas to Jetstar on primarily leisure routes, allowing the group to make a profit (or reduce losses) on routes that were under–performing when operated by mainline Qantas. As can be seen in the chart (see right), domestic Qantas capacity has been cut since the start of 2009, while domestic Jetstar capacity has been growing since September 2009. The trend is even more pronounced on international routes to/from Australia, where double–digit percentage decreases at Qantas have been mirrored by even larger increases in Jetstar capacity. In the summer of 2009 Jetstar became the second–largest airline serving Australia internationally, while it is now also the third biggest airline in the Australian domestic market, having increased its share of the domestic market to approximately a quarter by outpacing the underlying growth in the market.
Jetstar 's Australian network is designed to funnel leisure traffic into Jetstar international gateways at Perth, Darwin, Cairns and the Gold Coast. Two routes were launched in the second–half of 2009 (Sydney–Perth and Sydney- Melbourne) and with the introduction of four more A320s to its existing fleet of 42 A320 family aircraft Jetstar is increasing frequency on 11 domestic Australian routes through this year, largely out of Melbourne and Sydney.
Domestically Jetstar is becoming as aggressive as Ryanair in reducing costs. It has already moved services from Brisbane International to the Gold Coast airport because of fee increases at the former, and in May the airline closed its daily Brisbane–Rockhampton service after failing to agree a reduction in fees at Rockhampton airport (where Jetstar competed against Virgin Blue and Sunstate Airlines, a regional carrier owned by Qantas). Jetstar is also threatening to reduce flights at Hobart and Darwin over actual or proposed fee increases there; at the former Jetstar claims the airport has increased fees by 50%, while at Darwin (where it has three aircraft and wants to increase its fleet to seven by 2012) Jetstar is apparently looking at building its own terminal if charges do not come down.
The constant pressure on costs is apparent through the 16.5% fall in costs per ASK at Jetstar in the July–December 2009 period year–on–year – but that was needed as "greater competition in south east Asia and New Zealand" led to a 10.9% drop in yield over the same period.
In the summer of 2009 Jetstar took over domestic New Zealand routes (between Auckland, Christchurch, Queenstown and Wellington) previously operated by Qantas. However, on the lucrative trans–Tasman market, Jetstar (and Qantas) is facing increased competition now that Air New Zealand and Virgin Blue/Pacific Blue have just announced they will co–ordinate their Australia–New Zealand network, which will include extra frequencies and better connectivity (although this is subject to approval by the relevant regulators). There is also speculation that Tiger Airways and even AirAsia X would like to enter the trans- Tasman market.
Jetstar Asia
Out of Australia Jetstar currently serves 11 international destinations in Japan, Thailand, Hawaii, Bali, and — from March — Fiji. These are operated with seven A330s loaned from Qantas; 15 787s are on order, but until they arrive international growth will depend on getting extra A330s from Jetstar's parent. Some A330s from Qantas will also go to Jetstar's Singaporean operation, called Jetstar Asia Airways. The airline is based at Singapore's Changi airport and was launched in 2004 to operate intra–Asian routes, which are currently offered to Cambodia, Hong Kong, India, Indonesia, Macau, Myanmar, the Philippines, Taiwan and Thailand. Jetstar Asia currently has seven A320s, with two more due to arrive before the end of the summer.
The Jetstar group has been "aligning" its Australia and Singaporean operations recently, which is leading to S$20m (US$14.4m) in synergy benefits a year. Capacity out of Singapore has increased by 50% in the last 12 months, and will grow by close to 50% again this year.
Jetstar says it will launch long–haul services out of Changi to Australia, northern Asian and potentially even southern European destinations by the end of 2010, using extra A330s from Qantas, the first of which is due to arrive in November. The aircraft will have a 303- seat capacity in two classes, including StarClass, although the group has not yet announced whether Jetstar Asia or the Australian Jetstar will operate the longhaul routes. In Europe Rome, Athens and a southern France destination are believed to be under consideration, while Beijing is among the leading contenders in north Asia, with an announcement of the first long–haul destination expected soon (very likely to be in Asia, with the first European route more likely to start towards the end of 2011).
In April Jetstar Asia also won rights to operate between Singapore and Tokyo Narita, although the airline originally wanted to operate to Tokyo Haneda, but was denied this after the Singaporean regulator gave the rights to SIA instead. Services to Narita have yet to be announced, but they will use A330s (although a daily Singapore–Osaka service, operating via Taipei, will start in July using A320s).
Jetstar Pacific
Interestingly, Jetstar has already taken over from Qantas on some Australia- Japan routes (which means that it now provides 50% of capacity between Australia and Japan), which Qantas says "overturns conventional wisdom that the structure of the Japanese travel market is not conducive to an international low fares carrier with a predominantly online booking model". This may be a hint as to Jetstar's desire to launch services in the domestic Japanese market, as it believes that the unreformed domestic market would welcome competition from a LCC. Jetstar's Vietnamese operation dates back to 1991, when it was launched as Pacific Airlines by Vietnam Airlines and the State Capital Investment Corporation (SCIC). After Temasek Holdings (the Singaporean state investment company) took a 30% stake in 2006 the airline was relaunched as a LCC in February 2007, and then once Qantas took an 18% stake in June 2007 the airline was rebranded as Jetstar Pacific in May 2008. Today the Qantas group has a 27% stake in the airline ( just under the 30% maximum allowed for a foreign investor, to which it is committed to raising its stake) while SCIC has 69.9%, with the rest owned by the Saigon Tourist company and former CEO Luong Hoai Nam.
Jetstar Pacific is based in Ho Chi Minh City and has 1,000 employees. It operates to five domestic destinations (having abandoned plans to launch international routes) and is adding a sixth, Nha Trang, from June, which it will serve from Hanoi. It operates five 737–400s and an A320, with the 737s scheduled to be replaced by A320s.
Although it carried 1.9m passengers in 2009, Jetstar Pacific could be seen as the weak link in the Jetstar group, with the airline losing more than US$30m due to fuel hedging in 2008 and 2009. The hedging losses have resulted in an investigation by Vietnamese authorities, and Jetstar Pacific's CFO (Tristan Freeman) and COO (Daniela Marsilli) were prevented from leaving the country at the end of 2009, leading to their resignations in January (although it is believed they are still being paid salaries by Jetstar).
Since the start of the year Qantas/Jetstar has had to parachute in at least a half dozen key executives into its troubled Vietnamese offshoot, including Jason Cameron – who was previously head of Jetstar's New Zealand business – as the new COO. Alan Joyce, CEO of Qantas, says the departing executives were carrying out normal fuel hedging practices and were not part of any criminal activity, but the Vietnamese authorities also placed Luong Hoai Nam, the former CEO of Jetstar Pacific (he resigned in November 2009,) under house arrest. He was replaced by Le Song Lai, the chairman of the airline, as interim CEO; Lai is an executive at Vietnam's SCIC.
In another blow, in May the Civil Aviation Administration of Vietnam (CAAV) ordered Jetstar Pacific to stop using the logo and branding of Jetstar Airways in its marketing, in order to help the Vietnamese market understand the "differences" between the two airlines. If it doesn't comply then CAAV may not renew Jetstar Pacific's operating licence, which is due to expire later this year.
Jetstar points out that cross–border use of a brand is standard international practice, but apparently VietJet AirAsia (see Aviation Strategy, May 2010) will also be refused permission to operate if it relies on the AirAsia brand to build its business in the country.
Fleet growth
SCIC has also been trying to reduce its stake in the airline by finding new investors, but it may be difficult to find a replacement given the carrier's current troubles. Altogether the Jetstar group has 54 A320s on order, and in the 2010/11 financial year (ending June 30th) the Australian and Singaporean airlines will receive eight A320s and two A330s (the latter from Qantas). As part of their new alliance (covered in the May issue of Aviation Strategy), Jetstar and AirAsia are looking at launching a leasing company to market their older A320s as they are replaced by new models.
Jetstar's A330 fleet will rise to 12 before the first 787 arrives in 2013. The 787s will also allow Jetstar to operate more point–to–point services, rather than having to connect via hubs, which the Qantas group says "is a key advantage of 'end–of–line' carriers".
According to Qantas, Jetstar is managed and operated independently of its parent. However, unions at Qantas have become concerned at alleged "secret transfers" of assets from Qantas to Jetstar, which they say makes the LCC more profitable than it really is and helps Qantas's management make the case that the mainline Qantas needs to reduce pay and conditions for its staff. Barry Jackson, president of the Australian and International Pilots Association, says: "It is time for management to explain why — if it's so successful — Jetstar needs to be propped up by Qantas paying for its gates at major airports here and abroad, paying for significant training costs and paying for its participation in an expensive spare parts pooling arrangement with other A330 operators."
Unconfirmed reports from Australia also claim that the transfer of four A330s from Qantas to Jetstar to allow it to commence long–haul routes has given the airline A$440m (US$372.7m) worth of fleet for free, and that Jetstar's fuel hedging costs were being paid from sources reported in Qantas's account, thereby improving the relative performance of Jetstar.
JETSTAR GROUP FLEETS
JETSTAR GROUP FLEETS

| | | | |
| --- | --- | --- | --- |
| | Fleet | Orders | Options |
| Jetstar Asia Airways | | | |
| A320 | 7 | | |
| Jetstar Pacific | | | |
| A320 | 1 | | |
| 737-400 | 5 | | |
| Total | 6 | | |
| Jetstar Airways | | | |
| A320 | 36 | 54 | 40 |
| A321 | 6 | | |
| A330 | 7 | | |
| 787-9 | | 15 | 50 |
| Total | 49 | 69 | 90 |