Ryanair's unrelenting expansion June 2009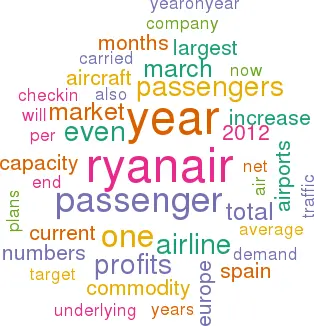 In the past decade what was a small regional Irish airline on the periphery of Europe — Ryanair — has grown to become one of the largest European carriers by paying attention to the simple fact that the airline industry is a commodity business. And in a commodity business the lowest cost producer should — all things being equal — win out.
In the year to end March 2009 it sold tickets for 58.5m seats — more than either Lufthansa/Swiss (54m) or Air France/KLM (50m) on their respective intra–European operations. It now operates from 32 bases throughout Europe to 146 airports in 26 countries on more than 800 route pairs with 186 aircraft (all 737–800s).
It is by far the lowest cost producer: on a per passenger basis its operating costs of €47.78/pax are some 30% below its nearest large competitor – easyJet – and 60% below Irish rival Aer Lingus. At the same time, with unbeatable average fares of €40 per passenger (and total revenues of €50/passenger) the operations still made a profit even in a year when it was caught out by extreme oil price volatility. In the year ended March 2009 it reported underlying net profits of €105m (before what used to be known as extraordinary charges) on revenues of €2.9bn, compared with €480m net profits and €2.7bn in the previous year. It is also now the largest European carrier by market capitalisation (see chart, below) and even 45% larger than the company that provided the inspiration for its operational model, Southwest.
Time to expand ...
A few years ago, Ryanair set itself the target to double both passenger numbers and profits between 2007 and 2012 – to enable it to show passenger carryings of 80m and profits of over €800m for the year to end March 2012. Even after this last year's upset to the profit figures, in the recent full year's results' presentation it reaffirmed its commitment to this target. The largest player in any market must surely pay attention to the underlying level of demand for its product – particularly in a commodity market. Consequently in the current exceedingly weak economic environment for the airline industry, as almost every one of its competitors hurriedly reduces capacity to try to be able to match the falling demand, one might expect Ryanair to follow suit. However Ryanair is doing no such thing. It has 186 aircraft in operation at the moment, and has 126 aircraft on order with options for a further 102. By the end of March 2012, on the assumption that it exercises its options, it plans to have a fleet of 301 737–800s.
It is currently also apparently having discussions with both manufacturers, trying to use this downturn (as it did in 2002) to negotiate another massive aircraft order at exceedingly cheap prices to minimise its fleet ownership costs even further. In the next 15 months it will be taking delivery of 80 new 737s (and plans to dispose of three) – almost all of which have been financed. It has consequently planned to increase seat capacity by some 11% in the current summer season (whereas easyJet is growing by only 2%, Lufthansa, BA and Air France are cutting capacity by 2–6%, Iberia and SAS by 8–9%, and the "new improved" Alitalia by 28%) and aims to increase total passenger numbers carried (or, more accurately, seats sold) in the current year ending March 2010 by 15%. In a weak demand environment in a commodity market, a strong increase in capacity will inevitably lead to a severe pressure on prices; and the company, with little real visibility on anything beyond the next couple of months, gave guidance that it expects full year average yields (average revenue per passenger) to fall by 15%-20% year–on–year.
Ryanair also sees a strong opportunity in Spain. The Spanish economy and market has been one of the worst hit in this economic turmoil: figures from AENA show that total passenger numbers through its airports fell by 14% year–on–year in the first five months of this year. At the same time, (despite withdrawing in a huff from a base in Valencia, apparently because promised marketing support was paid to someone else), Ryanair carried 16% more passengers than the year before. Furthermore the only one of the top 20 airports in Spain to register any increase was that of Reus (see chart, above), which Ryanair uses as a base and an alternative to Barcelona – and there traffic grew by 58% year–on–year. Of the top 12 airlines serving Spain (which account for 73% of total passenger traffic), Ryanair was the only one to register growth in numbers for the four months to April; and the 4.9m passengers it carried to, from and within Spain in that period account for more than 25% of its total traffic.
Nevertheless, this puts it firmly in the position of the second largest individual carrier behind Iberia (9.5m pax in the period, down 19%) and just ahead of Iberia's newly–merged low–cost affiliate Vueling/Clickair (4.4m pax, down 16%), Air Europe (4.15m down 16%) and the troubled Spanair (3.85m down 34%).
Another element of the Ryanair model is the airline runs its services for its operational convenience and not the passengers'. This may frustrate some customers – but merely brings an airline operation into line with all other forms of public transport. Having introduced charges for checking in baggage – with the clearly stated intent to dissuade passengers from doing so – the company has been remarkably successful at changing customer behaviour and the proportion of passengers using airport check–in has fallen to 35%. It now wants to remove check–in desks at airports (only allowing a bag–drop) and has imposed a mandatory policy of online check–in.
Even with the plans to grow while all around are shrinking, Ryanair is one of the few airlines to provide guidance on current year profits – with the prognosis of a doubling in net underlying profits to between €200m and €300m (having at least locked in fuel for the first half of the year at very competitive hedged rates) and the expectation of that 15%-20% yield decline.
However much resentment Ryanair's attitude may generate, it does provide a reliable service — Michael O'Leary claims that Ryanair is the best performer in Europe for flight reliability, punctuality and lost baggage — and passengers patently choose to travel with it. By growing aggressively even into this recession, it seems quite probable that it will help to accelerate more airline failures and as the economy recovers be able to achieve its 2012 target.