Will the Chinese aircraft order backlog survive? June 2009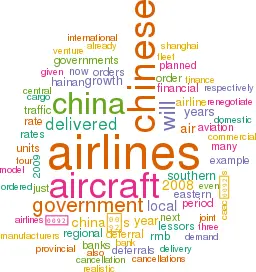 More than 300 new aircraft have been delivered to Chinese airlines over the past three years, and 500 more are scheduled for delivery by 2014. But with China's "Big Three" racking up losses of US$4.2bn in 2008, is it realistic to expect that this huge backlog of orders will be delivered?
Encouraged by soaring air traffic demand before the global recession, the Civil Aviation Administration of China (CAAC) and Chinese airlines intended to expand fleets at an annual growth rate of 13% over the next few years, with the total Chinese fleet planned to reach 1,550 units by 2010.
Cancellation or deferral?
Indeed China's "Big Three" — Air China, China Eastern and China Southern — have outstanding orders for 139, 64 and 150 aircraft respectively to be delivered within the next five years. Three medium–sized carriers — Hainan Airlines, Shanghai Airlines and Shenzhen Airlines — also have 113, 27 and 41 aircraft respectively being delivered over the same period. That's 534 aircraft that are due to be delivered by the end of 2014 (the majority of which will arrive in the next three years), even without counting orders for smaller Chinese airlines. Most of the incoming aircraft are narrowbodies (a result of most Chinese airlines' focus on the domestic market, and CAAC's attempt to phase out aircraft more than 15 years old), but just how many of these 500+ aircraft will actually arrive at Chinese airlines? The majority of these aircraft were ordered between 2005 and 2007, in a period when China's air traffic volume recorded annual growth rates of around 15% (see Aviation Strategy, May 2008). But in 2008 the growth rate tumbled to 2.2 % and in the same year Chinese airlines suffered significant financial losses. Last year the CAAC publicly urged Chinese airlines to renegotiate with Airbus and Boeing in order to cancel or defer aircraft deliveries, although at that time — when airlines did talk with the manufacturers — the focus was much more on deferral rather than cancellation.
A key complication is the fact that most Chinese orders are placed collectively by China Aviation Supplies Holding Company, a state–owned company, and this turns potential cancellations into an issue that affects the Chinese government's credibility. The only major cancellation announced so far has been from Hainan Airlines, which in May cut its order for 50 ERJ 145s to 25 units.
The deferral situation varies airline by airline and model by model, but there's little option other than deferral for the 787s, of which Chinese airlines ordered 72 units in 2005. The aircraft's increased maximum empty weight (which will now be five to eight tons higher than the original design specification) makes operating the model on many Chinese routes uneconomic, and a number of the orders placed by Chinese airlines have now been taken by Japanese airlines. Indeed the 787 economics look so bad in China that China Eastern — which reported a record financial loss of US$2.2bn in 2008 and had to be rescued by the Chinese government — recently announced that it was considering cancelling its entire order of 15 787–8s.
But given that cancellation is not a realistic option for most Chinese airlines (China Southern, for example, has parked two 777–200LRFs in the Arizona desert, after they were delivered only in February this year, rather than cancel the order before delivery) the emphasis in ongoing negotiations with manufacturers remains on deferrals — although carriers are finding it difficult to make meaningful adjustments to schedules.
The other options
For example, with CAAC's "coordination", delivered aircraft in 2008 were eight fewer than originally planned, and thanks to deferrals and cancellations this difference between planned and delivered aircraft is expected to rise to 33 units this year. But given that the Chinese air traffic growth rate was just 1.7 % in the first four months of 2009 (compared with the same period in 2008), there will still be significant overcapacity even despite this adjusted delivery total for 2009. With cancellations and even deferrals proving difficult (given the CAAC's involvement), the realistic alternatives for Chinese airlines are to return leased aircraft to lessors and/or to accelerate the withdrawal of ageing/uneconomic aircraft from service.
China Eastern, for example, has already returned seven leased aircraft this year and, after a handful of deferrals, the airline's fleet will rise by only 13 aircraft this year – 10 units fewer than planned. Airlines are also attempting to renegotiate lease rates with lessors, as most existing contracts were signed before 2008, at a period when aircraft lease rates were close to their peak (and very approximately 25% higher than they are at the moment).
Whether Chinese airlines achieve lower rates depends largely on how severe their own financial situation is (the more trouble they are in the greater leverage they seem to have with the lessors) and — more importantly — just who their owners are. The smaller and/or privately–owned airlines are making the hardest efforts to cut rates, but the outcomes so far have not been encouraging, and lessors are reluctant to renegotiate agreed contracts except in exceptional cases.
Finance problems
What is in the airlines' own hands is the withdrawal of uneconomic aircraft from service. China Southern is the front–runner here: it has already sold 12 MD–80s and is now disposing of four 777–200s, six A300- 600s and 13 MD–90s. The six A300–600s were scheduled to be converted to freighters, but the airline has stopped this programme due to a severe fall in China's air cargo business and the indefinite deferral of a proposed cargo joint venture between China Southern and Air France/KLM. There is another factor in determining how many aircraft will be delivered to China over the next few years – the availability of finance. Fortunately for them, Chinese airlines are supported strongly by central government and a host of provincial governments that have deep pockets, as well as the Chinese banking industry, and together these entities continue (for the moment at least) to ensure both the survival of the major airlines and the financing of their aircraft orders.
The Chinese government has already injected RMB 3bn (US$439m) into both China Eastern and China Southern respectively. This rescued China Eastern from bankruptcy and helped China Southern to pay back maturing debt of RMB 2.3bn incurred from aircraft purchases. At a regional level, the Hainan provincial government followed the central government's lead by injecting RMB 1.5bn (US$219m) into Hainan Airlines, while the Shanghai government gave RMB 1bn (US$146m) to Shanghai Airlines.
The central and regional governments' financial commitments are crucial in helping Chinese airlines through the current recession, but in some cases the local governments are going further, via a wave of subsidiaries being set up with local airlines. For example, Grand China Express — the country's largest regional carrier with 46 aircraft — has been transformed into Tianjin Airlines, a joint venture subsidiary between the Tianjin municipal government (which provided RMB 200m of equity) and the Hainan Airlines Group, which owned the airline.
And Shenzhen Airlines is aiming to transform regional subsidiary Kunpeng Airlines into a joint venture with the Henan provincial government (again with funds provided by the local government). The airline — which is likely to be renamed Henan Airlines — ordered 100+ Chinesebuilt ARJ21s in 2006.
As well as providing capital, regional governments are also helping their local airlines by reducing airport charges and local taxes (which are completely within the powers of the local government).
But perhaps the most important boost from the involvement of national and local governments in Chinese airlines is that it increases the confidence of creditors and aircraft lessors, reassuring them that in the event of financial difficulties the national and local government shareholders will act to rescue the airlines. With expectations such as that, commercial loans, finance leasing and sale and leaseback deals are much more easily concluded.
Outlook
On top of government support comes the Chinese banks, and most particularly the Industrial and Commercial Bank of China, China Construction Bank and Bank of China. These banks have long been "silently" financing Chinese airlines' aircraft deliveries with commercial loans, counter–guarantees, finance leases or tax leases, and (unlike Western banks) Chinese banks have relatively low equity and margin requirements – again justified by the fact that most airlines are controlled by governments, which ultimately take all default risks. Undoubtedly the biggest influence on how many aircraft will be delivered to China's fleet is just when China's economy will pick up substantially from the slowdown. The consensus appears to be that the economy has passed the worst point, but some fears remain that the recovery could be a so–called "W" shape. That's because the current acceleration in the growth rate is being driven by massive government investment which, while stimulating domestic consumption, is not sustainable in the long–term.
And government investment can't stimulate overseas demand, with the harsh reality for the aviation industry being that demand for exports from China — which has long served as an engine of economic growth — has tumbled.
The first four months of 2009 saw China's international air cargo volume decline by 21.9 %, which will surely affect the Big Three's plans for new and converted freighters. Similarly, international passenger traffic shrank by 17.3 % over the January- April 2009 period, and Chinese airlines are now struggling to deploy existing and incoming widebodied aircraft on domestic routes in the short–term.
The airlines hope that this will be a temporary measure until international traffic rebounds, but until that occurs the manufacturers will be keeping a nervous eye on the huge backlogs at Chinese airlines.