Fragmenting the Atlantic business market June 2007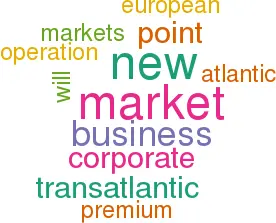 Changes in the transatlantic travel market have accelerated with the announcement by both British Airways and Virgin Atlantic that they intend to set up all–premium services based in continental European cities, using 757s or 767s. With transatlantic premium business accounting for most of the profits of the European network carriers, the new all–premium strategies provide major opportunities and major threats.
For BA, positioning its operation at continental points minimises the risk of cannibalisation of its Heathrow traffic, though there will be some impact from losing connecting premium traffic. It can sell its relatively strong product directly into new markets, exploiting its corporate contracts, while still being largely protected at its base market, simply because of the lack of Heathrow slots at transatlantic business times. Virgin Atlantic, as an almost pure point to point carrier doesn't have to worry about cannibalisation, and now has the opportunity of pushing its brand into new European markets, though it is at a disadvantage to BA, Lufthansa and Air France in winning corporate accounts.
The BA project is a variation on Lufthansa's established PrivatAir operation, which is designed as a hub–bypass from, for example, Geneva and Düsseldorf to the US and Middle East and also as a hub supplement from Munich. PrivatAir's main focus is the corporate market in Germany, Switzerland and the Netherlands.
In the UK market there are three independent premium–class airlines, attacking this market from different angles.
Eos, with its London Stansted–JFK operation, poses the most direct threat to BA, aiming for frequency on one route (currently 17 weekly frequencies) with a comparable in–flight product to BA on its 48–seat 757s. Its weakness may be in its pricing point, up to £4,000 return, which BA can easily undercut for its corporate customers.
Silverjet and MaxJet, operating from Stansted and Luton respectively, both with 100–seat 767s, are attempting to generate new markets — inducing business travellers from SMEs to fly relatively low cost business–class and targeting averagely well–off leisure passengers. Their pricing point is around BA's full Premium Economy rate. MaxJet's strategy is based on expanding its US points (it is a US–owned airline) while Silverjet's is more focused on increasing its frequencies to a limited number of US cities, concentrating on New York (Newark). L'Avion, which started flying from Paris Orly to Newark this year, appears to be pursuing a similar strategy to Silverjet.
So, far from consolidating, the transatlantic market is fragmenting with new entrants and Euro–majors identifying what they hope to be profitable business travel niches. There will be casualties but there will also be more new entrants.