AF/KL: the first year June 2005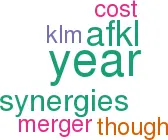 The French and the Dutch have shown solidarity in roundly rejecting the European Constitution. So how are they doing on the Air France/KLM merger?
The official answer is that the first year has been " a complete success", with over–achievement on synergies, hub coordination and cost–cutting. Financial results for the year to March 31 2005 showed a significant improvement on last year, but profitability was still modest — a net profit margin of 1.8% compared to 3.2% at BA or 20% at Ryanair.
Moreover, year–on–year comparisons remain confusing because of the accounting consolidation process — different periods for Air France, KLM and the Servair subsidiary, for example. Rather strangely, KLM followed up on the merged results with separate figures for the KLM Group, which revealed an increase in net profit of €67m to €91m in 2004/05 while KLM/AF combined showed an increase of only €59m to €351m.
Synergies achieved last year amounted to €115m, roughly twice expectations, but again it is unclear as to what exactly these synergies refer to or even if they are cost or revenue synergies. Unit cost per ASK didn't change at all between 2004 and 2005, though AF/KL management claim that, taking into account fuel and currency effects, a 2.3% decrease in unit costs can be estimated. In the current year, most planned cost reductions appear to be in distribution, though cutting or eliminating travel agents' commissions, an action that would have taken place regardless of the merger.
Coordinating the CDG and Schiphol hubs is key to the success of the merger. The agreement stipulated a fair distribution of traffic between the two airports, though AF/KL management now emphasises the economic rather than political aspect of capacity and traffic development at Paris and Amsterdam. Three–year network plans have been drawn up by AF and KL managers, with "no problem in terms of growth or overlap", except for a few routes, notably the new service to Nagoya.
Investors would probably like to get behind these general reassurances and understand what is happening on a detailed level at the new AF/KL dual hub system, and how real costs are being taken out of the joint entity. Trading at €13 in early June the AF/KL share price is down 8% on a year ago and 25% relative to the European Transport index.
AIR FRANCE/KLM CONSOLIDATED RESULTS (€m)
AIR FRANCE/KLM CONSOLIDATED RESULTS (€m)

| | | | |
| --- | --- | --- | --- |
| | 2005 | 2004 | Change |
| Revenues | 19,078 | 17,782 | 7.3% |
| Op costs | 18,589 | 17,377 | 7.0% |
| Op. result | 489 | 405 | 20.7% |
| Net result | 351 | 292 | 20.2% |
| Unit rev (cents/ASK) | 6.56 | 6.55 | 0.2% |
| Unit cost (cents/ASK) | 6.33 | 6.33 | 0.0% |