Malaysia Airlines: virtual rationalisation June 2004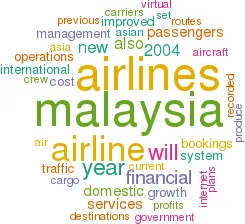 At the end of May, Malaysia Airlines posted its best ever results since its stock market listing in 1985. For the financial year ending March 31, 2004 Malaysia Airlines recorded a net profit of RM 336.5m (US$88.6m), 37% higher than for the previous financial year.
This result was achieved despite a drop in revenues from RM8.67bn to RM8.6bn (US$2.3bn). Operating profits improved 39% to RM195.6m. Pre–tax profits rose to RM345.2m versus RM333.9m in the previous financial year. At the pre–tax level, airline operations contributed RM273.2m, cargo services RM96.5m, but the airline catering division recorded a loss of RM24.4m.
International traffic showed a small increase, rising by 0.3% to 33.1bn RPKs while domestic traffic registered a 2.1% decrease with RPKs falling to 4.6bn. Cargo traffic increased by 5.5% to 2.18bn RTKs.
September 11 and the SARS epidemic forced Malaysia Airlines to embark on rationalisation and cost cutting measures.
The airline has centralised its reservation call centres in Malaysia/Singapore and Australia/New Zealand to Kuala Lumpur and Adelaide respectively. It has also undertaken several IT initiatives — it has adopted a new Revenue Management System (RMS) to enhance the management of passenger seats inventory system–wide and optimise yields. This initiative, coupled with a Route Marketing Plan (RMP) is expected to produce a 5% yield improvement.
This target may prove a tall order given the significant pricing pressure in the Asian regional market. AirAsia is the most immediate LCC threat to Malaysia, and the continent now boasts 20 other LCCs. In addition, Malaysia Airlines faces a threat to its profitable cargo operations from five new 747F orders in the region this year and plans from other Asian carriers to convert passenger aircraft into freighters.
The airline has also introduced an Integrated Crew Management System (iCMS) for effective in–flight crew planning, rostering and tracking, to optimise crew productivity.
A task–force has been established to identify further cost savings, but only if they do not impact service quality.
The Maintenance Engineering System (MES) has improved the reliability of aircraft turnaround times and resource optimisation.
The MES package has reduced aircraft maintenance downtime days, improved hangar slot management, produced direct labour savings and improved the tracking of engines and other next higher assemblies (NHA).
Additionally the airline has upgraded its existing MASGO system to support the current and future business and operational needs of Malaysia Airlines wholly owned subsidiary, MASKargo.
Malaysia Airlines has also collaborated with nine other Asian carriers to set up Travel Exchange Asia (TEA), a virtual travel agent that offers e–distribution services. TEA enables customers to book and purchase airline tickets, hotel, rooms, make reservations for car rentals and holiday packages via the internet.
Restructuring of the airline has left Malaysia Airlines as a near virtual airline. The asset–unbundling means that Malaysia Airlines is in effect a franchise operator.
Network issues
Domestic routes, a mixture of thick and thin, are operated with fare levels set by the government. Whilst some of the thicker routes, despite competition from Air Asia, still produce profits for Malaysia Airlines, the airline is also required to operate a number of thinner routes (e.g. Sabah), which produce losses. With no PSO–style mechanism in place, under the restructuring, Malaysia Airlines continues to operate domestic services but has virtually no financial exposure.A number of key performance indicators are in place for the operation of domestic services between M a l a y s i a Airlines and the Government, which can provide Malaysia Airlines with either financial benefits or penalties. Therefore, Malaysia Airlines' financial performance largely depends on the operation of its international route network.
The Government of Malaysia is formulating a new National Aviation Policy this year and it is likely that it will continue to favour a liberalised approach to air transport operations.
A possible policy will be to encourage a more liberal or even open skies regime with important neighbouring countries such as Vietnam, Thailand, and the Philippines. The profit recovery has encouraged Malaysia Airlines to continue its network expansion. Three new destinations in China (Chengdu, Kunming and Wuhan) and three new destinations in India (Kolkata, Cochin and Ahmedabad) have been announced, bringing the total of destinations served to 105. Later this year, Malaysia Airlines' services to New York, currently flown over Dubai, will be flown over Stockholm.
Additional frequencies are planned for Beijing, Xiamen, Hong Kong, Osaka, Dhaka, Hyderabad, Bangalore, Bombay, Saigon, Phnom Penh, Vienna and Paris.
LCCs again
Managing Director, Datuk Ahmad Fuaad Dahlan said that the airline had no current plans to set up a low cost airline subsidiary though it was reviewing the concept given the proliferation of such airlines in the region.
Air Asia is looking to carry 50% more passengers in 2004 than in the previous year, with numbers increasing to 3 million. Malaysia Airports Holdings Bhd (MAHB), owner and operator of Kuala Lumpur International Airport, has said that it has no immediate plans to build a terminal dedicated to LCC operations, a development that had been mooted. The airport, which opened in 1998, was designed to handle 25m passengers per year. In 2003, it handled 17.5m passengers and expects to handle over 18.5m passengers in 2004. Work has begun on a second satellite at KLIA, which when completed in 2008 will take capacity up to 40m passengers.
The strength of the Malaysian economy should provide a strong engine for traffic growth for the airline. In the first quarter of 2004, Malaysian GDP growth was 7.6%, the highest recorded quarterly growth rate for three–and–a-half years. JP Morgan forecast that the economy would remain strong throughout 2004, forecasting an annual GDP growth rate of 7.0%. Malaysia, as a net exporter of oil, also benefits from its current high prices.
Like many other carriers, Malaysia Airlines has announced that it will be introducing a fuel surcharge. From the beginning of June, round trip fares on long–haul flights will be raised by RM100, and on regional round trip fares by RM30.
The airline has a small cost advantage compared with some of its larger local competitors, such as Cathay Pacific and Singapore Airlines. One area in which the airline will be looking to reduce costs is in distribution. At the start of 2004 Malaysia Airlines offered the possibility of making domestic flight bookings on its own website, and levels of internet bookings stand at 5%. In August this year, when international bookings will be also be made though the website, the airline will launch a major marketing campaign. By 2009, Malaysia Airlines has targeted internet bookings of 20%.
Malaysia Airlines has to balance its strategy to meet both the financial expectations of its shareholders and its obligations as national flag carrier in a country highly dependent on tourism, and competing with Singapore and Dubai. The airline is seen as playing a traditional role in assisting economic development, characterised by the confirmed order for six A380s, for 2007/08 delivery.
MALAYSIAAIRLINES' FLEET
MALAYSIA
AIRLINES' FLEET
Type
Number in Fleet
747-400
17
747-200F
2
777-200
15
A330-300
10
A330-200
5
737-400
19
Fokker 50
10
Total
78