The expansionist dilemma June 2004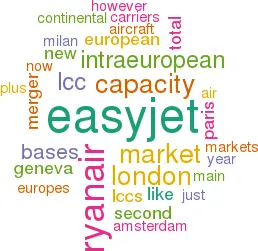 A second profit warning from easyJet coming too soon after the first one plus comments from Ryanair's CEO Michael O'Leary about an impending competitive bloodbath has understandably upset investors and raised questions about European LCC models.
easyJet and Ryanair are both pointing to overcapacity in the market as the main culprit for their recent problems, the result of too many start–ups trying to imitate them and the stubborn refusal of the flag carriers to accept commercial logic and exit the short–haul market.
They are beginning to sound like the AEA carriers whining about there being too many flag–carriers in Europe.
In reality, easyJet and Ryanair are the ultimate expansionists.
Their current fleet plans mean that they will both be adding a new aircraft every two weeks or so until the end of 2008 — 104 737–800s for Ryanair and 107 A319s for easyJet. And each new aircraft will have to generate at least 250,000 extra passengers a year (easyJet carried 21.1m passengers in 2003 and Ryanair 23.1m in the year to March 31 2004).
The basic problem does not seem to be Europe–wide LCC overcapacity but rather near–saturation of the London market and an inability to penetrate barriers at continental European bases. Despite the dynamic expansion of recent years, easyJet and Ryanair remain essentially UK (or British/Irish) focused airlines.
The graph on page 2 illustrates this. The data comes from OAG (first week of June) and shows intra–European scheduled seats to/from Europe's main cities, with the capacity split out into base flag carriers, other Euro–flag–carriers, other full service airlines (like bmi), easyJet/Ryanair, and other LCCs (including scheduled services offered by charters).
At London (which means Heathrow, Gatwick, Stansted and Luton) easyJet and Ryanair now account for 33% of the total intra–European capacity, more than BA which, having rationalised its short–haul network, has only 29%. Expansion at London is being constrained: BA has come up with an effective defence with ba.com, most of the new continental LCCs have tended to include London on their route networks, and there is a limit to how much existing markets can be stimulated.
Paris is the closest to London in terms of LCC–friendly characteristics: Europe's second largest O&D catchment area, significant second airport, inbound and outbound tourism and VFR traffic, and potentially price–sensitive business markets. easyJet may be France's second biggest carrier, but overall LCC penetration is shallow. EasyJet at Orly and CDG and Ryanair at Beauvais account for just 7% of the Paris total.
easyJet remains frustrated by the slot allocation barriers at Orly and has embarked on legal action against COHOR, the slots administrator, as well as challenging the legality of the Air France/KLM merger, through a complaint to the EC. Air France plus KLM control about 62% of intra–European capacity at Paris, and the French flag–carrier isn't going to relinquish any of it without a battle.
easyJet's focus in Germany is now at Berlin, where it is coming up against the most successful of the German LCCs, Air Berlin, and to a lesser extent at Dortmund. It tested out the Munich market for over a year before deciding that it was impossible to convert DBA into a commercial LCC.
Ryanair has grown more rapidly at Frankfurt Hahn than some expected, but its share of Frankfurt (both airports) intra- European capacity is only 7%, less than the 10% controlled by the German charter–derived LCCs like Condor (50% owned by Lufthansa) and Hapag Lloyd Express and, of course, dwarfed by Lufthansa, which has about 66%.
Turning to Italy, prospects should be enhanced by the deteriorating situation at Alitalia whose auditors seem to be suggesting that the airline is facing liquidation. It is, however, immensely difficult to get rid of a southern European flag–carrier no matter how illiquid it is. Alitalia controls about 44% of intra–European capacity at Rome (Fiumicino and Ciampino) and 40% at Milan (Linate, Malpensa and Bergamo).
Ryanair has developed its bases at Bergamo and Ciampino but it (plus easyJet which has a much smaller presence) accounts for only 7% of the Rome total and 8% of the Milan total. The competitive picture is complicated by Volare, which has a significant presence at both airports and is trying to convert itself into Europe's third force LCC from a diverse charter/scheduled background. So far it seems to be losing a lot of money.
Amsterdam and Geneva are both bases for easyJet. It has a 9% capacity share of the intra–European market at Amsterdam, and there should be growth opportunities at Schiphol as a result of the KLM/Air France merger. The logical way of extracting value from the merger would be to concentrate global hubbing at CDG and downsize KLM's Schiphol operation; however, the terms of the merger agreement state that the relative importance of the two hubs has to remain unchanged for the foreseeable future.
Transavia, 50% owned by KLM, is also an effective LCC–type competitor at Amsterdam.
Geneva too offers growth prospects if the increasingly financially troubled Swiss, which has about 22% of the intra–European capacity there, goes out of business. easyJet actually has just over 22%, and could in theory achieve a dominant position at Geneva. It should be noted, however, that the Geneva market is relatively small — just 10% of the London market, for comparison.
The problem facing both easyJet and Ryanair is that they know that there is a very substantial unsatisfied demand for their products in continental Europe but to grow there they need to establish bases at the main population centres. Up to recently, they have grown successfully by flying from London and other UK/Irish cities to secondary and tertiary points, but to continue to grow, and fill the aircraft they have ordered, they have to expand from bases like Paris or Milan to secondary and tertiary points.
This may imply diversions from the model that has worked so well up to now — full–scale inter–LCC fare battles or accepting higher airport costs, taking over LCC rivals, maybe even experimenting with some from of franchise agreement (as AirAsia has done) in order to develop new markets.
CAPACITY SHARES BY AIRLINE TYPE
CAPACITY SHARES BY AIRLINE TYPE

| | | | | | | | |
| --- | --- | --- | --- | --- | --- | --- | --- |
| | London | Paris | Frankfurt | Rome | Milan | Amsterdam | Geneva |
| Base flag carrier | 29% | 62% | 66% | 44% | 40% | 50% | 22% |
| Other Euro-flags | 20% | 23% | 15% | 18% | 20% | 23% | 55% |
| Other full service | 12% | 3% | 2% | 18% | 16% | 5% | 0% |
| easyJet and/or Ryanair | 33% | 7% | 7% | 7% | 8% | 9% | 22% |
| Other LCC | 6% | 5% | 10% | 12% | 16% | 14% | 1% |
| Total | 100% | 100% | 100% | 100% | 100% | 100% | 100% |