NetJets: expansionist but query over profitability June 2003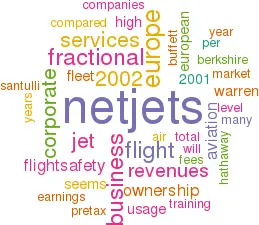 Founded in 1986 by Richard Santulli, Executive Jet Aviation was bought by Warren Buffett's Berkshire Hathaway for $725m in July 1998. The fractional ownership programme was renamed NetJets in April 2002 and is growing in size and publicity. NetJets and FlightSafety are the two main businesses in the flight services segment.
Even considering the current market environment, NetJet's Chairman, Santulli is adamant that the fractional market is robust and will grow 5- 15% a year over the next decade or so. Santulli is "less concerned with quarterly earnings than showing a profit over a 10–year period and Warren Buffett understands this and agrees completely."
Although bullish about the prospects for NetJets, in a recent letter Warren Buffett told his Berkshire Hathaway shareholders that the industry "lost significant sums last year, and that is almost certain to be the outcome in 2003 as well."
The 2003 first quarter results were no surprise presumably: flight services' revenues fell by 16.5% to $548m compared to 1Q 2002.
Revenues of FlightSafety declined by 5.4% and comparative revenues at NetJets declined by about 20% in the quarter. Overall, flight services took a pre–tax loss of $8m.
While NetJets is high–profile, the most significant earner in the Berkshire Hathaway flight services business segment is FlightSafety, the world's largest aviation training organisation. FlightSafety has a fleet of over 200 FAA–certified flight simulators and trains over 65,000 pilots and maintenance technicians annually. 2002 revenues from flight services increased by 11% to $2.8bn compared to 2001.
Total revenues from FlightSafety in 2002 were relatively unchanged compared to 2001, as a decline in training and product revenues was offset by a one–time gain of $60 million from the disposition of its interest in a joint venture training operation with Boeing. Excluding this gain, pre–tax earnings from flight services in 2002 decreased $21m from 2001 due to a slowdown in business aviation activity.
NetJets' pre–tax earnings in 2002 were relatively unchanged from 2001 as each year's results reflect losses related to expansion into Europe somewhat offset by small profits from its US operations.
There are three major fractional ownership companies: NetJets, FlexJet, a subsidiary of the Canadian company, Bombardier, and Flight Options LLC (49% owned by Raytheon). These three companies accounted for 15% of total business jet deliveries in 2002. The fractional aircraft fleet increased by 11% last year and in the US fractional–ownership programmes saw shareowners increase by 20%, from 3,416 to 4,100.
The initial price of a 1/8th (or 100 occupied hours) fractional interest purchase of a Citation Excel is about $1.3m. Monthly management fees are about $12,000 per month, occupied hourly fees for the 100 hours will be about $1,500 per hour.If you add supplemental Insurance and financing costs then the total cash commitment on an "average" purchase is creeping up to $2m.
In the fractional ownership business, NetJets is the largest and is following the most aggressive expansion policy. Out of a fleet of over 400, NetJets operates 36 aircraft in Europe (with an average age of 1.9 years) and this fleet is scheduled to grow by 50% in the next 18 months.
NetJets' presence in the UK has expanded under a deal struck with London's newly formed Northolt Business Aviation to use hangar 311 at the Royal Air Force base.
NetJets is entitled to 200 slots per month, accounting for one–third of the civil movements permitted annually by the Ministry of Defence.
In Ireland, NetJets is submitting a tender to the Irish Department of Defence, offering its fractional ownership services to the government. Where is Netjets heading next?
US vs Europe
A key issue is whether the level of corporate/ business jet usage in the US can be translated to the European marketplace. In the US, fractional ownership has become more attractive to many companies as commercial flights have become more inflexible. The dotcom crash and heightened focus on corporate governance has prompted many finance directors to sell off their Learjets.
The US also has a geography that suits corporate jet usage: long distances, a dispersed population, about 5,000 alternative airfields (commercial airlines fly to 500) and most importantly a large number of high net worth individuals.
Many Europeans find even the idea of owning part of a corporate jet ostentatious.
The cost seems to be prohibitively high except for the "super rich" — pop stars, government officials, and business leaders. The fees are at such a level that only the super rich and very specialised missions can support such cost.
Europe is a much smaller region that has a high frequency of both air and surface transport between major business and leisure markets. The market for European corporate jet usage seems to remain highly specialised and growth seems to be limited to: emergency or unplanned situations (medical emergencies, governmental requirements), high net worth individuals (of which there are fewer than in the US), specialist corporate (board member movements and incentive programmes).
However, NetJets has recently launched in Eastern Europe, flying to/from Moscow, St. Petersburg, Istanbul and Ankara. In economic terms, Europe is becoming a much larger entity, with western European and US firms having an established presence in the former Communist European states. The long–term vision of a larger, richer Europe seems to qualify NetJet's long–term plans in the area.
Will the NetJets concept change and increase the level of historic corporate jet usage in Europe? After an ill–fated investment several years ago in US Air Group, one would imagine that Warren Buffett could not make an aviation mistake twice and NetJets seem assured that they have a viable future in the ever–expanding community of Europe.
NETJETS' FLEET
NETJETS' FLEET
Current
Ordered
Model
Fleet
(Options)
Backlog
125-1000
9
125-1000A
12
125-1000B
5
125-800XP
48
20
1
737-200
1
737-700BBJ
9
152
102 (50)
66
Citation
Citation VII
13
65
12
12
Citation X
Citation ENCORE
7
Falcon 2000
30
37 (25)
37
Gulf 4SP
37
Gulf 5
14
10
5
Gulf 5SP
20
20
Galaxy
3
Horizon
50 (50)
50
Total
405
251 (125)
191
Source: ACAS, fleet as of end March 2003