Orbitz: regulating e-distribution June 2002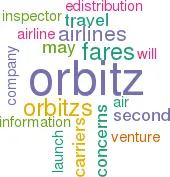 As the internet inexorably becomes the prime medium for gathering travel information and for booking tickets, concerns are being raised in the US about the competitive implications of Orbitz's strategy. Various government bodies are trying to find justification and the means to regulate e–distribution companies.
The progress of Orbitz.com (see Aviation Strategy, May 2001, for the original grand vision) has been steady rather than spectacular. Orbitz was founded by United, American, Delta, Northwest and Continental in 2000 with a $145m investment. It forms the model for e–distribution companies in other parts of the world.
Opodo began operating in Europe last year, backed by nine European flight operators: Aer Lingus, Air France, Alitalia, Austrian, BA, Finnair, Iberia and Lufthansa. Following the success of operations in the UK and Germany, the French site has just started up.
Serving the Asia–Pacific market, Zuji.com is scheduled for launch in the second quarter of 2002. A joint venture between Air New Zealand, Cathay, China Airlines, EVA, Garuda, Malaysia Airlines, Qantas, Royal Brunei, Silk Air, Singapore Airlines and Travelocity.com, Zuji will be launched in Singapore and Australia, followed by other Asia–Pacific countries.
In May Orbitz unveiled plans to launch an IPO of Class A common shares and filed its preliminary prospectus with the SEC. As yet details of the size or terms of the sale are unavailable, although the valuation will be tiny compared to the multi–billion dollar propositions of the dotcom era. The filing also reveals that Orbitz's founding partners will maintain a stake in the company and exercise voting rights.
Prior to Orbitz's launch, concerns were raised regarding the possible anti–competitive nature of the venture. Recently, a posse of Congress members has demanded an enquiry from the DoJ into possible antitrust concerns.
Antitrust concerns
The concerns fall into two areas. First, "Mostfavoured nation clauses", whereby the Orbitz agreement requires that participating airlines provide Orbitz with all published fares available on the airlines' own websites and reservation systems as well as all fares offered to competing travel agencies. This ensures that Orbitz has access to the best available fares, and its competitors may have no opportunity to engage in exclusive promotional ventures with the major airline carriers. Basically, Orbitz's airline owners won't offer any fares to other ventures that aren't already being offered by Orbitz.
Second, "In–kind promotion", a clause in the Orbitz agreement induces carriers to provide Orbitz with exclusive web fares. This shuts out other independent agencies from the carrier's low fare inventory.
According to the 24 Congressmen who have made a complaint to the DoJ, "the major airline owners of Orbitz appear to be using this joint venture to restrict output of critical travel information, to shift the costs of online travel distribution to consumers, and to steer traffic away from the smaller carriers."
Southwest has refused to participate with Orbitz.com, which undermines Orbitz's original claim that it would be a truly comprehensive and universal online agency. It is unlikely that Southwest is deeply concerned about Orbitz but it has complained about "competitors getting together to combine to eliminate competition."
Cato praises
Recently, the Washington–based Cato Institute, known for its aggressive free–market economic stance, released a white paper praising Orbitz for its "comprehensive and unbiased information on schedules, fares and seat availability."
This endorsement comes as the inspector general of the DoT reviews Orbitz's business practices -the second time the company has come under government scrutiny since its founding in 2000.
The US DoT Inspector General Ken Meade and the Senate Commerce Committee determined last year that Orbitz did not violate antitrust regulations at the time, allowing the company to proceed with business plans. The inspector opened a second review in April, and he has 90 days to issue his own findings on whether Orbitz may be exploiting any unfair advantages.