The New Global Cargo concept June 2001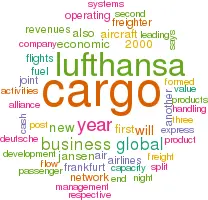 The 2000 financial year was the best in Lufthansa Cargo's history. Ambitious targets were set and met, helped by world economic growth, more advantageous exchange rates, and a successful fuel hedging policy, which enabled the airline to largely cushion the blow of oil price increases. However, the global economic slowdown or recession will have an immediate impact on airfreight volumes. Lufthansa's strategy for managing its freight business through all the phases of the economic cycle is based on New Global Cargo.
New Global Cargo is a joint venture between Lufthansa Cargo, SAS Cargo and the newly formed Singapore Airlines Cargo, with the aim of building the world's leading airfreight logistics system network. First mooted in 1998, the three carriers have now formed integrated business teams, which will attempt to harmonise products, sales structures, handling processes, and the different IT systems of the partners. Analysis of existing procedures and IT systems has been completed, and the structure of a future common IT platform has also been determined. The first steps in adapting the systems have been taken.
The first concrete outcome of the alliance will be the market launch of a joint express product in the second half of the year, although no details have yet been made available. As a second step, harmonised standard cargo products will be offered on the joint network.
Equity links are possible, with discussions centring on Lufthansa Cargo buying 49% of its Scandinavian partner. A closer tie–up has been urged by SAS management, and Jean–Peter Jansen, chairman and CEO of Lufthansa Cargo, says that it may take a stake by the end of the year. Jansen adds that other airlines could join New Global Cargo.
Another strategic alliance was formed during 2000 with Deutsche Post, under which Lufthansa Cargo established Aerologic as a vehicle to pool interests in DHL International and facilitate expansion in the express business. In addition, co–operation with Deutsche Post has been extended in the fields of e–commerce and supply chain management, with plans to create another joint company, e–logic, to merge respective activities in the business–to–business (b2b) sector. Furthermore, Lufthansa Cargo has intensified its Business Partnership Program with participating freight forwarders, and introduced new service packages under the time–definite (td) label. Lufthansa Cargo was the first to convert its entire product portfolio to time–definite services in co–operation with customers, and expects its express products to have account for about 40% of its sales by 2006.
To create an organisational structure Lufthansa Cargo has launched its Cargo Development Programme, which is due to be completed by the end of this year. The reorganisation aims to make its business processes more transparent, identify and control high value business, and encourage freedom of action in the various sectors. Within this framework, it has split its core business into three. Global Cargo Net bundles the worldwide activities in the airport–to airport business in customer, product and network management, while Global Cargo Handling covers all areas of freight handling for an on behalf of Lufthansa Cargo. Global Freighter Operations is responsible for the operation of its 22 freighter aircraft. All three units are responsible for their respective results.
2000 financials
For the year 2000 the operating result came to €227.5m, more than four times that achieved in 1999, attributed not only to the favourable world economy but also to its strategic policy of offering only high–value items and its development of alliances and partnerships. Traffic revenues increased by 23.3% to €2.54bn, while other operating revenues went up by 6.4% to €22m. Some 70% of traffic revenues were generated to and from Asia and the Americas, with the former constituting the airline's most important area of activity. Expenditure in the year rose by 22.9%, driven by a 91% increase in fuel costs, in spite of extensive fuel hedging measures and the introduction of temporary fuel surcharges at the end of 2000.
The expansion of the fleet by four new MD–11F aircraft, and the down payment for two further aircraft of this type, accounted for a capital expenditure of €320m, financed entirely from operating cash flow. Another €19m was spent on improvements to ground infrastructure and information technology, and €9m on miscellaneous investments, bringing the total to €348m.Cash value added (the difference between the cash flow target and actual cash flow achieved) was up by 67% to €157m. Since 1998, Lufthansa Cargo has increased the value of the company by an average of €74m each year. The first quarter 2001 earnings were more subdued, leading the airline to predict that "in all probability [the full year result] will not match that of the year 2000." The outlook is based on low–key economic forecasts, the continued high level of the oil price, and exchange rate worries. Operating profit dropped from €27 in the same quarter last year, to just €8m, on 8.6% higher revenues of €602.3m
Moreover, there is the possibility of restrictions on night flights being introduced at Frankfurt, which has been under pressure from local environmental groups for some time. This would have a significant impact on the airline's activities, as some one–third of its cargo flights operate at night. The threat of a ban has forced Lufthansa Cargo to look at alternative hubs.
Halle/Leipzig has been suggested by Deutsche Post as a possible night hub for mail, but this has received a lukewarm response. Hahn, some 100km from Frankfurt also appears to have been discounted for the unsuitability of its runway, but there is a more fundamental reason for the reluctance to look beyond Frankfurt.
Jansen has made it clear that Lufthansa Cargo does not want to split hubs. The best combination, he points out, is the concentration of all–freight and bellyhold cargo in passenger aircraft in the same place. At present, a rough split of its cargo volume is 60% carried on all–freighter flights and 40% on passenger flights of Lufthansa, Lufthansa CityLine and Condor Flugdienst.
This would suggest there is no real alternative, and it is interesting to note that Munich, where the passenger side of Lufthansa has built a strong second hub, has not been mentioned for a major development of cargo. Frankfurt has the largest numbers of European and intercontinental connections and' says Jansen, it will do everything to reach an acceptable compromise with the environmental lobby.
Fleet
The Lufthansa Cargo fleet comprises eight 747–200Bs and 14 MD–11Fs, with a respective capacities of 110 tonnes and 90 tonnes. The MD–11 appears to have proved itself as an economic freighter, generating renewed interest in the marketplace, which has pushed up prices for second–hand models. Lufthansa Cargo is looking to add more, but says it is not prepared to pay inflated prices.
There are no other options, except stepping up in capacity to the 747. It is also evaluating 50–tonne freighters, with the A300- 600F the front runner, and the 767–300PF also a possibility, but this is not yet a priority. Even less emphasis is being given to a still smaller 20–40–tonne freighter. However, Lufthansa does see a need for a large capacity 150–tonne super–freighter for a limited number of long–haul routes in the 2006- 2008 timeframe, and confirms that it is in discussions with Airbus on the A380F.
With the cyclical nature of the cargo business, any potential excess capacity problem could be addressed by Lufthansa Cargo stepping into the ACMI (aircraft, crews, maintenance, insurance) leasing sector, although that is being adequately supplied at present by operators such as Atlas Air, Gemini Air Cargo and other smaller players.
Jansen believes Lufthansa Cargo has the right strategy to maintain its position as a leading company in the air cargo field. It is building a global air cargo network, developing integrated transport solutions precisely tailored to the needs of customers, and is grasping the opportunities offered by e–business. Whether the alliance enables Lufthansa to bring its unit costs down to the level needed to compete successfully against the US giants like UPS and Fedex is another matter.
FINANCIAL RATIOS IN US AIRLINE MERGERS
FINANCIAL RATIOS IN US AIRLINE MERGERS
EV/EBITDA
EV/Revenue
American/TWA
4.2
0.7
United/USAirways (proposed)
8.6
1.3
Continental/Northwest
6.1
1.5
British Airways/US Air
15
1.6
US Air/Piedmont
7.3
1.3
Delta/Western
13.1
1.2
Delta/Comair
8.0
3.4
Note: EV = Stockmarket value of equity plus net debt; EBITDA =
Earnings before interest, taxes, depreciation and amortisation