Australasian rationalisation: Air NZ, Ansett, Qantas and SIA June 2001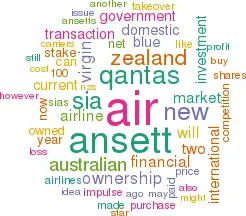 The Single Aviation Market (SAM) deregulated and unified the Australian and New Zealand markets. But an anomalous set of airline ownership controls were left in place which are now making an urgent rationalisation process very complicated.
To summarise briefly the situation. About two years ago SIA attempted to purchase half of Ansett but was blocked by Air New Zealand, which already owned 50% and negotiated with the Australian government to increase its stake to 100%. SIA ended up purchasing 25% of Air New Zealand. Meanwhile, two new low–cost carriers — Impulse Airlines and Virgin Blue — entered the Australian domestic market injecting fierce new price competition and undermining the profitability of Qantas and, in particular, Ansett. However, Impulse's own losses mounted to such an extent that its investors welcomed a rescue purchase by Qantas in May, a transaction now approved by the Australian Competition and Consumer Commission (ACCC).
As a consequence of the intense competition faced by Ansett, Air NZ has suffered a substantial financial loss from the transaction, which looks as if it will lead to another round of restructuring in the Australasian market. At the end of May SIA offered to buy all of Ansett from Air NZ and at the same time divest its 25% in Air NZ. Qantas says that it would like to buy this stake plus another 30% owned by the investment company Brierley.
Back to the details of Air NZ's current situation. The Ansett transaction is dragging Air NZ from a net profit of NZ$186m (US$ 76m) in the financial year ending June 2000 to a predicted loss of between NZ$150m and NZ$200m for the current financial year. Air NZ had originally predicted that its profits would be enhanced to the tune of NZ$250m through the take–over of Ansett. Its stock price has fallen 30% over the past 12 month whereas the New Zealand overall stock index has risen 6%.
The decline in its financial fortunes has caused Air NZ a major problem with regard to its planned NZ$5bn (US$2bn) fleet renewal programme, centred on replacing the 767s, which was to have been finalised in August or September. These plans have now been put on hold.
The most obvious source of new capital for Air NZ would have been an increase in SIA's 25% holding but this would have been illegal under New Zealand law which limits foreign airline ownership to 25%. Also 51% of its shares, the A shares, can only be held by New Zealand nationals, whereas anyone can own the other 49%, the B shares. Just to add another layer of complication, Brierley, which owns 30% of the airline in A shares has now relocated to Singapore and holds its stake under a trust fund arrangement.
Faced with the constraints imposed by the ownership stipulations, Air NZ considered raising funds by selling some NZ$700m of securities to the government, a move which was seen as a thinly disguised bid for state aid.
Air NZ is quite sensitive about the government relationship. CEO Gary Toomey attempted to clarify the issue at the end of May: "We've given some consideration to one funding option that involves asking the Government to consider some transitional funding arrangement in the event that international attitudes towards the ownership and control issue haven't moved far enough to give us adequate equity raising ability. This very speculative internal discussion has been misinterpreted into us seeking a government cash bailout. Nothing could be further from the truth".
Selling Ansett to SIA is one solution to the fleet investment problem. The downside for Air NZ might be that the sale would crystallise the losses it has made on its airline investment strategy. For Ansett, Air NZ paid A$1.06bn (US$540m) made up of A$475m for the first 50% and A$680m for the second 50%. What Ansett's value is now is very difficult to assess as it is fully consolidated into Air NZ (though Air NZ has continued to operate Ansett as a distinct Australian brand, a condition of the purchase agreement).
However, Kevin O'Connor* of Deutsche Bank suggests that Ansett's net assets might be worth 75% of what AIR paid, but the number could be well below that. On an earnings basis, Ansett is theoretically worth much less as it is still losing money, even after the exit of Impulse.
A change in the ownership regulation to allow Qantas to take a substantial stake in Air NZ is a sensitive political issue. The initial noises coming from Prime Minister Helen Clarke indicate that the New Zealand government does not like the idea at all. However, it would like the idea of a continuing deterioration in Air NZ's finances even less.
Qantas taking over Air NZ would in theory produce an absolute monopoly in the New Zealand domestic market. Qantas currently competes with Air NZ on trunk routes in that country. The main domestic competitor, Qantas NZ, a franchise operator, went bankrupt earlier this year.
Qantas's proposition
In an attempt to allay regulatory concerns in this area and also to safeguard Air NZ's international rights, Qantas has stated that the two airlines would be run independently maintaining their own brands, management and stock–market listings; a majority stake would be left in New Zealand hands. Qantas also claims that the transaction will "create major synergies and growth".
It is not clear how these two statements can be compatible. On the other hand, given the record of the Air NZ/Ansett take–over, and that of Qantas/Australian Airlines in the early 90s, not trying to merge the two entities might be the more sensible option.
From Qantas's perspective, a re–consolidation of the Australian/New Zealand domestic market, a return to the something like the old duopoly, would be the best outcome from the current state of flux. The absorption of Impulse (following on from Ansett's take–over of Hazelton, a significant regional airline, two months ago) has taken low–cost capacity out of the trunk routes. Impulse had about 8% of the Sydney- Melbourne capacity and 7% of Sydney- Brisbane.
This leaves Virgin Blue, which has about 10% of Sydney–Brisbane and 13% of Brisbane–Melbourne. The question is: will Virgin Blue continue to compete aggressively or will it seek some accommodation with the incumbents in a restructured market? Ansett and Virgin Blue had held tentative talks relating to some form of cooperation prior to Qantas' expression of interest in Air NZ, the idea being that Air NZ/Ansett and Virgin Blue would form an alliance against Qantas. If SIA takes over Ansett, then it will not appreciate immoderate competition from an airline which is ultimately owned by Virgin Atlantic which in turn is 49% owned by SIA.
The downside for Qantas is that SIA ownership of Ansett will result in a revitalisation of the carrier, creating a much more effective competitor to Qantas. Currently Qantas is benefiting from the poor image that Ansett has with the Australian travelling public, resulting from a series of safety scares with the airline's elderly 767s.
Qantas's forecast net profit for the financial financial year to June 2001 is 16% down on the previous year but still a very respectable A$366m (US$186m). Should all the proposed deals go through, Ansett and Virgin Blue would have to be allowed, indeed encouraged, to enter the New Zealand domestic and trans–Tasman markets.
SIA's opportunity
SIA finds itself presented with the opportunity of capturing 100% of the airline it wanted to buy two years months ago and probably at a substantially lower price than that paid by Air NZ. Australian domestic carriers can be 100% owned by foreign interests but only 49% of Australian international carriers (Ansett International is a 49% subsidiary of Ansett Holdings).
SIA would achieve direct access to feed from the key eastern seaboard market, plus an intro to new international markets. Before the latest round of take–over offers, Ansett announced plans to expand its international services to London, Los Angeles and Tokyo (at present it flies to Hong Kong and Osaka). SIA already has a series of code–sharing agreements in place with Ansett.
SIA's governing principle in investment decisions is to gain a controlling influence (or potential controlling influence in the case of Virgin Atlantic). With the proposed Ansett investment it could have 100% ownership, but would still face restrictions imposed by the Australian regulators.
An Ansett purchase would further enhance SIA's position in the Star alliance, while Air NZ would presumably have to quit Star and join oneworld. (There is actually a financial penalty for switching alliances — Air NZ would be obliged to pay Star about US$25m in termination fees.)
As for the cost of the transaction, no prices have been mentioned as yet but Kevin O'Connor of Deutsche Bank has made some informed estimates of the parameters of the deal.
Assuming SIA exits from AirNZ at no premium to the current share price it would realise about S$200m (US$110m), though it would have made a significant loss on its original investment. If it paid the same for Ansett as Air NZ did, the cost would be about S$1bn (US$552), so a net current cost to SIA of around S$800m (US$442m) for the whole transaction. This compares to SIA's net profit of S$1.55bn for the year 2000/01and a current cash balance of about S$2.1bn.
Before all this can happen, the various regulatory and ownership control issues have to be resolved, which will be a tedious process.
PROSPECTIVE FINANCIAL RESULTS (US$m)
PROSPECTIVE FINANCIAL RESULTS (US$m)

| | | | | | | |
| --- | --- | --- | --- | --- | --- | --- |
| | Year end | Revenue | Net profit | Market Cap | Profit margin | P/E ratio |
| SIA | March-02 | 5,597 | 650 | 9,031 | 11.6% | 13.9 |
| Air NZ (inc. Ansett) | June-01 | 3,295 | -82 | 396 | -2.5% | nm |
| Qantas | June-01 | 5,148 | 186 | 2,283 | 3.6% | 12.3 |