Those elusive cost savings June 2000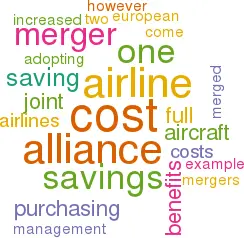 Full–blown mergers offer the tantalising prospect of tangible bottom–line gains whereas as the financial benefits from alliances sometimes seem rather nebulous. Almost all the airline members claims some benefit from their participation in a global alliance. SAS, for example, claims that the Star alliance had a positive net effect of Skr 800m ($100m) in 1999 — a significant figure when compared to total pre–tax profits of Skr 1.85bn, but less impressive from the perspective that extra revenue generated and cost savings achieved accounted for only 1.9% of turnover.
The economic benefits of airline alliances are supposed to conform to the 80:20 rule, i.e. 80% of the benefits are derived from increased revenues — schedule co–ordination and yield management — and 20% from cost savings — technology transfer, joint marketing, joint purchasing, etc..
The new hope is that full mergers will allow airline to extract genuine economise of scale and substantial costs saving. There is nothing particularly new hare: similar expectations fuelled the frenetic M&A activity in the US in the late 80s and early 90s.
It has to be said that major cost savings from these mergers tended to be lost in the painful process of integration, and shareholders of the acquiring companies saw value destroyed rather than added.
However, It could be argued that European airlines have learnt about the techniques of merging from the US experience and from the operation of alliance. Expertise can also be imported from other sectors where mega–mergers are almost commonplace — automobiles, telecoms, chemicals, for example.
The table on the right provides a starting point for looking at the potential cost savings from a merger. We have split out the main functional cost elements of a theoretical airline (compiled from a sample of European flag–carriers), added comments of the cost saving associated with alliance and full merger options, and come up with some tentative estimates of possible cost saving from merging.
Aircraft ownership costs So far there is little evidence that alliance partners have been able to agree on aircraft specifications that would permit joint purchasing savings from airframe manufacturers. Indeed, one of the closer alliance partnerships between an European and a US airline admitted in private that it is virtually impossible for the respective airline management teams to ever agree on a specification. One management team and one Chief Pilot would dispense with such conflicts. But we suspect that only relatively minor price or lease reductions could be achieved through increasing the size of aircraft orders.
Passenger services and station costsIn any takeover or merger the main cost savings come from the removal of duplication, which inevitably is largely reflected in job losses. In passenger services and especially outstation manning there should be substantial scope for rationalisation and cost saving through adopting the practice of whichever is the more efficient operator.
Flight/cabin crewWhereas alliance partners do not have standard operating procedures (SOPs) and cockpit configurations, it is impossible for one partner to use the aircraft of another partner. A fully merged airline with common–rated crew should benefit from higher crew and aircraft utilisation. However, one of the most intransigent barriers to effecting an airline merger is the smooth amalgamation of seniority lists — usually conflict and increased costs result.
Fuel, landing fees and route changes Joint purchasing in an alliance is probably just as likely to achieve discounts and larger scale purchasing by a merged airline. However, flight consolidation and a streamlined schedule could bring benefits from better aircraft utilisation.
Maintenance In an alliance some saving can be made through exercises like joint purchasing of parts, but a full merger should allow full integration of the two airlines' maintenance operations, again implying redundancies and union reaction. The degree of savings depends largely on how compatible the two airlines' fleets are.
Commissions There may be some saving here from increased negotiating power which could come from an alliance or a merger. Any effect on rates will, in any case, be dwarfed by the other industry changes in this field.
Overheads It is this area that major savings should be possible; for example, a merged airline would only need one finance director, one legal department, etc.. Gains though would be made by adopting best practice of the two airlines, and locating such heavily manned areas as revenue accounting in the lowest cost location and adopting the best working practices.
Branding Advertising costs go up after a merger but in the longer run a simplified brand should be more cost effective. Promoting one or more airline brands plus an alliance brand is expensive.
So bottom–line benefits of a full merger between carriers, or the take–over of one carrier by another, might be expected to equate to 8% or so of the combined cost pile.
POSSIBLE COST SAVINGS FROM AIRLINE MERGING
POSSIBLE COST SAVINGS FROM AIRLINE MERGING

| | | | | |
| --- | --- | --- | --- | --- |
| | % of op.costs | Alliance | Merger | Potential |
| | | | | saving from |
| | | | | merger |
| Aircraft rentals/depreciation | 16.0 | Unproven | Economies of scale? | 2% |
| Passenger services | 12.5 | Some rationalisation | Remove duplication | 10% |
| Stations | 10.5 | Some rationalisation | Best practice | 10% |
| Fuel | 8.5 | Joint purchasing | Better aircraft utilisation | 2% |
| Flight/cabin crew | 8.5 | None | Increased productivity | 10% |
| Commissions | 6.5 | None | Economies of scale? | 0% |
| Maintenance | 6.3 | Joint purchasing | Efficiency gains | 10% |
| Landing fees | 5.5 | None | More efficient use of aircraft | 2% |
| Sales and reservations | 5.0 | None | Remove duplication | 10% |
| General, admin., head office | 5.0 | Increase | Remove duplication | 40% |
| Handling and parking | 4.5 | Joint purchasing | Best practice | 5% |
| En-route charges | 4.0 | None | More efficient use of aircraft | 2% |
| Other selling costs | 4.5 | Unknown | Best practice | 10% |
| Advertising | 1.2 | Two brands | One brand ? | 5% |
| Audit, consulting, legal | 1.0 | None | Remove duplication | 40% |
| Insurance | 0.5 | Joint purchasing | Economies of scale | 2% |
| TOTAL | 100 | | TOTAL | 8% |