Stability ahead for manufacturers' market shares? June 1999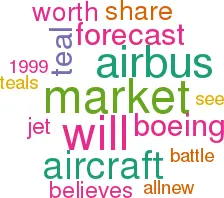 The US–based Teal Group has just released its latest forecast for the 100+ seat jet market (excluding the former Soviet jetliners, which are the only jet competitors to Airbus and Boeing but which hold less than 1% of the market). Despite the ongoing battle between Airbus and Boeing (see pages 14–17 this issue and Aviation Strategy, May 1999), Teal believes that their respective market shares will remain stable in the medium–term.
Teal's forecast to the year 2008 (see tables, below and right) can be summarised as follows:
It forecasts production of 5,859 jet aircraft worth $398bn over the next 10 years. This total includes 3,843 narrowbodies worth $153bn and 2,016 widebodies worth $245bn. (All figures used by Teal are in 1999 dollars.)
The market's inherent cyclicality has been exacerbated by a vicious market share war between Boeing and Airbus. This will lead to a massive drop in narrowbody deliveries. Meanwhile, the Asia crisis will hurt widebody demand. Total deliveries will decline sharply, from 873 aircraft worth $53.3bn in 1999 to a forecast 388 aircraft worth $28bn in 2002.
This market share war is slashing profitability at Airbus and Boeing. It has been particularly traumatic to Boeing, which has been haemorrhaging cash through the present "up" cycle. The battle could also force fundamental changes at Airbus.
Despite these traumas, remarkably little will change in terms of respective market share. Airbus's share will advance only slightly, averaging 36.7% through the forecast period.
Still, this is an impressive achievement for the Airbus consortium, which held less than one–fifth of the market before 1993. Airbus seems to be winning the battle for McDonnell Douglas's market share.
There will be no all–new jet programmes introduced in the next ten years. Boeing is likely to cancel the 717, and the A3XX will not arrive during Teal's forecast period. The A318 and A340–500 and -600 variants, however, will prove reasonably successful.
Prospects for the really large aircraft
Teal also considers the large aircraft market, and believes it is just a matter of time before the 747–X/Y concept is revived. The forecast calls for some kind of low–cost update to arrive around 2005. All–new aircraft are too expensive, and the 747 needs to grow.
Concerning the A3XX, Teal believes that finding the $10–15bn necessary to develop an all–new aircraft is highly problematic, especially since Airbus has no history of generating money for new aircraft via cash flow. Teal believes that as Aérospatiale follows Daimler Benz Aerospace/DASA and British Aerospace, becoming privatised and responsive to equities markets, Airbus will find it increasingly difficult to convince its member companies to deprive their shareholders of dividends by spending heavily on independent R&D. Teal's view is in marked contrast to Airbus's stated strategy (see pages 14–17).
TEAL GROUP JET AIRCRAFT DELIVERY FORECAST
TEAL GROUP JET AIRCRAFT DELIVERY FORECAST
1999
2000
2001
2002
2003
2004
2005
2006
2007
2008
Total
Airbus A300
5
7
8
8
8
6
6
6
4
4
62
Airbus A310
1
1
1
-
-
-
-
-
-
-
3
Airbus A319/320/321
235
228
184
104
87
105
198
209
190
165
1,705
Airbus A330
44
36
26
22
22
29
36
37
26
24
302
Airbus A340
23
25
16
12
14
16
16
16
12
12
162
Airbus A340-500/600
-
1
3
18
22
23
28
30
25
26
176
Total Airbus
308
298
238
164
153
179
284
298
257
231
2,410
Boeing 717
6
-
-
-
-
-
-
-
-
-
6
Boeing 737-300/400/500
44
2
-
-
-
-
-
-
-
-
46
Boeing 737-600/700/800/900 260
206
148
96
85
101
179
202
180
144
1,601
Boeing 747-400
45
22
20
22
24
19
8
-
-
-
160
Boeing 747-400X
-
-
-
-
1
2
24
48
42
40
157
Boeing 757
55
39
30
30
31
43
54
60
56
48
446
Boeing 767
34
44
36
32
35
41
44
42
46
38
392
Boeing 777
77
63
44
44
48
60
68
70
64
50
588
Boeing MD-11
8
6
-
-
-
-
-
-
-
-
14
Boeing MD-80
18
3
-
-
-
-
-
-
-
-
21
Boeing MD-90
18
-
-
-
-
-
-
-
-
-
18
Total Boeing
565
385
278
224
224
266
377
422
388
320
3,449
TOTAL UNITS
873
683
516
388
377
445
661
720
645
551
5,859
TEAL GROUP JET AIRCRAFT DELIVERY VALUE FORECAST (1999 $bn)
TEAL GROUP JET AIRCRAFT DELIVERY VALUE FORECAST (1999 $bn)
1999
2000
2001
2002
2003
2004
2005
2006
2007
2008
Total
Airbus A300
0.39
0.54
0.62
0.62
0.62
0.46
0.46
0.46
0.31
0.31
4.77
Airbus A310
0.07
0.07
0.07
-
-
-
-
-
-
-
0.21
Airbus A319/320/321
9.17
8.89
7.18
4.06
3.39
4.10
7.72
8.15
7.41
6.44
66.50
Airbus A330
4.71
3.85
2.78
2.35
2.35
3.10
3.85
3.96
2.78
2.57
32.31
Airbus A340
2.62
2.85
1.82
1.37
1.60
1.82
1.82
1.82
1.37
1.37
18.47
Airbus A340-500/600
-
0.14
0.41
2.47
3.01
3.15
3.84
4.11
3.43
3.56
24.11
Total Airbus
16.95
16.34
12.88
10.86
10.97
12.64
17.70
18.51
15.29
14.24
146.37
Boeing 717
0.15
-
-
-
-
-
-
-
-
-
0.15
Boeing 737-300/400/500
1.36
0.06
-
-
-
-
-
-
-
-
1.43
Boeing 737-600/700/800/900 9.88
7.83
5.62
3.65
3.23
3.84
6.80
7.68
6.84
5.47
60.84
Boeing 747-400
6.98
3.41
3.10
3.41
3.72
2.95
1.24
-
-
-
24.80
Boeing 747-400X
-
-
-
-
0.18
0.36
4.30
8.59
7.52
7.16
28.10
Boeing 757
2.92
2.07
1.59
1.59
1.64
2.28
2.86
3.18
2.97
2.54
23.64
Boeing 767
2.79
3.61
2.95
2.62
2.87
3.36
3.61
3.44
3.77
3.12
32.14
Boeing 777
10.24
8.38
5.85
5.85
6.38
7.98
9.04
9.31
8.51
6.65
78.20
Boeing MD-11
0.79
0.59
-
-
-
-
-
-
-
-
1.39
Boeing MD-80
0.56
0.09
-
-
-
-
-
-
-
-
0.65
Boeing MD-90
0.65
-
-
-
-
-
-
-
-
-
0.65
Total Boeing
36.31
26.04
19.12
17.12
18.03
20.76
27.85
32.20
29.61
24.94
251.99
TOTAL UNITS
53.26
42.38
32.00
27.98
29.00
33.40
45.55
50.71
44.90
39.18
398.36
TEAL GROUP JET AIRCRAFT DELIVERY VALUE SHARE FORECAST
TEAL GROUP JET AIRCRAFT DELIVERY VALUE SHARE FORECAST
1999
2000
2001
2002
2003
2004
2005
2006
2007
2008
Total
Airbus A300
0.7%
1.3%
1.9%
2.2%
2.1%
1.4%
1.0%
0.9%
0.7%
0.8%
1.2%
Airbus A310
0.1%
0.2%
0.2%
-
-
-
-
-
-
-
0.1%
Airbus A319/320/321
17.2%
21.0%
22.4%
14.5%
11.7%
12.3%
17.0%
16.1%
16.5%
16.4%
16.7%
Airbus A330
8.8%
9.1%
8.7%
8.4%
8.1%
9.3%
8.5%
7.8%
6.2%
6.6%
8.1%
Airbus A340
4.9%
6.7%
5.7%
4.9%
5.5%
5.5%
4.0%
3.6%
3.1%
3.5%
4.6%
Airbus A340-500/600
-
0.3%
1.3%
8.8%
10.4%
9.4%
8.4%
8.1%
7.6%
9.1%
6.1%
Total Airbus
31.8%
38.5%
40.3%
38.8%
37.8%
37.8%
38.9%
36.5%
34.1%
36.3%
36.7%
Boeing 717
0.3%
-
-
-
-
-
-
-
-
-
0.0%
Boeing 737-300/400/500
2.6%
0.2%
-
-
-
-
-
-
-
-
0.4%
Boeing 737-600/700/800/90018.6% 18.5% 17.6%
13.0%
11.1%
11.5%
14.9%
15.1%
15.2%
14.0%
15.3%
Boeing 747-400
13.1%
8.1%
9.7%
12.2%
12.8%
8.8%
2.7%
-
-
-
6.2%
Boeing 747-400X
-
-
-
-
0.6%
1.1%
9.4%
16.9%
16.7%
18.3%
7.1%
Boeing 757
5.5%
4.9%
5.0%
5.7%
5.7%
6.8%
6.3%
6.3%
6.6%
6.5%
5.9%
Boeing 767
5.2%
8.5%
9.2%
9.4%
9.9%
10.1%
7.9%
6.8%
8.4%
8.0%
8.1%
Boeing 777
19.2%
19.8%
18.3%
20.9%
22.0%
23.9%
19.9%
18.4%
19.0%
17.0%
19.6%
Boeing MD-11
1.5%
1.4%
-
-
-
-
-
-
-
-
0.4%
Boeing MD-80
1.1%
0.2%
-
-
-
-
-
-
-
-
0.2%
Boeing MD-90
1.2%
-
-
-
-
-
-
-
-
-
0.2%
Total Boeing
68.2%
61.5%
59.8%
61.2%
62.2%
62.2%
61.2%
63.5%
65.9%
63.7%
63.3%
TOTAL UNITS
100%
100%
100%
100%
100%
100%
100%
100%
100%
100%
100%