Antitrust convolutions between Dallas and Fort Worth June 1999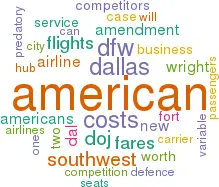 The US Department of Justice (DoJ) is questioning the legality of a standard strategy in the airline business by prosecuting American Airlines for monopolistic and predatory practices in competing with three new entrants at its main hub at Dallas Fort Worth (DFW). This raises two questions.
The obvious one: how will American defend itself against the accusation? And a more tangential question: how come the presence of Southwest, the world's most efficient low–cost carrier, also based at Dallas, doesn't preclude the entry of new airlines there in the first place?
The DoJ's case concerns WestPac, which went into bankruptcy; Sun Jet, which has gone through Chapter 11; and Vanguard, which teeters on the edge. The DOJ contends that American repeatedly sought to drive out the smaller operators by saturating their routes with additional flights and low fares, only to then reduce service and re–impose higher fares once the new airlines were gone. The DoJ has apparently studied the DFW situation in detail over two years before deciding to take American to court. So this action is being interpreted as an attempt to define what is fair competition and what is predatory practice in the US airline business.
From American's perspective, its reaction to the competitive threat posed by the newcomers was rational and normal business practice — it matched fares and increased capacity. Other US Majors — Northwest, United and Delta — are also under investigation by the DoJ and so have a particular interest in the outcome of this case,
American's defence
American, as usual, is being robust in its defence and is refusing to reach a compromise agreement with the DoJ. It doesn't appear to be contesting the facts of the suit but is arguing that the DoJ's interpretation of anti–competitive behaviour is simply wrong and that passengers will benefit from its rigorous defence of its hub.
Specifically, American responds to the accusation as follows:
Is American trying to drive small carriers out of DFW? "It's not American's job to make life easy for the competition. It is a natural response by any airline to want to protect its significant investments at a hub. That being said, there is nothing American or any other airline can do to prevent another carrier from serving an airport — especially one like DFW — where there is no shortage of gates, terminal space and facilities."
Didn't American succeed in driving out many low–cost competitors? "The failures of SunJet and WestPac were due to the inability of their management to control costs and implement a good business plan. They both left DFW only when they failed as companies."
Is American pricing below its costs? "American always tries to recover its costs, and in every instance cited by the [DoJ], American's prices were above its variable costs, which means that its prices could not be predatory as a matter of law. As the name suggests, variable costs are those costs that vary with changes in a company's output."
Why does American add flights when it lowers fares? "Frequency of flights and availability of seats are key components of the service American offers. American adds flights and seats in an effort to offer better service than its competitors … As fares go down, demand goes up. In the instances cited by the [DoJ], American added flights because when it matched its competitors' fares, demand went up and people wanted to fly on American's planes. The government seems to think American should tell its passengers to fly on its competitors because it is out of seats."
Not startlingly original but nevertheless quite persuasive arguments, and forcibly put. But where American may be vulnerable is on the definition of costs. Its variable costs presumably only cover items like fuel, passenger and ground handling charges, commissions and landing fees, but antitrust investigators may propose a different definition: the opportunity costs of not employing capacity in American's most profitable alternative market. Then American and the other Majors would be in trouble.
Wright and wrong
We found the answer to the second question about Southwest on a very useful internet site — Planebanter.com — and it proves that the US deregulated market can be every bit as convoluted as the liberalising European one.
Southwest is based at the older of the two Dallas airports — Love Field (DAL) — which was supposed to have been closed down to commercial traffic when DFW was built in the 1960s. But after Southwest was established in 1971 its management under Herb Kelleher fought a series of momentous battles to enable it to operate from DAL (and create a defendable niche for itself).
Then when the Airline Deregulation Act was passed in 1979 a Dallas congressman, Jim Wright, succeeded in appending an amendment that restricted flights from DAL to Texas and the contiguous five states (this was recently modified to include three more states) in order to afford some protection to DFW.
What this means is that even today Southwest is legally prevented from offering service from its home base to points outside the Wright Amendment area, to Washington DC or to Los Angeles for example (although it does serve these cities from other points in its network).
American is then left as the dominant carrier on all long–haul, relatively high–yield routes out of Dallas — a dominance that has been challenged by the new entrants. They launched their new services only from cities outside the Wright Amendment region — from Colorado in WestPac's case, from Long Beach in Sun Jet's case and from Kansas City in Vanguard's case.
So instead of getting embroiled in a predation suit, which the lawyers (and economists) will no doubt drag out for a very long time, why not simply repeal the Wright Amendment, exposing all markets out of Dallas to the influence of Southwest?
The answer, it would appear, lies in city politics, specifically rivalry between Fort Worth and Dallas, which has been exploited by American. Without the Wright Amendment, Fort Worth politicians argue that services, jobs, etc would drift from DFW in their constituency to DAL within Dallas City boundaries. Because of the difference in the size of the two airports (60.5m passengers at DFW, 6.7m at DAL) this development seems unlikely, but American does all it can to promote this view and so keep local competition from Southwest under control.