Differing LCC impacts on different routes July 2005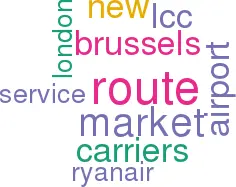 What happens when an LCC enters a new route is not always obvious. As part of a review of state of the sector (in which the consultants see growth as slowing as markets become saturated and the full–service carriers adapt competitively).
The classic LCC effect is shown in the London–Barcelona example, whereby the entry of easyJet created a new market through price stimulation leaving the incumbent carriers, BA and Iberia operating as code–sharing partners, with more or less their existing volumes. This route has all the best stimulation characteristics — leisure demand both ways, an unexploited VFR market, a growing cost–sensitive business segment and relatively high incumbent fares.
At Carcassone, Ryanair created a new and growing market from zero (partly comprising British second–home owners). In this case Carcassone proved to be an effective alternative to Toulouse airport.
Aarhus near Copenhagen is an example of a market that grew rapidly following Ryanair's entry but appears to have reached saturation point, where low price buckets fail to generate additional volumes.
The LCCs, unlike the legacy carriers, do not sink costs into routes: if a route cannot reach the required level of profitability, it will be abandoned. And measuring route profitability is a much more precise exercise for the LCCs than for the legacies which have to take into account possible network effects, consider the impact of changing aircraft type, address entrenched union and management positions, etc.
Despite its lucrative and controversial agreement with Charleroi Airport, Ryanair closed its London Stansted–Charleroi service in late 2004. Here, it appears, the distance of the airport from the city of Brussels combined with high–speed train competition into the centre of Brussels, rendered this low–cost service unviable. An LCC service from Stansted to Brussels Zaventem might be a different story, but that's unlikely unless a agreement could be reached on airport charges in Brussels.
Two examples of cannibalisation are shown. On London Stansted–Genoa, Ryanair has stimulated a new market and has also wiped out the incumbents, with Alitalia now having fully withdrawn from this route — a picture that is replicated on most of the UK–Italy city–pairs. On the route from London (Luton, Stansted and Gatwick) to Faro in Portugal, easyJet's expansion has mostly been at the expense of the charter carriers.