Gol: Brazilian LCC's Mexican adventure July 2005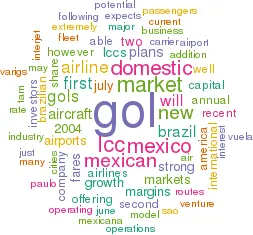 Brazil's hugely successful low–cost carrier Gol, which last month celebrated its first anniversary as a public company listed in New York and Sao Paulo, has announced plans to create a Mexican LCC. While the details are yet to be worked out, is the Gol model suitable for Mexico? According to the July 5 announcement, Gol has signed an MoU on the LCC venture, which would begin operations in the second quarter of 2006, with Mexican group Inversiones y Tecnicas Aeroportuarias (ITA), businessman Fernando Chico Pardo and Copenhagen Airports (CPH).
Pardo and CPH jointly own ITA, whose aviation investments include a 15% stake in Asur, which operates nine airports in southeastern Mexico.
Gol is expected to take a large minority stake in the planned airline, which by law must be controlled by Mexican investors.
None of this is really surprising — everybody is looking at Mexico at present. This is largely because the long–delayed privatisation of the two largest airlines, Mexicana and Aeromexico, is finally becoming a reality. Cintra, the state airline holding company, launched the tender on July 6, inviting expressions of interest by July 26. Qualified investors will be able to bid for 51–100% stakes in the carriers.
The sale could potentially attract major foreign airlines bidding in consortia with Mexican investors, but so far only Iberia has publicly expressed an interest.
The fact that the two airlines, which together control more than 70% of the domestic market, will be sold separately — Aeromexico with regional carrier Aerolitoral and Mexicana with Click, its new LCC unit — has helped stir interest in the undeveloped LCC sector. There are at least two Mexican LCCs gearing for start–up later this year or in early 2006 — Interjet and Vuela — and many more reportedly in the works.
Both Interjet and Vuela plan to operate domestic flights from Toluca, which is 40 miles west of Mexico City and could act as an alternate airport for the congested hub. They both seem to have solid backing and aggressive plans. Interjet will initially utilise seven leased A320s, offering 50% discounts on current fare levels. Last month its owner ABC Aerolineas placed a US$1.5bn order for 10 A320s, for delivery from 2007.
Vuela, in turn, is backed by an investment fund controlled by Mexico's former finance minister Pedro Aspe, Connecticut–based Discovery Capital Management and some of TACA's investors.
Like Gol in Brazil, the venture plans to offer low fares that could draw traffic from buses.
Click Mexicana began operations on July 1 on eight domestic routes from Mexico City, utilising Fokker 100s and offering 15–30% lower fares. The plan is to take over Mexicana's routes to Caribbean resorts and code–share with international airlines.
Mexico is attractive to new LCC entrants because it is a relatively undeveloped aviation market with huge growth potential. The domestic market, with 30m annual passengers, is the second largest in Latin America after Brazil. Golnoted the many similarities: large under–served cities, extensive geographic distances and traditionally high fares.
However, the Mexican market poses some special challenges for LCCs, including high taxes and airport charges that add about $100 to the cost of an average domestic return ticket. Mexicobased analysts have also made the point that the country is not a natural market for the Brazilians.
That said, the Gol model has been such a huge success in Brazil that it is hard to imagine that it could not be successfully established in Mexico. The airline possesses something extremely valuable: a strong brand. It may not yet be as widely known globally as Southwest's and JetBlue's brands, but it must be well known throughout Latin America.
Above all else, the Gol brand is associated with safety and reliability — for that reason alone it would probably go down extremely well in Mexico, where LCCs do not have a good image. Although Gol is essentially modelled after Southwest, it has cleverly adapted the model to suit the less developed Brazilian market.
For example, Gol offers night flights at bus rates between major domestic cities. It operates multi–stop service in thinner leisure–oriented markets, while offering typical LCC–style point–to–point service in high–density competitive markets.
These strategies, which make Gol's network and operations look very different from the typical US or European LCC's, have enabled the airline to serve all segments of the population and achieve the highest narrowbody aircraft utilisation rate in the world (averaging 14.1 block hours daily). Many of the special strategies could clearly be applied or adapted for the Mexican market.
Phenomenal profits
Otherwise, Gol is well positioned to make strategic investments because its financial performance and balance sheet remain extremely strong. Operating margins have remained in the high–20s (29.4% and 30.1% in 2004 and 1Q05, respectively), while net margins have been 20% or higher. Although recent months have seen a tougher pricing environment in Brazil — mainly because of the ending of Varig–TAM code–shares in May — Gol still expects 27–29% operating margins in 2005. These are among the best margins in the airline industry worldwide.
Gol has benefited from a strong Brazilian economy in 2004/2005 and a continued rational industry environment. Tight government controls over capacity addition in the past few years have helped raise the industry load factor to around 65%. Since two thirds of Gol's passengers are business travellers, demand is fairly inelastic, and it has been possible to raise fares to compensate for fuel price increases. Gol's yield has increased at a compound annual rate of 19% since 2001.
The airline expects its unit costs to fall as it transitions to the larger 737–800 aircraft and starts buying (in addition to renting) aircraft from 2007. This could add two percentage points to the operating margin; however, Gol's leadership has stated that the aim is to maintain current margins and "re–invest" such cost savings in the business.
Following on from the June 2004 IPO, Gol completed a US$236m secondary offering in April, raising US$100m in net proceeds for the company (the rest was collected by shareholders cashing–in). This boosted Gol's cash position to US$388m — a healthy 46% of 2004 revenues.
As of April, there was no long–term debt. The lease adjusted debt–to–capital ratio was just under 50%, which is relatively low by airline standards.
Gol expects to double its current 36–strong fleet to 70 aircraft by year–end 2009. The fleet will then consist of 22 737–700s and 48 737–800s.
This would mean average annual seat capacity growth of 24%. The firm 737–800 orders currently in place for 2006–2009 delivery represent a significant US$2.6bn capital spending commitment.
Going international
The Mexico LCC plans have emerged just as Gol is gearing up for its first major international growth phase within South America.
After introducing its first international route, Sao Paulo- Buenos Aires, in December 2004, Gol is adding Santa Cruz (Bolivia), Montevideo (Uruguay) and Asuncion (Paraguay) in the second half of this year. At least seven other destinations — typically capital cities, such as Lima, Bogota and Caracas — will follow in the next couple of years.
To emphasise this new focus, Gol's CEO Constantino de Oliveira Junior said at a recent conference that the company wanted to be recognised by 2010 as "the airline that popularised high–quality low–fare air transportation in South America".
Gol has another 15 or so new destinations it can roll out in Brazil, in addition to adding frequencies in existing markets. There is now evidence, for the first time, of what might be termed "Gol effect". At airports that Gol began serving in 2001, passenger volumes grew at a compound annual rate of 9.4–16.2% between 2000 and 2004, compared to 6.4% growth for the top 50 airports in Brazil.
The Brazilian domestic market offers great potential, given that only 7m of the 180m population have flown. Gol believes that lower fares can stimulate that 7m to grow to 20m.
But competition in the domestic market is intensifying, as Gol's success is inevitably attracting imitators. The first of these new LCC hopefuls, WebJet, took to the air on July 12 with the first of three leased 737–300s expected by year–end. The Rio–based carrier, which is backed by a venture capital fund managed by RealAssets Consultoria, aims to serve high–demand markets other than the most competitive shuttle routes.
Another potential new LCC is BRA, which is in the process of converting from charter to scheduled. At the same time, TAM has staged a strong recovery, tripling its profits in the first quarter.
It captured most of defunct Vasp's market share, as well as some of Varig's share following recent cutbacks. In June TAM became the domestic leader, with a 42.5% market share, compared to Gol's 28.7% and Varig's 25.7%. TAM also recently launched an IPO in Sao Paulo with the aim of raising US$150m for fleet expansion. It appears that Gol has not been able to capitalise on all recent opportunities because of a lack of aircraft. However, its market share is likely to grow as more 737–800s are delivered.
It is hard to envision new LCC entrants posing a threat to Gol, because they will not be able to access the key business markets in Brazil due to lack of airport slots and will therefore not be able to build strong integrated networks. Gol has 25% of the slots at the five main slot–restricted airports, which handle 45% of Brazil's domestic traffic. It has a highly integrated network, with 50% of its passengers making connections.
Some Brazil–based analysts have expressed concern that the Mexico LCC plans might divert Gol management's attention from important developments at home, namely Varig's "restructure or die" situation following its bankruptcy filing on June 17. However, it seems likely that Gol already has its growth plans lined up regardless of what happens to Varig.
Gol may have reached a new level of maturity because, first, it has started constructing its own aircraft maintenance centre and has even mentioned third–party work (with the Mexican LCC probably being an early client). Second, Gol has just joined the Amadeus travel booking system. Third, Gol is in talks with Air France, Delta and others about code–sharing.