Indian aviation erupts July 2005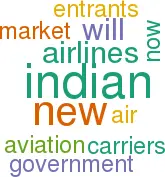 After 60 years of suppression, the Indian aviation market has erupted.
In addition to the flag–carriers, Air India and Indian Airlines, there are now a further eight jet operators plus two low cost subsidiaries of the flag carriers, Air–India Express and Alliance Air. The independent airlines have about 177 jets on order and option (it is admittedly difficult to assess how firm some of these orders are), while the flag carriers are still waiting patiently for government approval for their 93–aircraft fleet renewal plans. Until a couple of years ago the number of commercial aircraft registered in India was about the same as it was in 1948.
A number of inter–related factors have caused the recent phenomenon. The Indian government now seems committed to deregulation: its new civil aviation policy will be published this summer, based on the liberal recommendations of an expert committee that completed a report in 2004.
This new policy will continue the liberalisation of international routes which have already seen the very effective entry of Jet Airways and Sahara. Investment restrictions will be relaxed to allow foreign airlines to buy up to 49% of Indian carriers. Domestically, the most important change should be the abolition of the traffic allocation rules whereby an airline operating on a trunk route like Delhi–Mumbai, has then to allocate a certain percentage of its ASKs to thinner inter–state routes and a further percentage of regional points. Replacement of this regime by a European–style PSO subsidy system was recommended by the committee.
Traffic growth in any case hit a record level, 25%, in 2004, as the new entrants started to make their presence felt. The target market for the new entrants, which all profess to having an LCC model though there is a great deal of variation among them, is the Indian train market. 15m passengers a day use India's railways while 15m a year fly domestically (many of those connecting to international services). Specifically, the new airlines want to attract the AC2s — train passengers travelling in Air Conditioned Class 2 at fares comparable with those of an LCC.
The question now for the new entrants, and their venture capital backers, is who is going to survive the inevitable inter–airline wars, assuming that the Indian government will deem it necessary to continue protecting its flag–carriers.
CURRENT AND PROPOSED INDIAN FLEETS
CURRENT AND PROPOSED INDIAN FLEETS

| | | | |
| --- | --- | --- | --- |
| | | | Orders/Options/ |
| Airline | Type | Fleet | Others |
| Air Deccan | A320 | 5 | 34 |
| Air Sahara | 737 | 17 | |
| Air India | A310 | 20 | |
| | 747 | 15 | |
| | 777 | 3 | 23*** |
| | 787 | | 27*** |
| Air-India Express | 737 | 3 | |
| Alliance Air | 737 | 11 | |
| Go Air | A320 | 11* | |
| Indian Airlines | A300 | 3 | |
| | A320 | 46 | 43*** |
| IndiGo | A320 | | 100 |
| Jet Airways | A340 | 3 | |
| | 737 | 36 | 2 |
| Kingfisher Airlines | A319 | | 4 |
| | A320 | 2 | 12 |
| | A380 | | 5 |
| Magic Airlines | A320 | 10** | |
| spiceJet | 737 | 2 | 20 |
| Totals | | 187 | 270 |