Is there room for Virgin America? July 2004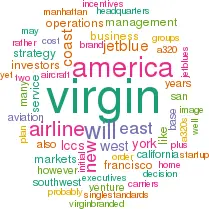 Following the June 5 announcement of plans to launch a Virgin–branded low cost airline in the US next year, Sir Richard Branson and his US team provided further details of the venture in the subsequent weeks. While Virgin America has yet to disclose its business plan, here is Aviation Strategy's initial assessment of the strategy that is emerging.
As the most concrete sign of its intentions, Virgin has signed agreements to buy or lease up to 105 A320–family aircraft.
It has placed a firm order for 18 aircraft from Airbus (11 A319s and seven A320s), plus 72 options, and arranged to lease 15 A320s from GECAS. This is a departure from the Boeing fleets of the two existing Virginbranded LCCs (Virgin Express in Europe and Virgin Blue in Australia).
Pricing is not believed to have been a deciding factor in this extremely hotly contested deal; rather, like JetBlue, Virgin appears to have been attracted by the A320's wider cabin and modern design features — facilitating the highest possible standards of passenger comfort.
As of July 10, there had not yet been any news about a second aircraft type. It is worth noting that Virgin America executives have referred to the A320 as "the backbone of the fleet", rather than a single type. Some months ago Branson reportedly indicated that there could be an order for about 20 regional jets from Embraer or Bombardier.
An RJ order would mean Virgin America copying JetBlue's latest strategy of also going for smaller markets. Last year JetBlue ordered 100–seat Embraer E190s (100 firm plus 100 options) from mid–2005. A similar decision by Virgin would help validate a strategy that many still regard as questionable for LCCs. However, Virgin may well delay such a decision, because it will have more than enough on its plate with the launch of the A320 operations.
The A320 deliveries are due to begin in early 2005, suggesting a planned start of operations in the spring of 2005. The schedule is ambitious, given that the venture has yet to secure start–up funding from US investors and begin the certification process.
It is possible that, like other companies needing government approval for mergers and other transactions, Virgin America will wait until after the November presidential election before filing its business plan.
Virgin America has been headed by former Delta president/COO Fred Reid since April. The rest of the senior management, introduced in mid–June, look like reasonably seasoned executives drawn from all over the US airline industry. The CFO, Bob Dana, was previously an investment banker with US Bancorp Piper Jaffray and Credit Suisse First Boston.
Everything points to a relatively normal new–entrant growth rate, certainly nowhere near JetBlue's dizzying pace.
The venture anticipates having a 3,000–strong workforce within five years; although that is probably a very preliminary figure (meant as a rough estimate of job creation), JetBlue reached that level in about half that time (within 2.5 years, with about 25 aircraft).
East Coast/West Coast split
The biggest surprise so far has been Virgin America's decision to split its bases between the two coasts. The airline will have San Francisco as the principal base of operations ("Ops HQ") and New York as its corporate headquarters ("Airline HQ").
It will be "the first and only airline with its principal operations based in California" and "the only airline to call Manhattan home".
A cynic might suggest that this is some kind of a strange compromise between where the best market opportunities are (West Coast), where the airline wants to operate (East Coast) and where the management wants to be (New York). However, Virgin America claimed that its "dual approach" would create operational efficiencies and provide a foundation for an innovative business model.
It does seem appropriate that a Virginbranded carrier — an overseas franchise — would focus on two of the country's largest travel markets. The original shortlist had also included Boston, Los Angeles, Philadelphia and Washington/Dulles. The company made the point that "culturally, New York and San Francisco reflect the Virgin brand's fun, dynamic style, making them both ideal places for us to recruit creative, skilled employees".
Financial incentives
The strategy will probably enable the airline to make the most of the financial incentives offered by state and city authorities.
California and San Francisco have promised it $15m–plus and New York state and city $11m–plus in hard and soft grants and incentives, including employment training grants, cooperative marketing and tax and energy cost reductions.
However, Virgin America will need all of those savings because New York and San Francisco are expensive cities. There is a reason why no airline calls Manhattan home: it is horrendously expensive. Also, having it as a base would fly against the value–for money image that even the most up–market LCCs strive to project. JetBlue, which has set new standards in product and service quality and is building a "cult following", has its HQ in the modest Forest Hills section of Queens.
It is easy to see that a flashy Manhattan HQ would go with Virgin's flamboyant and trendy image and could be exploited with advertising to quickly build customer awareness.
However, that kind of image is outdated, very 80s and certainly not fresh (the common goal of Virgin companies is "to offer something better, fresher and more valuable to the consumer under a single brand").
Or perhaps Virgin America will surprise by obtaining office space in Harlem? Of course, like other new–entrant LCCs, Virgin America should be able to obtain a low cost structure by employing a young workforce and having flexible work rules.
The venture is expected to be a high–frills, up–market operation. Executives from Virgin USA (the group's US business development and management arm) have described the likely product as "sexy" and "JetBlue–plus". According to a press release, the airline would be "obsessed with customer service and flawless execution".
Virgin's challenges
One of the challenges faced by Virgin America's US management team is adapting the essentially UK brand to US tastes. That may mean cutting out the extremes of tackiness (a recent experiment with urinals in the shape of red lips in men's bathrooms at JFK put off many US–based customers).
That said, Virgin has built a formidable reputation with its transatlantic service, and experience in the US has shown that there are potentially many different successful domestic LCC models.
One potential problem with the separation of headquarters from the operations base by such a distance is that it will not facilitate easy contact between management and employees — something that carriers like Southwest and JetBlue regard as vital for staff morale and work standards.
JetBlue's CEO David Neeleman likes to say that he personally meets every single employee. And Virgin America was earlier reportedly seeking a "campus–like setting".
It can be taken for granted that Virgin America will have a major presence on the New York–San Francisco route. The problem with the transcontinental market generally is that it has become the nation's hottest bastion of competition, seeing a 31% year–over–year increase in daily flights this summer.
The excess capacity has resulted in dismal yields. There is no relief in sight because the markets are so important for the legacy carriers and LCCs alike.
The probable reason Virgin America has chosen to build its initial base in California is that the West Coast aviation environment currently looks more welcoming than the East Coast. Alaska Airlines has consistently outperformed its peers on the yield front in recent years.
In a June 30 research note, JP Morgan analyst Jamie Baker noted that yields in the West Coast Corridor (California- Northwest) have increased by 25% since late 1997, compared to an overall domestic decline of roughly 15%. This was despite very similar capacity trends in that period.
This does not reflect lack of competition in the West — it is Alaska's home turf, plus Southwest, America West, United and American all have a big presence there — but rather a much lesser degree of new competitive activity than in the East. While historically air fares have been the lowest in the West and the highest in the East, in the past five years LCC growth has focused on the East — the rise of JetBlue and AirTran, Southwest's expansion, etc. All of that has put significant pressure on fares in the East, with new Southwest and JetBlue markets seeing 30–50% reductions.
Furthermore, the competitive situation in the East is going to get worse, with the legacy carriers fighting back, Southwest expanding in Philadelphia, JetBlue growing rapidly all over the region and Independence Air and United starting a major battle in Washington/Dulles. If US Airways disappears, its routes and assets will be quickly snapped up by competitors.
Therefore Virgin America may well focus its initial efforts on north–south flying along the West Coast, while keeping an eye on East Coast developments in the hope of spotting an entry opportunity there at some point. North–south flights in the East would be highly desirable given that Virgin Atlantic operates transatlantic service to many cities in that region. With headquarters in New York, Virgin America would be well positioned to develop corporate accounts in the East that would also strengthen its transcontinental service.
Virgin America will have to be majority–owned and operated by US nationals — the law allows non–nationals to hold a maximum of 49% of equity or 25% of the voting power.
The Bush administration is ready to relax the rules, but Congress is unlikely to budge because of pressure from labour groups and concerns about aviation security.
Therefore Virgin America will have to raise significant capital from US investors.
The airline was earlier believed to be targeting around $300m in total start–up funds; if so, the US investors' share would be over $150m. On the positive side, the markets are flush with cash; on the negative side, the airline sector is not popular.
Potential investors will be interested in how the existing Virgin LCCs are performing. Branson's track record in that respect is mixed. Virgin Blue completed a hugely successful IPO in Australia in December, but Virgin Express' performance has been disappointing (Aviation Strategy, April 2004).
Virgin America will probably succeed in raising the start–up funds, based on the group's success and Virgin being a respected global brand, but it will still need a solid business plan to convince investors.