NetJets: dominating the fractional ownership market July 2004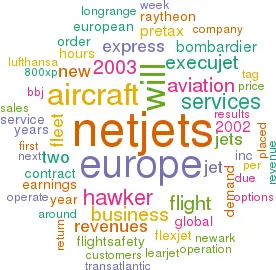 NetJets, the biggest player in the fractional game by a wide margin, although only at times profitable in the US, is building up its fleet to an unassailable position. Warren Buffet, through Berkshire Hathaway, owns NetJets and is confident on a return in his investment. The fleet in Europe will soon be in a position to deliver the fastest, most reliable service at a competitive price.
NetJets Europe (part of NetJets Inc.) has also taken over control of sub–fractional members club Marquis Jet Europe (MJE).
MJE was established three years ago by private UK investors alongside funding from its US parent Marquis Jet, in order to sell smaller chunks of NetJets' fractions to European customers.
MJE's European operation was lagging behind the US operation, which was selling around 100 of its 25–hour cards per month. Ten additional sales directors will be hired in order to successfully bring on board 250 extra customers per year.
As the operation is now in–house, NetJets Europe has branded the product the "NetJets Corporate Card" which allows users to buy 25 hours of flight time on a Citation Bravo for €115,000. Customers wanting more than 25 hours can buy extra hours in 5–hour increments, with no upper limit. Prices escalate by aircraft size, 25 hours in a Citation Excel is €170,000, in a Dassault Falcon 2000 the price is €271,000 and for long–range flying in a Gulfstream V the price is upwards of €340,000. This new service is a complementary product to the existing fractional–ownership programme run by NetJets Europe.
Netjets Europe will take delivery of 20 new aircraft this year, which will take its fleet to a total of 60. Last December, in the US, NetJets Inc. placed an order for 50 new Hawker 400XPs (plus 50 options) and eight Hawker800XPs to be delivered to their fleet of almost 400 aircraft.
In February, NetJets signed a 10–year maintenance agreement with Raytheon, ordered two Hawker 800XP jets and signed a contract on options for Hawker 1000, Hawker 800XP and Hawker 400XP jets. If all options are exercised, the transactions are valued at more than $1 billion, Raytheon officials said. At the end of June, NetJets Inc. bolstered its worldwide operations by signing a contract with Raytheon for 20 Hawker 800XP mid–size business jets and 20 Hawker 400XP light business jets. Total value of the contract will exceed $300 million. The Hawker 400XPs and 800XPs will be based in Europe and the United States. The 40 aircraft will be delivered in the 2005–07 timeframe.
Moody's recently revised the outlook for Raytheon's debt ratings to "stable" from "negative," citing the company's improved cash flow as its defence business flourishes and its aircraft business improves. Moody's outlook revision comes after Raytheon announced that NetJets Inc. had placed its latest, large order for 40 aircraft.
Flight services, the segment of Berkshire Hathaway's holdings that is made up of FlightSafety (aviation training) and NetJets, earned revenues of $739m in the first quarter of 2004, compared to $548m in the first quarter of 2003, a rise of nearly 35%. This revenue included an $182m (45%) increase in aircraft sales and flight operations revenue at NetJets, and $9m (7%) in revenue at FlightSafety, which was primarily attributed to a 10% increase in simulator usage over the period. Revenues for 2003 fell to $2,431m from $2,837m in 2002. The decline in revenues was split between FlightSafety (about $96m) and NetJets (about $310m).
This decline in revenues at NetJets was due to a reduction of revenues from sales of aircraft of $514m, partially offset by increased flight services and other revenues of about $204m. Pre–tax earnings from Flight services were $72m in 2003 as compared to $225m in 2002. The results for 2002 had included a gain of $60m from the sale of a partnership interest to Boeing and the results for 2003 include the recognition of pre–tax charges of $69m related to write–downs of certain simulators and aircraft inventory.
Excluding this gain and write–down, "normal" earnings from these businesses were $141m in 2003 versus $165m in 2002. The reduction in combined pre–tax earnings from Flight services is due to reduced pre–tax earnings at FlightSafety of $34m, which is somewhat offset by improved results at NetJets, where its pre–tax loss before write–downs was $9m in 2003 versus about $19m in 2002.
Competition in Europe
In June 2002, PrivatAir began operating six–days a week, non–stop flights for Lufthansa between Dusseldorf and New York's Newark airport on a 48–seat BBJ under an ACMI contract. In 2003, PrivatAir acquired two new A319LRs to operate similar point–to point services for Lufthansa between Munich- Newark and Dusseldorf–Chicago. PrivatAir's latest venture in this field will be starting in January of 2005. It will begin to operate a 56- seat BBJ on behalf of Swiss International Airlines, providing direct non–stop flights between Zurich and Newark. Much as for the services operated for Lufthansa, the route will be served six days a week, with one day a week being reserved for maintenance.
Bombardier Flexjet Europe launched, in May of this year, what is believed to be the first fixed–price business jet charter service between Europe and US. The "Transatlantic Express" will use the Global Express fleets of Flexjet's European operating partners including ExecuJet and TAG Aviation.
The service will be pitched against NetJets Europe, which operates its fractionally–owned transatlantic programme using Gulfstream GIV–SPs, GVs and, from September, Dassault Falcon 2000EXs. According to the Bombardier Flexjet quarterly newsletter, the "Transatlantic Express" flight from western Europe to the US East Coast will cost a fixed €150,000 (around $186,000) return. The aircraft seats ten and if full the return ticket would cost around £10,000 per person.
"Following Concorde's retirement last year, we have received overwhelming demand to develop a similar solution to cross the Atlantic, faster than today's scheduled services," says Judith Moreton, MD of Flexjet Europe. The long–range Global Express provides access to a significantly larger number of airports, such as Teterboro, where the Airbus Corporate Jetliner and Boeing BBJ, used by the airlines, are not permitted to operate, Moreton adds.
Another company looking to plug the post- Concorde gap is ExecuJet. The business aviation services company aims to double its management of Bombardier Global Express long–range business jets in Europe over the next three years. ExecuJet Europe's managing director Peter Smales expects "great demand" over the next few years.
He said: "We have come out of a difficult [trading] environment and we expect a sudden massive upswing in demand for the long range of this aircraft and, due to the long lead time for new orders, much of this demand will be satisfied by charter activity".
ExecuJet plans to add four Bombardier Global Express jets to their bases in Copenhagen and Zurich by 2007. Also, as the company expands into central and eastern Europe, ExecuJet Europe expects to add two Learjet 40s, two Learjet 45s and two Learjet 60s over the next two years.
Schemes such as the Bombardier Flexjet Jet rely on members like Aero–Dienst GmbH & Co. KG, Daimler Chrysler Aviation GmbH, Eurojet Italia, ExecuJet Scandinavia AS, ExecuJet Switzerland, Gold Air International Ltd., Jet Connection Businessflight AG, TAG Aviation S.A., GAMA Aviation Ltd. (All of these European operators have a combined active fleet of 88 aircraft, ranging from four at Jet Connection Businessflight AG to 18 at TAG Aviation). NetJets (with a fleet of 364, and almost 60 of these in Europe) seems to be well placed to see off the competition.
NETJET'S FLEET
NETJET'S FLEET

| | | |
| --- | --- | --- |
| Model | Current | Order Backlog |
| 125-1000 | 9 | |
| 125-1000A | 10 | |
| 125-1000B | 3 | |
| 125-800XP | 31 | |
| 737-200 | 1 | |
| 737-700BBJ | 5 | |
| Citation | 132 | 12 |
| Citation VII | 13 | |
| Citation X | 69 | 11 |
| Citation ENCORE | 10 | |
| Falcon 2000 | 31 | |
| Gulf 4SP | 33 | |
| Gulf 5 | 8 | |
| G200 | 8 | |
| King Air B200 | 1 | |
| Total | 364 | 23 |