Aer Lingus: boom instead of bust July 2004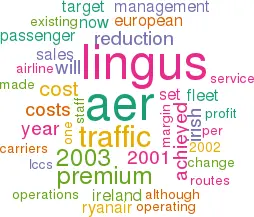 Aer Lingus, its management's thinking focused by having to share a home base with Ryanair, has achieved a remarkable turnaround from near bankruptcy, and now has by some way the highest profit margin of the AEA airlines. However, it remains 100% owned by the Irish state, a situation that the airline's top managers have suggested must change.
Aer Lingus has probably been the most aggressive of the European flag carriers in dealing with staff and the unions post September 11. Management and staff went through the process of receiving state aid ("one time — the last time") in 1993.
The management message that "things must change or we go bust" has been fully taken on board and the October 19, 2001 "survival plan" was fully embraced by all parties. A target to reduce costs by €190m (16%) was set and was to be achieved by:
A 17% decrease in capacity (primarily transatlantic routes);
Over 2,000 job losses (33%), including a 60% reduction in the management group;
Radical changes in work practices;
Pay freeze;
Stimulating traffic growth through lower fares
Although the €190m cost saving target was achieved, market conditions were worse than forecast — there was no recovery in premium traffic and a shift in the public's buying patterns towards the LCCs. As a result, a further cost reduction of €130m was announced in June 2002. This new plan not only embraced the concept of further cost reduction but also called for expansion. By removing 30%of its costs from 2001 to 2003, Aer Lingus was now able to play in the low–yield markets that it hadn't been able to enter before.
Most full service carriers are happy to benchmark against each other, Aer Lingus now benchmarks itself against easyJet and Ryanair. One of its largest cost savings has been in distribution, where it has recorded a €20 saving per passenger per sector.
Worldwide sales on aerlingus.com have increased from 2% to over 50% with online sales accounting for 70% of all sales in Ireland. The "look–to–book" ratio has improved dramatically from 100:1 to 30:1, and now a target of 85% total online sales has been set (which will bring Aer Lingus near to the benchmark set by the LCCs). However many the similarities to the LCCs, Aer Lingus differentiates itself in four clear areas:
Punctuality;
Professional, efficient and friendly customer service;
"We won't leave you stranded";
Product differentiators (seat allocations, use of primary airports, schedule and network).
Aer Lingus has been one of the very few flag carriers to realise that passengers are willing to pay only a small premium for travelling on Aer Lingus (rather than Ryanair or another LCC). The carrier has seen significant falls in its premium traffic (in the 80s and 90s high volumes of business traffic were carried — it was not unusual for the curtain on the Dublin–Heathrow route to be in row 25).
By 2003, Heathrow premium traffic had fallen by 31%, UK provincial premium traffic by 11% and Continental premium traffic by 14%. Overall, in 2003 premium traffic fell by 24%, and this followed falls in 2002 of 18% and in 2001 of 10%. Recently, the decision has been made to remove Premier Class service from the majority of its 31 European short–haul routes, with the exceptions of Ireland–Heathrow services and the Dublin — Brussels, Amsterdam, Frankfurt, Manchester, Birmingham, Edinburgh and Glasgow flights, although Premier Class on these routes is likely to go by the end of the year.
The positioning of Aer Lingus as a low fares airline continues successfully as the results for the full year 2003 prove: an operating profit of €83m (a 30% rise on 2002's €64m). The net profit for the year was €69m, a 96% gain on 2002. During 2003 Aer Lingus achieved a further cost reduction of €89.5m, adding to a cumulative reduction since 2001 of €344m. Some of these reductions have come in the following areas: fuel costs down 31%, airport charges 28%, aircraft hire 51%, maintenance 12%, distribution 56%, miscellaneous DOCS 49%, staff costs 21%, overheads 36% and depreciation 21%. The change in business model from 2003 versus 2001 includes a decline in overall capacity of 6%, with traffic up 7% and passenger load factor up 11 percentage points. This comes with a decline in average yield of 23% and a 35% fall in costs per RPK.
Operationally, Aer Lingus' passenger numbers were up 6.2% to 6.6m and passenger load factor rose to 81%. It was a record year for transatlantic passengers with 1.1m flown,an increase of nearly 20% on the year before. These figures continue to be constrained by existing Irish/US bilaterals, which restrict operations to five destinations in the US. The geographical split of Aer Lingus' revenues is as follows: Ireland — US (37%), Ireland — Continental Europe (32%) and Ireland — UK (31%).
Agreements have been made with Airbus, ILFC and CFM that will mean 17 A320s (seven direct from Airbus and ten leased from ILFC) will be added to the existing fleet of six A321s and four A320s and therefore by the end of 2005, Aer Lingus will operate a homogenous, all–Airbus, European fleet. There are opportunities to grow long haul operations and a review of the long haul fleet is underway. Any further addition to the seven A330s in the existing fleet will come only with increased profitability and cash generated from operations. Aer Lingus achieved an operating margin of 9.3% in 2003, although good relative to its peers, CEO Willie Walsh says "we are significantly under–performing our main competitor in Europe [Ryanair] …we have set ourselves a medium term target of a 15% operating margin. Competition within the European market is intense and we anticipate further low cost competition on key routes".
MBO on the horizon?
Earlier in July, an offer was made by Willie Walsh, CFO Brian Dunne and COO Seamus Kearney, which could lead to a management buyout (MBO). The three have asked permission from the Irish government to approach private equity houses with a view to organising an MBO of the airline. The Irish government has the legislation in place to allow a privatisation of the airline but has yet to make a formal decision regarding its ownership of the carrier. Its attitude towards privatising Aer Lingus may centre round these issues: a reluctance to upset the unions; the fact that the Irish economy is doing very well and tax revenues are buoyant so it doesn't need additional privatisation income; and a residual concern about maintaining, under all circumstances, the services to the Irish diaspora in the US.
AER LINGUS' FINANCIAL RESULTS
AER LINGUS' FINANCIAL RESULTS

| | | | |
| --- | --- | --- | --- |
| | 2003 | 2002 | 2001 |
| | €m | €m | €m |
| Turnover | 888.3 | 958.6 | 1097.2 |
| Op. costs | 805.3 | 894.8 | 1149.3 |
| Op. profit (1) | 83.0 | 63.8 | -52.1 |
| Op. margin | 9.3% | 6.7% | -4.7% |
| EBITDAR Continuing Operations (2) | 186.9 | 176.8 | 104.3 |
| Net exceptional cost | - | -25.7 | -104.1 |
| Profit (loss) for the year | 69.2 | 35.3 | -139.9 |
| Earnings (loss) per share (€ cent) | 27.1 | 13.8 | -54.7 |
AER LINGUS VERSUS RYANAIR
AER LINGUS VERSUS RYANAIR
Ryanair
Aer Lingus
RATIO
FR/EI
Passengers (m)
23.13
6.60
3.5
Revenues (€m)
Scheduled
925
730
1.3
Ancillary/Other
150
158
0.9
Total Revenues
1,074
888
1.2
Operating Costs (€m)
803
805
1.0
Operating Profit (€m)
271
83
3.3
Operating Margin
25.2%
9.3%
2.7
Average Fare (€)
39.97
110.69
0.4
Source: Aer Lingus