Eurowings: independence plus multiple partnerships July 2000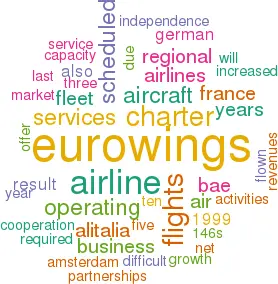 When two small German provincial carriers, Dortmund–based and Nurembergbased NFD, merged to form Eurowings at the beginning of 1994, few would have predicted that within five years it would grow into Europe's fourth–largest regional airline. It is also the largest independent regional, as the three biggest — Crossair, Lufthansa CityLine and KLM uk — are wholly or majority owned by Euro–Majors.
A more than doubling of revenues and an unbroken sequence of positive operating results and net profits in the last five years, albeit on a small scale, reflect a successfully diversified regional strategy built on a mix of scheduled and charter operations. Moreover, operating cashflow has been increasing healthily.
Eurowings had to negotiate a difficult 1999 through over–capacity in the market, inflating oil prices, and a strengthening of the US dollar, which led to an increase in aircraft- related costs, the financial result remained positive, but somewhat below plan.
Although operating revenues increased by 3.1% to Dm 729m ($380m), compared to the previous year, the operating result dropped from Dm 15m to just over Dm10m. The net profit, however, was up from Dm5m to Dm8m ($4.2m). The anticipated figures provided for operating revenues of Dm 759m, an operating income of Dm34m and a net profit of Dm13m .Cash flow increased by Dm 10.5m to Dm 50.1m, due to higher depreciation as a result of its fleet renewal.
Compared to the strong growth of flights operated in conjunction with KLM/Northwest Airlines to Amsterdam, services flown in cooperation with Alitalia to Milan–Malpensa, and with Air France to Paris–Charles de Gaulle, did not meet expectations. However, earnings from its partnership activities increased by 26.8% to DM 346m ($180m). Average earnings on scheduled services decreased by 7.8% over 1998, and there was also a reduction in revenue from charter services, mainly due to the discontinuance of two routes flown for Air France.
Concentration on its core business were at the forefront of the airline's business strategy in 1999 to position the airline for the coming years. As a result, the tour operator activities of subsidiary Eurowings Touristik were abandoned; another subsidiary, Eurowings Aviation, was re–integrated, and the sale of its third–party maintenance company, Nayak Aircraft Service, was concluded in January 2000.
In a period when most smaller operators have gratefully accepted the embrace of the dominant national airline, Eurowings has kept Lufthansa and other suitors at arms length. It has gained about a 5% share of the domestic market. But its real growth has come largely from forming relationships with several European majors without losing its independence, and from adding a still expanding short–haul holiday charter business to its scheduled services network.
Eurowings' chief executive Friedrich- Wilhelm Weitholz, who took over last year from long–time head Reinhard Santner, believes the airline can sustain partnerships with several airlines. Eurowings is a partner of the KLM/Northwest alliance, as well as Alitalia and Air France. In co–operation with KL/NW, Eurowings operates from 11 German cities into Amsterdam, while feeding the Air France hub at Paris CDG from six points in Germany.
With Alitalia, it operates on three routes, from Hanover and Nuremberg to Milan- Malpensa, and from Stuttgart to Rome. In spite of the break–up of the KLM/Alitalia partnership, Eurowings' relationship with Alitalia continues, but it is not yet known if the present route structure will be affected. Eurowings estimates that in 1999 it carried 1.1m passengers on KLM associated flights, which contributed most to its growth, 275,000 for Air France, 90,000 on Alitalia code–shares, and another 200,000 on wet–lease contracts.
While international flights grew substantially in 1999 through partnerships and the strengthening of its own activities in Eastern Europe, passengers on domestic connections actually fell from 839,000 the previous year to 758,000. But in overall terms, Eurowings improved its total by 4.6% to 3,034,000. This includes about one–fifth of the total generated by its holiday charter flights, which serve around 25 destinations in the Mediterranean and the Canary Islands, flown on behalf of German tour operators. Charter flights are operated from all major German airports, and from Salzburg in Austria.
Fleet strength in the last three years has remained fairly constant, with only minimal capacity increases. The scheduled fleet totals 37 aircraft, including 17 ATR42s, ten ATR72–210s and ten BAe 146s, while four A319–100s are used on charter flights, with one more due for delivery in March 2001. Some BAe 146s are also put on charter flights at weekends when not required for scheduled services. About half of the fleet is owned, with the other half leased, mostly through BAE Systems.
Eurowings plans to replace most of its turboprop aircraft with new jets, probably retaining only the newer ATR42–500s for its feeder services into Amsterdam. The BAe 146s will also be replaced when the leases run out at the end of 2002. The airline is evaluating all models on offer from Bombardier, Embraer, Fairchild and BAE Systems, but is likely to opt for the manufacturer which is able to offer a complete family of aircraft covering the 50–seat, 70–seat and 90–seat capacity range. Eurowings says it needs about 30 aircraft, with ten of each size.
The airline favours a wide cabin, which would hand the advantage to the Fairchild family (528JET, 728JET and 928JET), but much will depend on early delivery of the 50- seat type, which is required first. The airline is examining various options to finance this $500m fleet acquisition programme, with an IPO or the sale of a stake by majority shareholder and chairman Dr Albrecht Knauf, being the most likely outcome.
Says Weitholz: "The customer expects the same service from regional airlines as from majors. Regionals have to invest considerable amounts of money in their product and service, yet cannot offer the same seating capacity as larger airlines to reduce the cost per seat. The competition is growing, and keeping its own brand is really difficult and only possible if an airline can concentrate on different business segments, not only one. Eurowings concentrates on independent scheduled traffic, co–operation traffic and tourist charter flights."
Holding a market position below the global networks and becoming the preferred airline for the business traveller, is the vision the airline has set itself for the next five years. Maintaining independence is evidently important to the management but it may prove difficult to reconcile this aim with the capital expenditure required for expansion with new regional jets.
REVENUE BY SECTOR (Dm millions)
REVENUE BY SECTOR (Dm millions)
1994
1995
1996
1997
1998
1999
Own schedules
258
276
231
240
288
222
Partnership traffic
45
84
163
204
235
347
Charter services
13
50
57
122
163
136
Others
0
18
28
20
20
24
TOTAL
316
428
479
586
706
729