Variations on the low-cost theme July 2000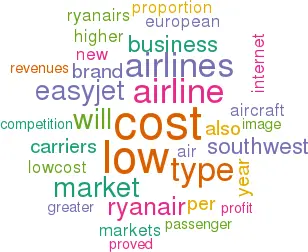 Low–cost airlines in Europe, especially the UKbased ones, tend to be bracketed together. However, there are important differences in their strategies and target markets.
The basic low–cost formula, as established by Southwest, is followed by most of the European clones, at least those that have survived. They have fleet commonality and operate point–to–point with fast turnaround times. Their labour is on competitive rates and is generally highly productive. Distribution and marketing costs are kept down through direct sales and electronic ticketing. There is usually a simple price structure and no frequent flier programme.
Beyond these common features there appear to be four different types of low cost airlines emerging:
Subsidiaries of the Euro–majors (Type 1);
Low cost with a high–profile brand (Type 2);
Aggressively low cost (Type 3);
Mixed mode scheduled and charter operators (Type 4 — the subject of an upcoming article).
All of these airlines claim to be carrying a reasonable number of business passengers. The proportion of "suits" in the passenger mix is unknown, although it is safe to assume that those Type1 and Type 2 carriers (see table) with more traditional business destinations and operating at higher levels of frequency will carry a greater proportion than a Type 3. It is, for example hard to envisage many time–sensitive business travellers flying to Frankfurt Hahn, a secondary airport, which is a two hour bus ride from the central business district.
Ryanair, the archetypal Type 3, places emphasis on creating ancillary revenues, not just from in–flight sales, but also from Ryanair selling advertising space on the exterior of its aircraft, (which generates some US$250,000 per aircraft per year). Other Type 2 and 3s are concerned with maintaining their own brand image associated with their own colour schemes and logos, though in easyJet's case the logo is a huge telephone number.
Excluding charter revenue, some 10.3% of Ryanair's total revenues were accounted for by ancillary revenues, against 5.5% at Virgin Express, and 2.5% at Southwest. The abolition of intra–EU duty–free will bring Ryanair's proportion down to around 6% this year.
Branding is another area of divergence. Ryanair's main selling point is the low fare. For an airline such as easyJet there are other considerations that call for the product offered to not only compete on price but also on brand image. Thus easyJet offers refunds on excessive delays and uses in its advertising its good on–time performance. The message is becoming more complicated. Chairman Stelios Haji–Ioannou has a string of Internet cafes, has launched a car rental company under the "easy" brand, and is planing on a move into Internet banking.
Go passengers are informed during boarding and disembarkation announcements that the airline is part of the British Airways Group. Is the airline therefore obliged to have higher standards of cabin cleanliness, more ground staff to cater for delayed flights, lost baggage queries etc than an ultra–focussed low cost carrier? The subsidiary dares not dent the brand image of its parent, though the changes in the parent's status will also affect the subsidiary.
One test as to how the stock market values low–cost airlines will come when easyJet is floated later this year on the London Stock Exchange. The most obvious valuation comparison for easyJet is Ryanair.
Ryanair has been one of the airline sector's star performers in the past couple of years and is currently trading at about a 20% premium to Southwest. This premium could possibly be justified by the profit per aircraft measure: Ryanair made a pre–tax profit of $85m for the year ending March 31 2000, or roughly $2.8m per 737 while Southwest in calendar 1999 made a pre–tax profit of $782m or $2.5m per aircraft. More importantly, Europe's low cost carriers have a greater cost advantage over most of the Euro–majors than Southwest does over the US Majors, and hence Ryanair's potential for growth must be even greater than Southwest's.
Moving eastwards
Will easyJet be awarded a similar rating to Ryanair? Or valued at "just" Southwest ratios? Or be downgraded because of the failures earlier this year of Debonair and AB Airlines? Or could it possibly achieve a higher rating than Ryanair because of its e–commerce associations, in particular the very high proportion of bookings taken over the Internet? The next strategic phase for the low cost carriers will be expansion eastwards, establishing operating points in the largely unexploited continental European market.
EasyJet has acquired TEA in Switzerland and rolled the airline into its low cost formula. With a trebling of the fleet planned over the next three years, easyJet is rumoured to be also setting up more hubs. It has already tried to enter the Dutch market (a bid for Air Holland proved unsuccessful) and is rumoured to be considering expanding there in his own right. If the BA/KLM merger were to go ahead, the regulators would probably give airlines such as easyJet a helping hand by capping the BA–KLM market share of the UKNetherlands market.
Germany is often seen as a difficult market because of a relatively low level of credit card use, which makes the low cost airlines preferred method of bookings, via the Internet, an issue. Lufthansa's tactics towards Deutsche BA — matching fares and capacity whenever that airline has attempted to attack new German markets — is a major consideration for new entrants.
Scandinavia has proved a difficult environment for low cost airlines as SAS has proved to be a highly aggressive competitor — witness the demise of Color Air and the problems encountered by Braathens.
France is a very attractive market, with an affluent, travel–orientated population, plenty of airport capacity and only traditional airline competition. But then there is the effect of those invisible barriers to competition that can be erected there.
Italy already has a low cost airline, Air One, although it does not indulge in out–and–out competition with Alitalia. A partial buy–out by Lufthansa is possible. With Alitalia moving the centre of its operations from Rome to Milan, there might well be opportunities for a new entrant at Rome.
It will also be interesting to see whether the Type 1 carriers, as offshoots of national carriers will be encouraged by their parent to not only defend their home market but to expand elsewhere. If BA had attacked the German and French markets via a low cost airline such as Go, rather than using higher cost airlines, Air Liberte and Deutsche BA, its European strategy might have been more successful.
Buzz, KLM's new lower cost subsidiary based at London Stansted, has evolved from KLM uk, which remains as a feeder to Amsterdam. The airline fits into the Type 1 mould, offering three times–daily services on routes to major cities with a schedule that in the words of its CEO, Floris van Pallandt, "caters as much for the business passenger as the leisure traveller".
These Euro–major offshoots could be floated off. Go, it is said, is keen for independence, but whether BA, having legitimised the low cost arena in the first place, may not risk an independent Go potentially cannibalising its European markets.
Virgin Express now has hubs at Shannon and Brussels, but continues to be a poor performer. Its first quarter results to 31st March 2000 showed an increase in net losses from €3.0m to €13.8m, put down to rising fuel costs and the strong US dollar, but not helped by a fall in the passenger load factor from 70.8% to 65.5%. The Chairman's statement summed up the airline's priorities: " to simplify and fix our business".
LOW COST CHARACTERISTICS
LOW COST CHARACTERISTICS
Type 1
Type 2
Type 3
Type 4
Go, Buzz,
EasyJet
Ryanair
Air Europa,
Virgin Express
Spanair
Use of secondary airports
Occasional
Some
Yes
No
Frequency of service
High, up to
High
Medium
Low
6 flights a day
Litigious
No
Yes
Yes
No
Advertising on aircraft
No
Own only
Yes
No
Related brands
Very important
Important
No
Yes
Average load factor
Relatively low
Middle
High
Very high
(65%)
(70%)
(75%)
(80%)
Average yield
Relatively high
Middle
Low
Middle
Unit Cost
Relatively high
Low
Lowest
Middle