Repercussions of the Air France/Delta alliance July 1999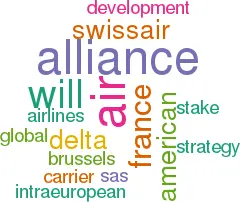 So Air France has made its decision and opted for Delta as its long–term partner (for ten years at least), as predicted with uncanny accuracy in the April edition of Aviation Strategy. This removes one uncertainty from the global alliance scene and creates new ones.
Starting with Air France itself — its relatively fast move to ally itself with the number two carrier on the Atlantic and to drop Continental is perhaps indicative of a new commercial approach following part–privatisation. An interesting question now is: will the alliance precipitate its full privatisation, or at least the sale of a majority of the shares? This may well be the stipulation that the regulatory authorities in Brussels and Washington will require for allowing the two airlines to gradually proceed to an immunised alliance. Air France was apparently willing to consider this trade in order to get into the Wings alliance, a move that would have raised greater antitrust opposition.
Air France plus Delta is essentially an Atlantic alliance (as is Wings, despite Northwest's strong position in the Pacific market), and it is unlikely that it will develop into a global alliance in the foreseeable future simply because both airlines are going to have to concentrate all their resources on making it work.
Delta's record in this regard is not all that hot: it failed with the Frankfurt operation it bought from Pan Am in the early 1990s and its relationship with Swissair was frequently strained.
But with Air France, Delta may have found its natural position in Europe. With American at London and United at Frankfurt the logical airport for the other of the US's big three would have had to be Paris. CDG 2 is the alliance's single biggest asset, but (continued on page 2) the problem is that Air France's intra–European network is only 9% of total intra–European scheduled capacity, much smaller than all four of the other groupings. Moreover, it hard to think of a well–positioned, non–allied carrier that Air France could invest in to boost its market share (with one possible exception — see below).
This alliance will be an interesting mix of Gallic and southern good ol' boy cultures. It will also bring together Air France's militant unions with Deltas largely non–unionised (17%) workforce. However, Fred Reid, formerly head of Lufthansa's passenger business, has arrived at Delta with the reputation for structuring win–win alliances.
Sabena plus American
SAirGroup's reaction to the alliance announcement was admirable. Non–committal at first, it then announced that it was selling its 4% stake in Delta (a residue from the Global Excellence days). This would have raised about $370m, $220m of which was immediately used to secure a 20% stake in South African Airways, snatching SAA from under the nose of Lufthansa and SIA.
At roughly the same time Swissair confirmed plans to code–share with American on flights between American's key Chicago, Boston and Miami destinations and the Swissair and Sabena hubs of Zurich and Brussels. In effect, all the DL codes on the joint services will be replaced with AAs, and it is inevitable that Dallas will replace Atlanta as a hub destination.
This development potentially provides American with a continental European hub at Brussels linking into Sabena's four–wave system there. This could possibly cause some friction within oneworld — for instance, when marketing Milan–Chicago, will American be selling MIL–BRU–CHI in co–operation with Sabena or MIL–LON–CHI in conjunction with BA, or both?
This development makes it more worthwhile for BA to bring Swissair into the oneworld group, which would imply some form of co–ordination of the oneworld and the Qualiflyer strategies. SAirGroup's strategy is centred around merging certain key activities of the member airlines like ground handling, catering, etc, and achieving economies of scale. These activities also generally produce higher rates of return than the airline operation. Would SAirGroup ever consider outsourcing Swissair to BA? After all, the profile of Swissair's passengers fits perfectly into BA's strategy of concentrating all efforts on serving business passengers. But this would probably be a bit too radical.
Another slightly worrying development for BA is that British Midland has relinquished the AA code on its flights. This is being interpreted as a prelude to an IPO or an outright purchase by SAS (or Lufthansa) of the 51% of the carrier that SAS doesn't own, placing the second largest operator at Heathrow firmly in the Star alliance. A more remote possibility is that Air France/Delta might try to seize the opportunity to bolster their intra–European network, even though they would probably have to pay well over the top to get SAS to sell its stake.
ALLIANCE SHARES ON INTERCONTINENTAL ROUTES
ALLIANCE SHARES ON INTERCONTINENTAL ROUTES

| % of 1999 ASKs | North Atlantic | Europe-Asia | Pacific |
| --- | --- | --- | --- |
| oneworld | 24% | 17% | 17% |
| Star | 18% | 20% | 19% |
| Wings | 15% | 5% | 11% |
| Air France/Delta | 14% | 6% | 3% |
| Swissair/Sabena | 4% | 3% | 0% |
| Others | 25% | 49% | 50% |
| TOTAL | 100% | 100% | 100% |
ALLIANCE SHARES ON INTERNAL ROUTES
ALLIANCE SHARES ON INTERNAL ROUTES

| % of 1999 ASKs | Intra-Europe | | Domestic US |
| --- | --- | --- | --- |
| oneworld | 25% | American | 18% |
| Star | 23% | United | 18% |
| Wings | 16% | Continental + Northwest | 17% |
| Air France | 9% | Delta | 18% |
| Qualiflyer | 15% | US Airways | 9% |
| Others | 12% | Others | 20% |
| TOTAL | 100% | TOTAL | 100% |
Note: oneworld = BA, AA, Cathay, Canadian, Qantas, Iberia, Finnair, Air Liberte, Go, Deutsche BA; Star = Lufthansa, United, SIA, Thai, SAS, Condor, BM; Wings = KLM, Alitalia, Continental, Northwest, Braathens, KLM uk, Eurowings; Qualiflyer = Swissair, Sabena, Austrian, Crossair, TAP, THY.
Sources: BACK data, Credit Indosuez Cheuvreux, ESG.