Meridiana cuts costs at last - but can it remain independent? July 1998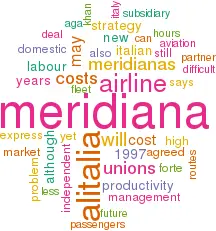 Meridiana, Italy's largest independent airline, has been overshadowed by Alitalia for 35 years. Via a breakthrough productivity agreement with unions in 1997, Meridiana has finally begun to tackle high labour costs — but can the airline ever hope to remain independent and truly challenge Alitalia?
The Sardinia–based airline was founded (under the name Alisarda) by the Aga Khan in 1963, and grew steadily — if slowly — over the next three decades. Its name was changed to Meridiana in 1991 when management decided that the airline's future lay in pan–European routes. Today Meridiana's route network includes 15 domestic and 11 foreign destinations. In 1997 the airline carried 2.4m passengers domestically and 0.3m on international routes, achieving an overall load factor of 58%. 95% of revenue comes from scheduled passengers, and 80% of all passengers are business travellers.
The average age of Meridiana's fleet is more than 12 years, but that will improve when DC9–51s (which are at least 22 years' old) are replaced by second–hand MD–82s by the middle of 1999.
However, Meridiana's long–term fleet strategy has yet to be finalised — the MD–82s will themselves have to be replaced in less than 10 years from now.
Labour costs and Alitalia
Historically, Meridiana has faced two challenges — high costs and the structure of the Italian aviation market, dominated as it is by Alitalia.
Steve Forte, Meridiana's vice president of marketing & sales, says: "In 1996 we realised that we were not competitive, so we started cost–cutting programmes. But we always ended back at the same problem — the cost of labour, which accounted for 35–40% of total costs. Our pilots and flight attendants were the highest paid in the world for the number of hours they worked."
The airline therefore decided to launch a low cost subsidiary, Meridiana Express, to which all Meridiana routes were to be transferred. Although management insists that Meridiana Express was not designed to put pressure on unions, the low cost subsidiary was a key factor is persuading unions to agree to substantive negotiations with the airline.
The end result was a productivity deal signed in March 1997. This comprised three components:
1) Unions agreed to increase worker productivity. According to Meridiana, since the deal average pilot hours have risen by 15% and flight attendant hours by 7%. Overall staff employed fell by 2% to 1,148 in 1997. In addition, the unions agreed that the starting salaries of new employees would be 30% less than salaries of senior employees.
2) Existing shareholders agreed to give unions equity worth 16.8% of Meridiana. This will be carried out via an issue of new shares (diluting existing shareholders), to be completed by June 1999. A union official will also join the airline's board.
3) Management agreed to liquidate Meridiana Express.
The results of the productivity deal have been immediate: ASKs per employee rose 11.8% in 1997 compared with 1996. Yet after 30+ years of doing virtually nothing to control labour costs, Meridiana cannot claim to have solved this problem overnight. The airline still needs to drive productivity up further, although given the relatively high price (16.8% of the company) that was paid to secure the 1997 agreement, further large gains will be difficult — or expensive — to achieve. But it may be possible, particularly now that the airline claims there is a "real feeling of co–operation between management and unions".
But assuming that Meridiana can keep driving labour costs down, the structural problems that it faces in its domestic market will be somewhat harder to overcome. Italian law used to determine precisely how domestic markets were divided between Alitalia and others, and directly specified the limited amount of competition that could take place. Forte says: "Meridiana has had to grow by niches as the best markets have historically been handed to Alitalia. In effect Meridiana lived off the crumbs of the Italian market."
Indeed the effects of domestic deregulation are yet to be seen fully in Italy, and it is still so difficult for new entrants to survive that many go for the easy option and ally with Alitalia (see Aviation Strategy, February 1998)
At first sight, Meridiana's current strategy also appears to be "if you can't beat them, join them". The airline has been building ties with Alitalia over the last year and a half. It now code–shares on Bologna–Palermo (operated by Alitalia) and on Milan Malpensa–Rome, Pisa–Catania and Turin- Catania (operated by Meridiana).
According to Meridiana there is room for greater co–operation, but Forte says that Meridiana does not intend to have a submissive role with Alitalia, or anybody. Meridiana claims it has already turned down a franchise role for BA. But whether code–sharing with Alitalia will lead to a long–lasting alliance, or is mainly a short–term expediency, remains to be seen. Forte says: "In the future we may need a strategic partner, although no equity would be involved. "We have already talked with Swissair, Lufthansa, BA and Air France, but either we or they were not interested. In particular we thought that a partnership with KLM looked interesting, but they allied with Alitalia instead."
In the short–term Meridiana is likely to be boosted by the opportunities presented at Milan's Malpensa 2000 airport. Meridiana will also be looking to win ground handling business at the airport through its 51%-owned subsidiary Aviation Services.
The future?
Meridiana's core problem is that it is still tiny compared with the might of Alitalia. Although fleet standardisation and labour cost reduction are important steps (if a decade or two too late), increasingly Meridiana faces the same choice that every other Italian airline has to face — whether to become part of the extended Alitalia family, or to find a strategic partner elsewhere in Europe.
Remaining independent and small is not a viable option as real competition to Alitalia and Meridiana increases. Codesharing with Alitalia may well be a delaying tactic while the search for a partner continues, but as the airline has found out there is — so far — little interest from Europe's majors.
This may appear a strange oversight by the likes of BA, Swissair, Lufthansa and others, as Meridiana is building up a reasonable network within and out of Italy.
The problem for potential outside partners may be that Meridiana is impossible to categorise. While it is the size of a leading regional or expanding new entrant carrier, it has the cost structure of a reforming flag–carrier. It promotes itself as a high quality business–orientated airline, yet its base of operations remains at Olbia in Sardinia. Moreover, a widespread perception, which may be false, is that it is guaranteed ready funds from its super–rich owner (although it has managed to report small net profits throughout the 1990s). Even after unions receive their stake, the Aga Khan will still control 82% of Meridiana's shares. And the Aga Khan (a member of the EC's "Comite des Sages") takes a close and very detailed interest in the direction of the airline.
So it is difficult to see how Meridiana could fit in with any of the European majors whose prime aim would be to find a potentially strong, lower cost competitor to Alitalia in the Italian market.
It is even less likely that Meridiana could ally with one of the northern European new entrants (Virgin Express is planning a major expansion in Italy), again because of costs but also because of Meridiana's emphasis on full service.
Therfore the most pragmatic strategy for Meridiana may be to extend its alliance with the flag–carrier, especially if Alitalia sticks to its recovery strategy.
MERIDIANA FLEET PLANS
MERIDIANA FLEET PLANS
Current Fleet
Orders Options
Delivery/retirement schedule/comments
MD-82
10
7
4 in 1998, 3 in 1999. All will be leased
DC9-51
second-hand aircraft
6
0
All to be replaced by MD-82s by June 1999
BAe 146-200
4
0
TOTAL
20
6