Airfreight growth continues, but yields keep falling July 1998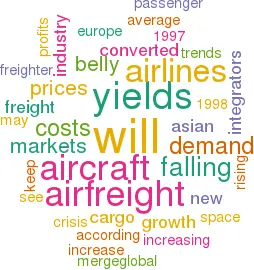 Despite the Asian crisis, 1997 was a record year for airfreight. According to US–based cargo specialists MergeGlobal, 25.1m metric tonnes of airfreight was carried in 1997 — 8% up on 1996.
And the airfreight market will continue expanding, according to MergeGlobal's 1998 forecast (see table, below). It will reach 34.6m metric tonnes in 2002, although the annual average growth will slow to 6.6% in 1997–2002 compared with 9.8% in 1992- 1997. Growth will vary widely in individual markets (see chart, right), but even the slowest- growing markets — such as from Europe to North America — will still see demand increase by at least 4% per year over 1998- 2002.
Yet rising airfreight demand will be accompanied by the continuation of another key trend in the industry — falling yields. Inflation–adjusted freight yields have been falling since the 1970s, primarily due to three reasons:
1) The structural increase in world trade (particularly from Asia to Europe and the US) has led to an increase in the average haul length; in turn this results in a reduction in yield per tonne–kilometre.
2) The introduction of widebody aircraft in the 1960s created large amounts of belly space for freight. Airlines often price this space incrementally, as they (wrongly) perceive belly space as having little or no marginal cost.
3) Deregulation has reduced controls on airfreight pricing.
And yields will keep falling. David Hoppin, principal of MergeGlobal, says:
Industry trends
"Average yields will fall in 1998 and beyond as the Asian crisis puts inbound Asian yields under severe pressure, and also affects pricing in non–Asian markets as passenger air–lines shift aircraft (and belly capacity) to more attractive regions." As well as falling yields, several other trends are apparent in the airfreight industry, according to MergeGlobal:
• Integrator expansion
• Increasing freighter aircraft costs
The integrators face problems with falling yields on their core document business. This has persuaded the large US integrators — UPS and FedEx — to expand into international markets such as Europe and Asia. However, once integrators build up a regional network it takes a while for express volume to build up on international routes. Therefore the integrators often seek so–called filler traffic — airport–to–airport freight — which tends to depress yields. Airlines face increasing costs as they upgrade fleets in order to comply with Chapter 3 noise rules. Theoretically, this should encourage airlines to push up airfreight prices. However, when airlines renew fleets of non–compliant narrowbodies they are sometimes tempted to trade–up to converted widebodies, thus increasing capacity.
This is likely to decrease freight prices still further.
• Rising demand for new freighter aircraft
As intercontinental airfreight demand has increased, the supply of high–quality used aircraft (primarily 747–200s converted from passenger aircraft) has tightened, leading to higher aircraft prices, claims MergeGlobal.
Although the Asian crisis may temporarily send prices downwards, in the long–term demand will exceed the supply of high–quality converted passenger aircraft. But once the total unit costs of a converted aircraft exceeds that of a new aircraft, airlines may turn instead to ordering new freighters.
• Falling profits?
As yields continue to fall and costs rise, profits will be squeezed. Operators will therefore have to become more creative strategically if they want to maintain profit levels. For example, KLM is developing customised logistics products and Lufthansa Cargo is planning to redefine airport–to–airport services in terms of delivery times rather than flight numbers. But will strategies such as speciality cargoes, smaller shipments or time–defined prices really be able to offset the structural trends to higher costs and lower yields?
Airfreight in the new millennium
Despite rising demand for airfreight, traffic growth simply does not translate automatically into profits for cargo airlines. If airlines cannot keep costs down or improve yields, there may be a shake–out in the industry. Hoppin says: "Some of the recent entrants into the freighter business will probably become disillusioned and either revert to a pure belly strategy, or exit the industry entirely. The survivors are likely to be those airlines with strong home markets and well–functioning cargo sales organisations. And those carriers that effectively combine frequent, low–cost belly lift with strategically–deployed freighters will enjoy a significant competitive advantage".
AIRFREIGHT MARKET (000s metric tonnes)
AIRFREIGHT MARKET (000s metric tonnes)
1992
1993
1994
1995
1996
1997
1998F
1999F
2000F
2001F
2002F
US Domestic
4921
5232
5802
6090
6386
6939
7347
7849
8293
8762
9249
NAFTA
276
273
346
405
453
533
569
608
652
698
745
North America-Cent. America & Carib.
149
149
156
146
155
181
200
220
239
260
283
CAC-North America
167
171
186
198
221
244
262
280
301
323
347
North America-South America
230
237
273
299
296
349
382
399
429
465
500
South America-North America
280
305
332
353
388
432
460
487
518
546
578
North America-Southeast Asia
109
127
146
176
211
237
244
266
287
308
332
Southeast Asia-North America
139
164
204
223
245
299
342
371
399
431
466
Intra-Europe
756
774
894
978
1,100
1,137
1,202
1,267
1,336
1,407
1,477
North America-Europe
783
753
819
915
972
1,033
1,098
1,160
1,229
1,298
1,368
Europe-North America
639
723
894
949
988
1,118
1,170
1,215
1,263
1,312
1,361
Europe-South Asia
48
52
66
94
100
110
122
136
150
165
181
South Asia-Europe
116
122
127
135
163
172
187
204
222
241
263
Europe-North Asia
320
380
496
559
583
608
613
659
709
761
812
North Asia-Europe
487
461
528
613
712
741
824
891
956
1,039
1,124
Europe-Southeast Asia
118
146
190
224
234
242
244
263
281
308
322
Southeast Asia-Europe
143
156
186
218
257
269
314
343
371
403
439
Europe-South Pacific
50
51
68
76
81
87
91
95
101
103
107
South Pacific-Europe
35
34
36
39
46
48
52
55
59
62
66
Europe-Latin America
182
219
273
293
313
344
370
393
418
449
477
Latin America-Europe
214
223
239
255
320
324
348
369
392
417
444
Europe-Africa
273
288
333
396
418
445
465
487
513
543
577
Africa-Europe
101
113
136
146
150
155
166
178
191
204
219
Europe-Middle East
172
179
206
229
244
259
273
293
314
334
352
Middle East-Europe
222
241
223
188
271
281
300
319
339
360
383
Intra-Asia 1,189
1,307
1,681
2,064
2,314
2,444
2,598
2,812
3,048
3,297
3,571
Other regions 3,580
4,020
4,560
5,040
5,580
6,070
6,460
6,880
7,390
7,900
8,560
TOTAL15.7m
16.9m
19.4m
21.3m
23.2m
25.1m
26.7m
28.5m
30.4m
32.4m
34.6m