Russian/CIS airlines: what's happening January 2004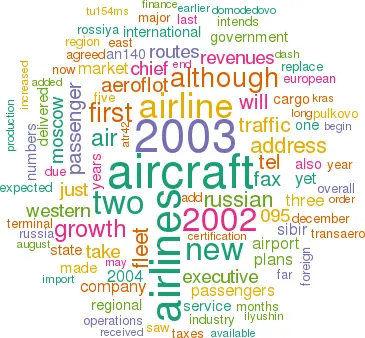 Russia continued to see growth in passenger numbers, revenue kilometres and freight tonnages in 2002, but this growth was tempered by a shortage of suitable aircraft available. There was just an overall 2% growth in passenger numbers in 2002 — from 26m in 2001 to 26.5m. Despite the same problem in 2003, some airlines have managed to achieve substantial growth by increased utilisation and higher load factors.
In mid 2003, the Russian Air and Space Agency admitted that the country's aviation industry would be unlikely to build sufficient aircraft to meet airline needs, taking "five years" to restore it to full production.
The airlines responded by saying that they could not wait five years, and called on the government to drop the heavy taxes (44% up to the end of 2003, now just 40%) on imported aircraft. The heavily politicised industry has objected to tax cuts and no decision has yet been reached, although there is some evidence of partial relaxation.
The aviation industry has a severe shortage of capital to finance new aircraft, and airlines lack the funds to either finance or even lease new aircraft.
This has been compounded by a scarcity of Russian/Soviet aircraft on the used market, with only three ex- Slovak Tu–154Ms becoming available for repatriation in 2003. Almost 20 airlines, including most of the majors, have sought ways to import foreign aircraft with minimum tax burdens. Until now, only Aeroflot and Transaero, the two companies given exemptions by the Yeltsin government, have been able to do this.
The long–awaited Tupolev Tu–334 made little progress in 2003, although in late November, the first production example made its maiden flight. It has joined the flight test certification programme, and full certification is expected in late 2004. Airlines have been waiting for many years for a Tupolev Tu–134 replacement, and over 60 have been ordered (although no deposits have been paid). No financing plans have been made to allow airlines to lease or buy the 334, so there will be further problems before they enter service. Intended to replace the workhorse 154 and 154M, two 204s were delivered in 2003, one freighter to Air Rep associate company Aviastar–Tu and one passenger version to Kras Air.
Two longer–range 214s were delivered to the State Transport Company, Rossiya, and a third delivered to Dalavia in the last few days of the year.
No Ilyushin Il–86s were delivered to any company, although in December, Aeroflot agreed to take six and Cubana placed the first export order for two aircraft. Sukhoi's partnership with Boeing on the RRJ (Russian Regional Jet) seems to have progressed more than any other new aircraft, and the management team has shown the first realistic business approach evident in the industry overall.
This has increased the pressure to order foreign aircraft. Aeroflot received permission from the Russian government to take in 27 new aircraft to replace the 27 already in service, and negotiated an exceptional agreement allowing costs to reduce by around $100m per year. The new aircraft began to arrive in August, as they are delivered, the existing aircraft are withdrawn. Transaero has added two 767–200s and two 737–300s in 2003, and plans further Boeing orders in 2004. This has allowed substantial traffic growth and marked revenue improvements.
Sibir has being building up experience on Western aircraft through its Armenian subsidiary, Armavia. By the end of 2003, two A320s and one ATR42 had entered service with this company, and Sibir has trained some of its aircrew and technical staff to work with the new types, and is building a team to be ready when the barriers fall. Currently Sibir is looking for 757s as there are no Tu–154s are on the market.
UT Air issued a request for tenders to supply five regional aircraft, under current consideration are the ATR42, the Bombardier Dash 8 and the Antonov An–140. In December, the first An–140 rolled out from Aviacor in Samara (earlier deliveries had all come from the Ukraine), UT is under considerable pressure to decide on the 140, but earlier unhappy experiences between the two companies may cause friction.
Kras Air's plans to import MD–80s in partnership with Germania fell through due to the non–certification of the type in Russia and the CIS. Now they are negotiating leases on a number of 767–200ERs to join the fleet by the second quarter of 2004.
Sakhalin Avia Trassi now has three Dash 8–100s, operating on charter for an Exxon contract in the Russian Far East. Taxes have had to be paid on these, but the entire regional fleet in the country is so aged that every operator is anxious to modernise.
VIM airlines, primarily a cargo operator with a fleet of 12 Il–62s (normally long range passenger aircraft), is understood to have bought a DC–10 from Finova in the last few weeks, although confirmation has not yet been made, but its plans to take ten 757s are understood to have fallen through due to a lack of finance.
And Volga Dnepr, the major freight airline, has agreed to take two ex–Alitalia 747- 200s for cargo conversion. These are likely to be operated by a foreign subsidiary on routes to China.
Aeroflot
Russia's national airline saw traffic fall in 2002 by 5.9% to 5.5m passengers. This was due to the airline's management concentrating on improving profitability, and eliminating unprofitable routes and services. It worked — net profits grew from 2001's $44m to $101m in 2002, and further cost savings should be reflected in 2003's results. The first 11 months of 2003 has seen a growth of 6.3% in passenger numbers, some 5.4 million have flown with the flag–carrier. In August, it unveiled new livery, the first real change since Soviet times, although its first A310s wore an Airbus–designed "flying flag" style scheme for several years.
Revenues for 2002 grossed $1.4bn, up just $5m on 2001, but they include some $183m from "commercial agreements" made between the Soviet Union and airlines overflying Russia on routes linking Europe and the Far East. The arrangement was intended to compensate Aeroflot when other airlines provided more capacity than it on these routes, and Aeroflot says that, in some cases, it pays European airlines when it provides more capacity than they do. However, the European Commission intends to put a stop to this arrangement. Aeroflot needs to improve revenues and reduce costs if it is to maintain services.
Cargo tonnages for the first eleven months of 2003 came to 103,700, a 4.1% increase on the comparable figure for a year earlier.
The airline's plan to develop its own terminal for itself and its SkyTeam partners at Moscow's Sheremetyevo Airport have resulted in the government imposing a partnership solution joining the airline and the airport.
Construction is expected to begin in the first quarter of 2003, and completion should result in early 2007. Aeroflot intends to train all of the new terminal staff at its own training centre and to meet or beat the highest international standards.
Chief Executive: Valeri M. Okulov Tel/Fax: (095) 752 9001. (095) 155 6647 Address: 37, Leningradski Prospekt, Moscow 125167.
Sibir
Sibir achieved remarkable growth in 2002, with passenger numbers rising by 85% to 2.6m. Even with the 0.5m attributed to Vnukovo in 2002, the airline's growth came to 35%. This was achieved mostly by the availability of ex–Vnukovo aircraft following overhaul, and the airline ended 2002 with an overall load factor of 73.4%.
Despite a lack of available extra capacity, the first eleven months of 2003 saw traffic grow a further 26%, reaching 3.2m, due mainly to an increased load factor of just over 80%.
Operational revenues are expected to be over $400m for 2003, and the airline has engaged Ernst and Young to prepare its annual accounts to International Accounting Standards, in order to be ready to discuss leasing terms with western companies as soon as the tax situation changes.
The airline's headquarters are being transferred to Moscow, and contact information will change in the next month, although it will maintain some personnel in its Novosibirsk offices.
In the summer of 2003, Sibir introduced a "no frills" low fare service linking Moscow and Nizhni Novgorod. With three other airlines already serving the route, the Sibir flight soon was carrying over 50% of traffic. The airline did this by allocating one specific Tu–154, just out of its final major overhaul, to the route, thus minimising maintenance charges for the service.
CEO: Vladislav F. Filiov Tel/ Fax: (3832) 227572, (3832) 599064 Address: 633115 Novosibirsk, Tolmachevo Airport
Pulkovo Aviation Enterprise
Pulkovo saw traffic grow in 2002 by 10% to 2m passengers, and revenues of $256m, on which it reported pre–tax profits to be $42.9m. By July 2003, traffic had grown a further 9%, and the airline and airport revenues were expected to reach $300m.
In May, Pulkovo Airport opened a new international terminal, just in time to cater for St. Petersburg's 300th anniversary.
Later, in December, the wholly State–owned airline was advised by its owners that it would be joined with the Russian State Transport airline, Rossiya under the new title "Soyuz" (Union), although as yet it is not clear which company will take command of the new airline.
Rossiya is Moscow–based, although with ex–Pulkovo leadership. Rossiya carries about 300,000 revenue passengers, although its principal task was government (ministerial and state official) transportation.
In the last few years, it has received two new Tu–154Ms (some of the last built) and two Tu- 214s from the State. It also has a fleet of almost 60 aircraft, including long range Il–62s, Tu–154Ms and Tu–134s, Yak 40s and helicopters — many of these would be valuable to the Pulkovo operation.
Pulkovo has also announced it intends to add 20 Tu–334s to replace its elderly 134 fleet, and has also looked at ways to bring in some foreign medium–range aircraft.
Chief Executive: Boris G. Demchenko Tel/ Fax: (812) 122 9422, (812) 104 3302 Address: 196210 St. Petersburg, Pilot St., 18/4
Kras Air
Kras Air carried 1.2m passengers in 2002, and, in the first 11 months of 2003, this figure grew a further 16% to reach 1.7m, mainly attributed to improved utilisation of its fleet.
It added a third Tu–204 to its fleet in December, and is in negotiation with western lessors to add two 767–200ERs by mid 2004.
Its plans to add MD–80s fell through, as the type has not been certificated for CIS operations.
In 2003 it opened a new international terminal at its base of Krasnoyarsk.
CEO: Boris M. Abramovich Tel/ Fax: (3912) 236366, (3912) 244895 Address: 663020 Krasnoyarsk, Yemelianovo Airport.
UT Air
UT Air (formerly Tyumenaviatrans (TAT)) achieved a 15% growth in passenger numbers in its airline operations carrying 1.2m in 2002 and saw overall revenues of $173m (up from $144m in 2001), greatly assisted by the revenues earned from its increasing United Nations helicopter operations — in 2002, these were $40m.
In August, it decided to issue a request for tender for the supply of five regional turboprops to begin the fleet renewal for local services in its western Siberia market. Four serious proposals were received and one (for Ilyushin Il–114s) has so far been eliminated,as UT Air felt that its low wing was likely to suffer damage on the poor runways in the region. The other three proposals are for high–winged aircraft: the ATR42, the Bombardier Dash 8 and the Antonov An–140.
The An–140 offer came from its major producer in Kharkov, although if selected, the aircraft may be built at the Aviacor factory in Samara.
Chief Executive: Andrei Martyrosov Tel/ Fax: (34671) 94557, (34671) 94588 Address: 628012 Khanti–Mansiisk, Tyumen Region, West Siberia
Transaero
Transaero carried just under 400,000 passengers in 2002, and set a target to reach 1m by 2004. Having access to western aircraft without the requirement to pay their import taxes, the rising market has allowed the airline to grow considerably in 2003.
It has re–opened routes to the Russian Far East, Thailand and Taiwan and has experienced solid traffic growth in 2003. Accordingly, they have added a 737–400, a third 767–200 and three 767–300s.
At the 2003 Moscow Air Salon, Transaero announced that it intends to add up to 15 Tu- 234s, the long range but shorter fuselage version of the 204, to its fleet.
Chief Executive: Olga Pleshakova Tel/ Fax: (095) 937 8463 (095) 937 8463 Address: 113054 Moscow, Paveletskaya
Domodedovo Airlines
Square 2/1 (second floor) The battles for control of the airline have resumed, and its situation is not yet clear. Traffic in 2002 grew by about 6% to 641,848 passengers.
It is difficult to foresee what will happen, as the State, which holds a minority, but "golden" share, is opposing plans brought up by other shareholders.
Chief executive: Andrei Maslov Tel/ Fax: (095) 323 8991, (095) 952 8651 Address: 142945 Moscow Region, Domodedovo Airport.
East Line Airlines
At the end of 2003, the East Line group decided to concentrate on the development of Domodedovo Airport, and to sell the airline early in 2004.
Chief Executive: Alexei Raevski Tel/ Fax: (095) 795 3427 Address: Domodedovo Airport, Moscow Region 142945.
Volga Dnepr Airlines
Volga Dnepr Airlines has taken several quite major steps to develop its position on Russian and international markets in 2003.
The first step is to begin 747 cargo operations, and in the summer it agreed to take two ex–Alitalia 747–200s, convert them to freighters, and operate them on routes from Western Europe, through Russia to China in general freight roles. It is not yet clear whether this will involve establishing a subsidiary company in a European country to avoid the Russian taxes.
They have also agreed to purchase up to 15 Ilyushin Il–76s from the production factory (there are about 30 unsold aircraft stored there), fitting them with Chapter 3 Perm PS- 90A engines and a modern western avionics suite, thus allowing them to operate in the European market. The uptake rate will be about two per year.
It has also signed a letter of intent to take three An–140 regional turboprops to replace the Yak 40s on its domestic passenger routes.
Meanwhile, its cargo tonnages exceeded 50,000 in 2002, leaving it in a strong second place after Aeroflot in the Russian market.
Progress on JAA/UK certification of two new An–124s is continuing, although the airline is monitoring the cost of this work very closely, as it is not yet sure whether the project will be economical.
Chief Executive: Alexei I. Isaikin Tel/ Fax: (8422) 202671, (8422) 204997 Address: 432062 Ulyanovsk, Karbyshev Street, 14
MAIN RUSSIAN/CIS FLEETS
MAIN RUSSIAN/CIS FLEETS

| | Aeroflot | Sibir | Pulkovo | Kras Air | UT Air | Transaero | Domodedovo | East Line | Volga Dnepr |
| --- | --- | --- | --- | --- | --- | --- | --- | --- | --- |
| 737-3/4/700 | 6 | | | | | 5 | | | |
| 767-200 | | | | | | 3 | | | |
| 767-300 | | | | | | | | | |
| 767-300ER | 6 (3) | | | | | 3 | | | |
| 777-200 | 2 | | | | | | | | |
| DC10-40F | 2 | | | | | | | | |
| A310 | 8 | | | | | | | | |
| A319/320 | 5 (13) | | | | | | | | |
| IL-62 | | | | 2 | | | 17 | 1 | |
| IL-76 | | | | | | | | | (2) |
| IL-76 TD | 5* | | | | | | | | 2 |
| IL-76T/TD | | | | 8 | | | | 11 | |
| IL-86 | 6 | 14 | 8 | 4 | | | | 1 | |
| IL-96-300 | 6 (6) | | | | | | 3 | | |
| Tu-134 | 21 | | 11 | 2 | 20 | | | 1 | |
| Tu-154B/M | | 36 | 25 | 17 | 9 | | | 3 | |
| Tu-154MP> | 15 | | | | | | | | |
| Tu-204 | | 2 | | 3 (3) | | | | | |
| An-24 | | | | | 11 | | | | |
| An-26 | | | | | 1 | | | | |
| An-124-100 | | | | | | | | | 9 (2) |
| An-140 | | | | | | | | | (3) |
| An-2 | | | | | 51 | | | | |
| Yak 40 | | | | 1 | 21 | | | | 5 |
| Yak 42 | | | | | | | 2 | 1 | |
| TOTAL | 82 (22) | 52 | 44 | 37 (3) | 113 | 11 | 22 | 18 | 16 (7) |
Note: * all grounded