Russian airlines: Noise and tax frustrations January 2003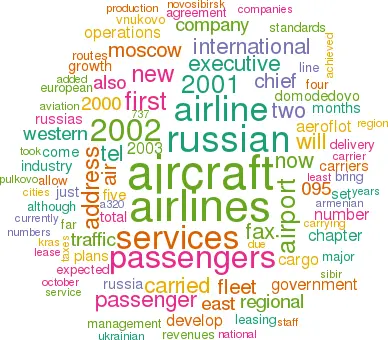 Russian passengers numbered 25.1m in 2001, a growth of 14.8% compared to 2000, and the first eleven months of 2002 showed a growth of 5.5%. The implementation of ICAO Chapter 3 noise rules by the EC in April closed European airspace to many Russian aircraft (an exemption was granted to allow holiday charters to operate into Greece; a second exemption was granted until the end of 2002 for Pulkovo Airlines to fly to Germany). The top five passenger carriers accounted for over 51% of all Russian passengers in 2001.
With few Russian Chapter 3 aircraft available, 44% import duties and VAT charged on imported aircraft, many operations to Western Europe had to be closed, thus damaging the revenues, employment and financial capability for fleet replacement.
There are ways around the problem. Aeroflot has approval for 27 tax–free aircraft, and it negotiated governmental permission to roll this over for the same number of new aircraft. But it needs more aircraft of an international standard and so entered a code share agreement with a new Irish carrier, SkyNet, to operate its Moscow–Amsterdam and Moscow–Brussels services six times weekly with 737 Classics.
Sibir took a substantial holding in an Armenian carrier, Armavia, and arranged to lease two A320s for services from Yerevan. This allows Sibir crews to build up familiarity with the A320, and should the tax situation change, to be ready to bring them into its main fleet.
Kras Air reached agreement with Germania to take eight MD83s as part of the capitalisation of a joint leasing Russian company.
Russian law allows assets brought in as company capital to be tax–free, but few western investors have used this provision as yet.
Today, there are only a small number of Russian new–generation aircraft — only 11 Tu–204/214s and 9 IL–96–300s in service with Russian airlines. The Russian manufacturing industry is in disarray, slow to produce and deliver, and has scant support for its products. Apart from this, few Russian banks will finance aircraft purchases, and the leasing industry is only beginning to come to life.
In August, leaders of the Russian airlines met the Minister of Transport and aviation industry officials, delivering a message that was very critical of the support, production capability, and lack of flexibility of the industry. All this means that Russia's airlines are having difficulty in getting Chapter 3 aircraft.
There are very few Tu–154Ms, one of just two Soviet–era jetliners capable of being modified to meet Chapter 3 requirements, available to be purchased from carriers in other countries. This type is the backbone of the CIS airline industry. The Yak 42 is also Chapter 3 compliant (sometimes after minor modifications), but with less capacity and shorter range.
Feeder services are just beginning to come on agenda as Russia's major carriers begin to pay attention to their customers' needs. In western Russia, there is at least a basic rail system to bring passengers from small towns and cities to the major gateways, and the requirement for regional aircraft is expected to grow. The Soviet–era regional aircraft were built in the 1960s and early 70s, and they need to be replaced.
Aeroflot has signed letters of intent, but these will only come into effect when regional types are certificated and in production. The Antonov An–74TK–300 is the main prospect.
East of the Ural Mountains, feeder services are often an essential factor in the survival of remote communities. Most of the operators providing these services are in poor financial health, and the concept of providing feed to major carriers is only beginning to be understood. Often, flights to relatively nearby cities are scheduled just once or twice a week.
In September, Russia's Minister of Transport asked the country's design bureaus to come up with proposals to supply 200 regional aircraft in the 50 to 90–seat range. Four proposals were submitted — Antonov was excluded, as it is based outside Russia. The proposals are now under evaluation, although the government has not outlined much in financial terms regarding payment for the new aircraft.
Aeroflot - Russian Airlines
Russia's national airline carried 5.8m passengers in 2001, some 14.3% up on 2000, and its highest annual total ever. These figures will not be achieved in 2002, with some 4.2m passengers and 13.5m RPKs in the first 10 months of the year. The reduction is partly attributed to the airline's inability to replace the large, wide–bodied Il- 86 on European and holiday routes.
Total commercial revenues from passenger and cargo services up to October 2002 are put at $859m. Although it still officially has 14 Il–86s in its fleet list, in fact only five remain in operation, and the others are either parked or operated by VASO, an airline established by the aircraft's production factory. Some of these services are flown in partnership with the national airline as "Aeroflot Express", but only to destinations where Chapter 2 operations are still permitted.
The airline secured governmental permission to roll over its tax exemptions to a new fleet of more modern western aircraft, despite vociferous complaints from the manufacturers. It has now signed for a new fleet of 18 A319/320s, with the first expected in the third quarter of 2003. For its longer–range requirements, it initially chose the A330–200, but a phone call from George W. Bush to his Russian counterpart soon sorted that out, but in a way not anticipated by the US manufacturer — it chose to retain its four 767–300ERs and to add a further five used aircraft. This is expected to be an interim solution for three to five years. The two 777s have proved to be too large for the airline's requirements, and the total of 27 western passenger aircraft currently in the fleet (11 A310s, 10 737 Classics, 4 767s and 2 777s) will be replaced by a similar number of mainly smaller aircraft. Aeroflot currently carries about 110 passengers per flight on most of its services to Western Europe, and the larger aircraft therefore do not make sense.
Currently, Aeroflot has 18 A319/320s and five 767–300ERs on order.
The airline's plan to develop its own terminal for itself and its SkyTeam partners at Moscow's Sheremetyevo Airport ran into considerable opposition from the airport, and resulted in a government decision allowing airport development in partnership with Aeroflot but retaining existing airport staff. The airline's service standards have continued to improve, and management is determined to bring standards to high international levels.
Chief Executive: Valeri M. Okulov Tel/Fax: (095) 752 9001. (095) 155 6647 Address: 37, Leningradski Prospekt, Moscow 125167
Sibir
With the absorption of the Vnukovo Airlines staff, services and, most importantly, its market, Sibir increased its passenger numbers from 0.8m in 2000 to about 1.8m in 2001. In 2002, total boardings will exceed 2.7m.
The airline bought a major interest in Armavia, an Armenian carrier — it sees strong potential in the Armenian market — and to develop operational experience with the A320. It has now gained JAR145 (European aircraft maintenance approval) for basic line maintenance with the A320 following an audit by the French authority, and plans to build this to at least "C" check standard.
In mid 2002, the airline decided to change its Moscow operation from Vnukovo Airport to Domodedovo, a newly rebuilt facility to the east of the city. It did this because Vnukovo was not prepared to improve transit facilities for interlining passengers.
Baggage, for example, could not be checked in at Novosibirsk for a transfer through Vnukovo for an onward flight to Germany. It had to be collected by the passenger, who then needed to begin the two–hour check in process required for international flights. Domodedovo, run by a private company, was prepared to offer a more flexible approach.
The airline has now moved much of its management staff from Novosibirsk to Moscow. It is now firmly in second place in traffic, and its service is usually well up to international standards.
CEO: Vladislav F. Filiov Tel/ Fax: (3832) 227572, (3832) 599064 Address: 633115 Novosibirsk, Tolmachevo Airport
Pulkovo Aviation Enterprise
The St. Petersburg–based airline carried 1.8m passengers in 2001, up 16% on 2000, but the combined Sibir/Vnukovo entity caused Pulkovo to fall to third position in the Russia league tables.
The 2002 loss of an IL–86 in an accident in Moscow has seen traffic fall considerably in the year, and its holiday traffic has suffered due to the lack of capacity to replace the IL–86s, although it bought four Tu–154Ms from those withdrawn from Chinese airlines in mid–2001.
It is now understood to be looking at foreign aircraft possibilities to supplement its fleet, but the question of taxes has to be addressed. It continues to run both the airline and St. Petersburg's Pulkovo airport.
Chief Executive: Boris G. Demchenko Tel/ Fax: (812) 122 9422, (812) 104 3302 Address: 196210 St. Petersburg, Pilot St., 18/4.
Kras Air
Kras Air made up for the fall in 2000 traffic by carrying a total of 1.02m passengers in 2001, a growth of 41%. By November 2002, it had carried even more, 1.18m passengers and had also grown cargo volumes by over 11%.
It has recently agreed to lease two 767- 200s from Boeing Capital, although it is not clear how the import taxes will be covered. The first of these is due for delivery in March 2003. It has also reached agreement with Germania to set up a joint Russian leasing company with an initial eight MD–83s.
Boeing has agreed to get the MD–83 certificated for Russia. Kras Air's policy of developing Krasnoyarsk–Yemelianovo airport into a central Siberian hub has been a deciding factor in building its passenger traffic.
CEO: Boris M. Abramovich Tel/ Fax: (3912) 236366, (3912) 244895 Address: 663020 Krasnoyarsk, Yemelianovo Airport
UT Air
TAT (Tyumenaviatrans) changed its name to UT Air on October 1, 2002. It achieved remarkable growth in 2001, with passenger numbers up 55% to 1.01m, plus a further a further 0.2m carried on helicopter services, including its United Nations operations in Africa and Asia.
It achieved operating revenues of $144m, up from $85m in 2000. Costs came to $132m, against $62m in 2000, but the airline's management points out that these included substantial extra maintenance on out–of–service helicopters to allow for expanded operations and revenues in future years. CEO Andrei Martyrosov describes these costs as "investments for the future".
Chief Executive: Andrei Martyrosov Tel/ Fax: (3462) 280057, (3462) 280116 Address: 624600 Tyumen Region, Surgut Airport.
Transaero
After a number of difficult years, Transaero has set about rebuilding its routes and fleet for expansion. In 2001, it carried some 0.39m passengers. For the first nine months of 2002, it carried 0.29m, most of these on international routes.
In August, it took delivery of the first of two 767–200s, which are now being used on flights to Russia's Far East and to several European destinations. It has also added two 737 Classics, all aimed to develop traffic and to ensure Stage 3 compliance in Europe.
Chief Executive: Olga Pleshakova Tel/ Fax: (095) 937 8463 (095) 937 8463 Address: 113054 Moscow, Paveletskaya Square 2/1 (second floor).
Domodedovo Airlines
With Domodedovo's management now re–established, the airline saw a 43% percentage passenger growth in 2001, and is working to develop connections and new routes.
Chief executive: Alexander Rus Tel/ Fax: (095) 323 8991, (095) 952 8651 Address: 142945 Moscow Region, Domodedovo Airport
East Line Airlines
The East Line Group was set up in 1995. The parent company secured a 75–year lease on Domodedovo Airport, and the profits earned by the airline carrying mainly cargo to the Far East, especially China, allowed the group to totally rebuild the airport and bring it up to high international standards.
As a result of the rebuilding, transfers are coming from Moscow's other airports. Swiss, Air Malta and Croatian are the first international airlines to transfer at the airport. East Line has been taking new operators slowly, as operations allow.
East Line's resources have come almost exclusively from its cargo operations, but it has now begun to develop passenger services — figures started at about 70,000 in 1999, and in the first ten months of 2002, it carried over 230,000 passengers and over 25,000 tonnes of cargo. It has recently added an executive Tu–134 to begin serving business charters.
Chief Executive: Alexei Raevski
Tel/ Fax: (095) 795 3427
Address: Domodedovo Airport, Moscow Region 142945
Volga Dnepr Airlines
Breaking off relations with its UK marketing partner, HeavyLift, Volga Dnepr's cargo tonnages fell, but the company says that 2002 results have justified its decision and a remarkable resurgence has occurred. It expects that the steps it has taken, including the establishment of UK and US subsidiary companies, to restore traffic and increase profitability.
In 2001, it carried just 22,000 tonnes, some 145.7 million tonne kilometres, while its regional airline, operating a few Yak 40s at the request of its regional government to ensure connections to Moscow, carried just 21,682 passengers.
Work on the certification of its An–124- 100 is continuing with the UK's Civil Aviation Authority. If successful, it plans to develop its UK subsidiary to set up a UK airline. In 2002, it became the first Russian airline to secure funding from a western bank (the International Finance Corporation, a subsidiary of the World Bank) for the purchase of a new Russian–built aircraft — its tenth An- 124–100, due for delivery in 2003.
Chief Executive: Alexei I. Isaikin
Tel/ Fax: (8422) 202671, (8422) 204997
Address: 432062 Ulyanovsk, Karbyshev Street, 14
Ukraine
The Ukraine government has brought in a new policy to stimulate domestic air travel — airfares should be at the same level as those of rail services. This increased the numbers of people travelling by air. However, the government's suggestion that airports and fuel companies should reduce their charges to facilitate this does not seem to have been matched. Therefore, Ukrainian airlines have taken the obvious step of raising international fares to compensate for the loss of revenue.
The government also encouraged the national railways to set up an aircraft leasing company with the intent of funding locally built aircraft for Ukraine's airlines. This has resulted in three An–140s delivered to regional companies so far, and 2003 will see an additional 8 An–140 turboprops and several An–074TK–300 jets being added.
It will also offer these services to Russian carriers, and that a recent agreement between the two countries will allow Ukrainian aircraft to be imported into Russia without incurring taxes. So far, two Russian airlines have agreed to order the An–149.
Aerosvit
< Carrying 0.32m passengers in 2001, and the same number in the first nine months of 2002, Aerosvit is clearly the number one airline in the Ukraine. In October, it took delivery of its first 767–300ER, and began to serve the Kiev–Bangkok route four days later. In April 2003, it plans to open services to New York and Toronto, two cities with sizeable Ukrainian populations. The government is continuing to work on plans to amalgamate the country's leading airlines, and some developments are expected in 2003.
Aerosvit also plans to take at least three An -140s for domestic services.
Chief Executive: Gregory A. Gurtovoi
Tel/ Fax: (38 044) 235 8710, (38 044) 246 5184
Address: 58A, T. Shevchenko Bulvard, Kiev 01032, Ukraine.
MAIN RUSSIAN/CIS AIRLINE FLEETS
MAIN RUSSIAN/CIS AIRLINE FLEETS
Trans-
Domod-
East
Volga
Aeroflot
Sibir
Pulkovo
KrasAir
UT Air
aero
edovo
Line
Dnepr
Aerosvit
TOTAL
IL-96-300
6
3
9
IL-86
5
10
8
4
2
29
IL-76
3
10
14
2
29
IL-62
5
15
1
21
TU-154
24
28
25
20
9
3
109
TU-134
16
10
2
6
1
35
TU-204
2
2
4
YAK 40
3
22
3
4
32
AN-2
5
52
57
AN-24
3
10
13
AN-26
4
1
5
A310
11
11
737-200
1
1
2
737-300
2
1
3
737-400
10
1
11
737-500
3
3
737-700
2
2
767-200
2
2
767-300
4
1
5
777-200
2
2
DC-10F
2
2
Total
83
40
48
53
100
7
18
24
6
7
386