RJs: the prospects are brighter January 2002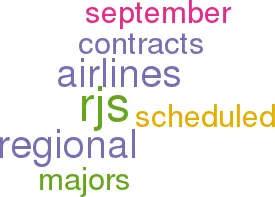 This year the two main manufacturers, Boeing and Airbus, may be hard pressed to deliver 500 units to airlines and lessors.
The regional jet manufacturers have a similar number scheduled, but their prospects are looking much brighter.
As the table on page 6 shows, there are 467 Regional Jets scheduled for delivery in 2002 (this includes some aircraft that scheduled for the end of 2001). The listing is completely dominated by US regionals affiliated to the US Majors.
September 11 have accelerated the trend towards increased usage of RJs rather than 150–seat types. RJs had primarily been used to fly thinner routes which were unsuitable for 150–seaters and to open up new markets.
Their new role is to replace 150–seaters allowing Majors to maintain their presence in markets that may have lost 20% of the traffic.
With RJs it is possible to downsize and reduce unit costs because of the lower pay scales that RJ crews are on.
Resistance to RJ incursion from the mainline pilots is weakening in the post- September 11 environment. For example, US Airways' management is currently negotiating hard with ALPA on proposals to amend the scope clause so as to at least treble the 70 RJs currently operating in the US Airways network in return for guarantees on jobs and furloughs At United the pilots are objecting to the continued expansion, arguing that the expansion of the regional affiliates at the same time as the mainline fleet is shrinking breaks the term of the scope agreement .
The three United Express franchisees — Air Wisconsin, Atlantic Coast Airlines and SkyWest Airlines — have well over 100 RJ additions to their fleets this year.
The other, perhaps more important, issue for the regional airlines is their contracts with the majors. So far they have been sheltered from the full impact of September 11 because their contracts usually stipulate a fixed fee per seat (rather than per passenger). Inevitably, these contracts will be renegotiated downwards.
REGIONAL JETS: SCHEDULED DELIVERIES TO END 2002
REGIONAL JETS: SCHEDULED DELIVERIES TO END 2002

| | | | | | Embraer | Dornier | Bombardier | |
| --- | --- | --- | --- | --- | --- | --- | --- | --- |
| | 135 | 140 | 145 | 170 | Total | 328JET | CRJ | TOTAL |
| Continental Express | 13 | | 45 | | 58 | | | 58 |
| Atlantic Coast Airlines | | | | | | 29 | 23 | 52 |
| Comair | | | | | | | 36 | 36 |
| Skywest Airlines | | | | | | | 36 | 36 |
| American Eagle | | 23 | | | 23 | | 10 | 33 |
| Mesa Airlines | | | 17 | | 17 | | 10 | 27 |
| Air Wisconsin | | | | | | | 25 | 25 |
| Express Airlines | | | | | | | 25 | 25 |
| Atlantic Southeast Airlines | | | | | | | 21 | 21 |
| Swift Aviation | 15 | | | | 15 | | | 15 |
| Eurowings | | | | | | | 13 | 13 |
| Horizon Air | | | | | | | 12 | 12 |
| Lufthansa Cityline | | | | | | | 12 | 12 |
| Northwest Airlines | | | | | | | 12 | 12 |
| Regional Airlines | 6 | | 4 | | 10 | | | 10 |
| Skyway Airlines | | 5 | | | 5 | 4 | | 9 |
| Brit Air | | | | | | | 8 | 8 |
| Crossair | | | 7 | 1 | 8 | | | 8 |
| Gecas | | | | | | | 8 | 8 |
| China Yunnan | | | | | | | 5 | 5 |
| Interstate Equipment Leasing | 5 | | | | 5 | | | 5 |
| Maersk Air UK | | | | | | | 5 | 5 |
| Air Nostrum | | | | | | | 4 | 4 |
| Bmi | 2 | | 2 | | 4 | | | 4 |
| LOT | | | 4 | | 4 | | | 4 |
| Others (14 operators) | 2 | | 8 | | 10 | 1 | 9 | 20 |
| TOTAL | 43 | 28 | 87 | 1 | 159 | 34 | 274 | 467 |
Source: ACAS, Nov 2001 Note: Table includes aircraft scheduled for delivery in December 2001