America West loan approved, government safety net in place January 2002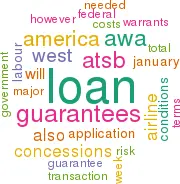 By approving America West's revised $380m federal loan guarantee application, the Air Transportation Stabilization Board (ATSB) effectively ensured that there would be no major carrier bankruptcies in the US in the short term. After all, if the financially weakest airline presented an acceptable risk to taxpayers, surely everyone else would also qualify for government assistance if they needed it.
However, by imposing unexpectedly harsh terms and conditions for the "test case" transaction and making it a traumatic and humiliating experience for America West, the ATSB also signaled to the rest of the industry that getting an application approved would be far from easy. In fact, the ATSB may have ensured that no major airline with any self–respect will apply for federal loan guarantees unless and until it is truly desperate.
After submitting its application in mid- November (Briefing, December 2001), America West was asked to revise it three times, with more demanding conditions added in each round. The airline ended up having to grant the government warrants for up to 33% of its fully diluted stock, almost double the transaction fees to $175m and reduce the size of the guaranteed loan from $400m to $380m.
AWA subsequently agreed to issue to the ATSB warrants to acquire 18.75 of its Class B shares at $3 per share over ten years. Another 3.8m warrants will be issued to other loan participants. AWA will also issue $120m of seven–year debentures convertible into shares at a price of $12 as consideration for the concessions provided by aircraft lessors.
To get the loan guarantees, AWA also had to negotiate $63m of additional financial support and concessions from key business partners and constituents, to boost the total concessions package to over $600m. It also had to make a seven year commitment to hold down labour costs (which remain well below industry average). If for any year actual unit labour costs exceed the business plan estimates submitted to the ATSB, AWA will have to partially prepay the new loan.
Even then it was not a unanimous decision by the ATSB. Treasury representative Peter Fisher voted against granting loan guarantees to America West, suggesting that it could "impede, rather than promote, real progress towards a safe, efficient and viable air transportation system". The $10bn loan guarantee programme was originally pushed through by Congress, against opposition from the White House, Treasury department and the Federal Reserve board.
AWA pointed out that, in the end, total returns to taxpayers were well in excess of the private commercial loan that it negotiated in August, but which never closed because of the terrorist attacks. However, it was in no position to turn down the loan guarantee terms, because it had $72m of debt payments coming due on January 2 and deferred ticket tax payments due two week later. Without the loan guarantees, America West would have probably filed for Chapter 11 bankruptcy protection in the second week of January.
After receiving conditional approval for the loan guarantees from the ATSB, AWA also obtained approval from its audit committee and the NYSE to proceed with the loan transaction without a shareholder vote. The company made a debt payment of $23m on January 4 and indicated that the remaining $49m would be paid within the applicable grace period. AWA expected to close the new loan transactions for a total amount of $429m in the third week of January.
Of course, the AWA loan terms were more onerous than what other carriers might expect because of the risk involved. The ATSB considered that the AWA proposal presented a "significant risk of default", while many analysts have cautioned that the airline still faces considerable hurdles in recovering from the crisis and restoring financial viability.
Harsh conditions
Because of the harsh conditions and the stigma attached, virtually all of the other major airlines have indicated that they are now more determined than previously to avoid the loan guarantees. They will continue to seek conventional financing and are now likely to accept it at higher rates. They see the loan guarantees as a safety net, to be used if there are further adverse developments or if economic recovery falters (they have until June 28 to apply).
However, S&P's Philip Baggaley suggested in a recent research note that, in the event that the loan guarantees are needed, it is not at all certain that every airline would be able to obtain enough concessions from third parties to meet the ATSB's requirements.
US Airways and United, for example, face potential hurdles in two areas. First, they have used mainly public capital markets instruments to finance their fleets — such financings are much harder to renegotiate than operating leases. Second, unlike America West, they have relatively high labour costs and would probably be asked to secure pay and work rule concessions as part of a loan application.
Baggaley suggested that since such labour negotiations would undoubtedly be long and difficult, the airline involved could choose to file for bankruptcy if it runs short of cash while attempting to secure concessions needed to satisfy the ATSB.
So far, the only other carrier that has applied for loan guarantees is Vanguard Airlines — a low cost, mid–1990s entrant that has struggled through much of its brief existence. It is asking for guarantees to cover a $60m loan, but its chances do not look very promising in light of the difficulty that America West experienced.