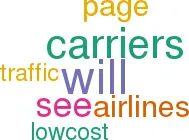 This year will be better than 2001 — how could it be worse? Traffic is now showing definite signs of recovery but it will not be until well in the second half of the year that a really significant upturn in traffic takes place. Yields are still very weak, so the traffic recovery by itself will not help financial results as much as might be expected. There could be a false dawn before the financial turnaround occurs.
The situation has at least stabilised in the US where the government is providing a safety net and has entered for the first time the airline ownership game, having taken warrants which it could convert into 33% of America West's stock — see page 3. However, the government is charging a very high price for its support and some carriers may even decide that Chapter 11 is a better option.
Southwest, perhaps surprisingly, welcomes the state aid. It reasons that it would prefer to compete against government–aided carriers than Chapter 11 airlines. And there is the possibility that carriers might take the opportunity of bankruptcy restructuring to reinvent themselves as point–to–point airlines, as opposed to network airlines, so increasing potential competition to Southwest (see page 7 ).
In Europe there are a couple of small flag–carriers that could well follow Sabena and Swissair into bankruptcy (and their successor companies are going to face huge difficulties — see page 2). It is becoming blindingly clear that carriers such as Olympic and, perhaps, Aer Lingus will not survive by just modifying their present operating structures (network, fleet, variable costs, etc.). Could they possibly convert to a low–cost model?
The low–cost carriers are of course thriving in the post September 11 environment. But their continued expansion depends on their ability to build rapidly at new bases in countries which are not used to the low–cost concept (Easyjet at Geneva and Paris and Ryanair at Brussels Charleroi and Frankfurt Hahn). It will be challenging, but their strength is that they have tapped into a rich vein of consumer demand at the same time as carriers like BA are cutting their intra–European services.
While Air France and Lufthansa are fairly confident are their business focus, BA is still struggling to find a new strategic direction. Its managers are asking the correct questions (see page 4) but the answers are proving elusive at the moment.
In terms of industry consolidation, 2002 will see more speculation about BA/KLM. Alitalia/ Air France has a certain amount of commercial logic, but the resistance within and outside the two airlines to a merger will be intense.