Will India finally fulfil its potential? January 2001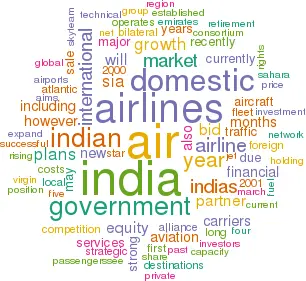 The Vajpayee government plans to part–privatise Air India and Indian Airlines, and sell long–term leases to four gateway airports, as the first steps towards the delivery of a long standing plan to increase private investment in India's aviation sector.
A revitalised Indian airline industry — tapping a massive potential domestic market — could shift the balance of power in the region. India's domestic and international passenger markets of 12m and 6.4m passengers a year respectively are very modest for a nation with a population of over a billion.
But, first of all, investors need a predictable regulatory environment and a coherent government aviation policy. The central government unveiled an array of expansion plans and policy innovations, including the following:
Long term airport leases;
Enhancing non–aeronautical airport revenues;
Disinvesting government holdings in all aviation companies, including Air India and Indian Airlines to below 50%, with the exception of the Airports Authority of India;
Expanding the number of designated international airlines and airports;
Establishing a new aviation regulatory body to replace Director General of Civil Aviation;
Privatising most aviation infrastructure, including ground handling, training and support services; and
Allowing up to 100% foreign equity in local aircraft manufacturing.
The government has confirmed plans to divest up to 60% in Air India and 51% in Indian Airlines. Advisers to the sale, JM Morgan Stanley for Air India and the ANZ Grindleys Bank consortium for Indian Airlines, are currently reviewing technical bids submitted in late November. The sale is due to be finalised in the current financial year ending March 2001. However, the government has indicated the selection of strategic partners is unlikely to occur before May 2001, due to a long list of clearance procedures to be undertaken.
The final sale price will to a large extent be determined by the value that bidders place on both carriers' bilateral rights. For example, Air India has rights to 96 international destinations — but currently only operates to 19. At present, the Indian carriers utilise just 39% of the capacity entitlements available under the country's ASAs.
However, a complicated set of restrictions have been attached to the airline privatisations (see table, page 4). The sale of Air India requires a minimum of 74% of the company to be held by Indian interests, to appease opponents to the sale within the government and the airline's powerful union groups. But management control will be offered to the strategic partner.
Foreign and domestic airlines are precluded from bidding for Indian Airlines' 26% "strategic partner" holding. Bidders must be majority owned and effectively controlled by Indian nationals and have a combined net worth in excess of Rs10billion ($210m). This rules out all but the major conglomerates such as the Tata Group, ITC, Hindujas and Reliance, which may delay the sale.
Air India
By June 2001, the government plans to issue equity to employees and domestic financial institutions. In its present condition, Air India offers investors an unattractive mix of high costs and contracting international and domestic operations. In the latest financial year ended 31 March 2000, Air India reported its first operating profit in five years — Rs760m ($16m). The airline's net loss was reduced to Rs376m from Rs1.8bn in the previous year.
The airline's turn–around strategy is based on withdrawing unprofitable services and selling loss–making subsidiaries, including hotel arm, Hotel Corporation of India. Over the past 18 months, Air India has withdrawn services to several European points, including Frankfurt, Geneva, Manchester, Rome and Paris. The airline's network has been cut by 40% since 1992- 93, its last profitable year.
Air India has consequently switched focus on to short–haul international services. It recently announced plans to dry lease five A310s to expand its services to the Gulf region — where traffic volume is strong but yields are low, due to the migrant worker nature of the traffic and extensive competition.
Air India is developing a network of code–share and block space partnerships with Virgin Atlantic, SIA, SAS, Air France, etc.. The airline claims Rs630m ($13m) of benefits from these agreements in 1999/2000, rising to Rs940m in 2000/01, roughly 2% of total revenues.
Air India currently has 17,500 staff — or 760 per aircraft — which is more than three times the industry average. The airline's latest Voluntary Retirement Scheme, which aims at reducing the workforce by 1,000, is currently before the government for approval. But domestic labour laws do not permit the airline to outsource non–core activities, which would otherwise enable the airline to reduce its staff numbers by a further 6,000.
Indian Airlines
Air India has suffered years of government delays to the carrier's much needed fleet renewal programme. For example, the Disinvestment Commission, in an August 1998 report, recommended fresh government investment of Rs10bn ($220m) to assist Air India renew its fleet prior to privatisation. This did not happen. Air India operates 26 aircraft, including seven ageing 747–200s and eight A310–300s. One third of its fleet is over 20 years old and approaching retirement age. The state–owned domestic operator also has high costs, but is performing better financially than Air India. The airline reported a Rs790m ($17m) net profit in the year ended March 2000, a marked improvement on the previous year.
However, rising fuel costs and increased competition domestically and on its Gulf routes are impacting on the airline's bottom line in the current financial year. Indian Airlines reportedly suffered a loss of Rs1.1bn in the six months to end- September.
Indian Airlines recently approved a new voluntary retirement scheme, which aims to reduce its 22,000 strong workforce by up to 9,000 employees.
Indian Airlines has been constrained by delays to its fleet renewal programme, which involves the acquisition of up to 40 mid–sized jet aircraft. In May 1999, the Government announced plans to invest Rs3.3bn in new aircraft prior to the airline's privatisation. The funds have not been forthcoming.
Traffic fundamentals
The airline has been progressively granted international rights, and now accounts for 10% of India's international market, operating to 16 international points in the Middle East and Southeast Asia. International traffic growth has been weak — 3.2% in 1999 to 6.4m passengers, slightly up on this figure in the early months of 2000. The sluggish growth is largely a supply problem attributable to Air India's lack of capacity growth, service reductions and limits on foreign capacity due to India's previously restrictive bilateral regime. In the past 12 months, however, India's more relaxed stance towards its bilateral arrangements has stimulated traffic growth somewhat. Bilateral negotiations with 16 countries, notably the UK and the UAE, have been concluded. The government has also agreed to future discussions with the US on an open skies agreement, although it may be some time in the future an agreement on that issue is reached.
Unfortunately, the new agreements have also increased competition for India's carriers, reducing their ability to cover rising costs. Fuel price increases are set to punish both state carriers and private airlines indiscriminately in the current financial year, due partly to a government ban on fuel price hedging.
Until this year, domestic passenger traffic growth has languished well behind India's GDP growth. However, following four years of static volumes, India's domestic market recorded 15% year–on–year growth in the first half of 2000, to 8.1m passengers. The growth is attributed to recent strong economic conditions and relative stability in the airline market.
Air India currently serves only 11 domestic cities and holds just over 5% of the Indian domestic market, making it necessary for any foreign partner either to expand in its own right, or to find another domestic partner.
Indian Airlines, meanwhile, has over 50% of the domestic market and operates to 59 domestic destinations, but has lost market share to private operators, Sahara Airlines and Jet Airways in the past two years. Jet is targeting a domestic market share of 38% this year from its route network of 30 destinations. Sahara Airlines, recently relaunched as Air Sahara, operates to 14 domestic destinations from its hubs at Calcutta, Delhi and Mumbai.
Up to four other airlines plan to launch domestic operations in the next 12 months, the most significant being Royal Airlines and Crown Express.
The investors' strategic aims
Royal is a resurrected version of Modiluft, which will fly five 737s, subject to government approval. Crown plans to start up with six 737–400s. SIA has confirmed that it will bid for the Air India equity with longstanding local partner, Tata Group. As recently as mid–September, Star partner, Lufthansa stated it too was looking closely at the holding and earlier suggested it would jointly bid with SIA for the 26% equity on offer. However, SIA, fresh from its 25% investment in Air New Zealand/Ansett, has asserted its dominant Asian position within Star to bid for the Air India holding in its own right. Virgin Atlantic, 49% owned by SIA, has also been persuaded not to bid. The consolation for Lufthansa is its apparently exclusive run at a share in Thai, with SIA not now a bidder.
If both carriers are successful in their respective bids, it would be difficult to see them working side by side in the Star alliance in the longer term, given the competitive tensions which would arise.
A successful bid for Air India by SIA will enhance further its global ambitions. Its associate Virgin Atlantic is an established force on the North Atlantic; SIA has established a supporting "domestic" market through its acquisition of Air New Zealand/Ansett. Gaining direct access to India — long a goal — will provide helpful negotiating power to complement its powerful financial position. The next step could be a close, probably equity, link with a major US airline.
SIA's main competition comes from a joint bid by Air France and its Skyteam partner, Delta. Skyteam is seeking to expand in Asia and Air India would provide a platform for its expansion plans. Recently established code–share links illustrate the respective value each sees in the other.
The Skyteam combination began as an outsider in India, but clearly has strong credentials, particularly with the attraction of access to Europe through the CDG hub. Acquiring a position in Air India would be a boost to the alliance's global role. Although Korean Air has been brought into the partnership, Skyteam's Asian presence is yet to be fulfilled. An Indian role would be a major step in that direction for the alliance, and would also change the competitive relationship with the Star Alliance.
Meanwhile, BA is offering technical expertise along with Qantas, but not equity, to the LNM Group/Kotak Mahindra consortium. BA has indicated it may acquire equity in the airline at a later date if the bid is successful, in return for providing technical expertise.
Oneworld has been sending out mixed signals in recent months. In the Asia/Pacific region, Qantas and Cathay Pacific can really only be temporary bedfellows, given their mutually exclusive interests, so rearrangement of some sort is probable, most likely in 2001.
Emirates in conjunction with local conglomerates, Hindujas and LNM Group, are also in contention, but it would appear to be more attractive for India to see its major airlines linked to one or other major global alliance.
Despite its unaligned status, the Emirates consortium, with its association with strong local forces and the relative additional strength which Air India would have in a relationship with Emirates, could well make it a force to be reckoned with.
EQUITY SHARES POST-PRIVATISATION
EQUITY SHARES
POST-PRIVATISATION

| | |
| --- | --- |
| Air India | |
| Government | 40% |
| Foreign strategic partner* | 26% |
| Local strategic partner | 14% |
| Employees | 10% |
| Domestic investors | 10% |
| Total | 100% |
| Indian Airlines | |
| Government | 49% |
| Strategic partner | 26% |
| Domestic investors & employees** | 25% |
| Total | 100% |