Russian airlines: painful experiment with capitalism continues January 2000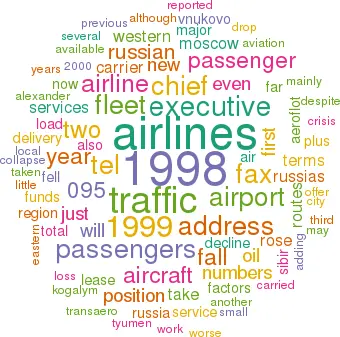 The collapse of the rouble in August 1998 triggered a crisis for Russia's too many airlines. Passenger volumes collapsed and many flights in September and October of that year operated with load factors of 15% or less. The year ended with just 22.4m passengers being carried, an overall drop of some 11% on 1997.
With the economy in recession, at least until oil prices began to surge in September, 1999 will also show a decline — the ninth successive year of falling passenger numbers. The revenue position is, if anything, even worse. Before the crisis, Russia's airlines were generally achieving a revenue per seat hour sold (the local measurement) of the equivalent of $50. Now, with kerosene prices up at very high levels, just $30 is coming in, and load factors are stuck at about 50% compared to around 70% pre–crisis.
Freight figures are available, but they are unduly influenced by the customs and taxation systems. A load of up to 35 tonnes need not be inspected, and taxes and duties are charged at a low figure; a larger weight requires inspection, involving a delay usually of several days plus the appropriate, higher tax rates. Consequently, official tonnages are very questionable.
There is increasing concern about Russia's ageing airliner stock. Up until now, the plentiful supply of aircraft remaining after the collapse of the Soviet Union, combined with the fall in traffic levels, has meant that the fleet could meet requirements. But aircraft age in a combination of flight hours, cycles and years, is beginning to take its toll. In theory, this should offer an opportunity for Western marketers of used aircraft such as the 727, older 737s and DC–9s. However, several factors work against this:
First, there is little infrastructure to sup–port non–Soviet aircraft in terms of maintenance or spare parts, or even hangars;
Second, few airports have runways of sufficient concrete strength to allow use by single axle undercarriages;
Third, very few airlines have either the cash to buy or the balance sheet to borrow for aircraft, and Russia's banks do not need to risk lending to airlines when the government will take all the funds they can offer at low risk and high returns.
Although there are reasonable choices available from CIS designers and manufacturers, again there are few funds available either to build new aircraft or for airlines to buy or lease them. And there is little sign of any leadership coming from the government or its civil aviation authority, the Federal Service of Air Transport (FSAT). In Russia, where most of the passenger carriers are still, to some extent, owned by the State, and where major decisions cannot be taken without State approval, this leadership is necessary.
The top ten airlines carried just over 12m passengers, almost 60% of the 1998 total, and the top 45 just under 20m or 87%, which doesn't leave much for the other 73 carriers.
ARIA - Aeroflot Russian International Airlines
Aeroflot ended 1998 with passenger numbers up by 14% on the previous year, at 4.45m, but it is not likely to exceed that figure in 1999.
It has now received all ten 737–400s on order, plus two new 767–300ERs. It has returned the two 767s leased in 1994, and should have received the extra two by the end of 1999. It added an eleventh A310 in mid year, and accepted delivery of an A310 simulator on "nominal" lease terms in November. This may well indicate an interest in adding further Airbus types to the fleet.
ARIA already announced plans to sell off its fleet of Tu–154s and stated that it is planning to build up its domestic operations. So far, it has set up "daughter" airlines in Nizhne Novgorod and Samara in partnership with local interests and taken options on 40 new Antonov An–I40 regional turboprops with Western engines. As the ExIm Bank funds have not yet arrived, it is still awaiting delivery of the first cargo II–96T airliner. And, as the first production passenger II–96M hasn not yet flown, (also due to the lack of ExIm funds) it has decided to lease a further six II–96–300s to fill the gap.
* Chief Executive: Valeri M Okulov
* Address: Moscow 125167, Leningradski Prospekt 37
* Tel: (095) 752 9001 Fax: (095) 155 6647
Vnukovo Airlines
Vnukovo had a traumatic 1999. Although it retains its position as the second largest carrier in Russia, its strategy over the previous two years of trying to beat off competition by cutting fares has only resulted in serious losses and has not deterred its competitors. Thus, in May it was forced to ask the CEO of a rival carrier, Sibir, to take on the same position in Vnukovo with a view to merging the two airlines.
Three months later he pulled out, and Vnukovo found a new CEO, Alexander Krasnenker, the former commercial director of Aeroflot. He appears to have started to take the decisions necessary to restore the carrier's fortunes, but a lot more is needed. Traffic fell by some 7% in 1998 to 1.6m passengers, and a total of only 1.3m is expected for 1999.
* Chief Executive: Alexander Krasnenker
* Address (Headquarters): Moscow 103027, Vnukovo Airport
* Tel: (095) 436 2576. Fax: (095) 436 2572 Pulkovo Aviation Complex
Despite a 4% drop in traffic in 1998, the St. Petersburg–based carrier rose to third position for passenger numbers with a total of 1.37m boardings. In Russian accounting terms, which relate more to cash inflows/outflows than to the Western profit and loss concepts, the combined airline and airport showed a small loss for 1998, but this includes considerable expenditure on the airport infrastructure.
The airline is regarded as stable and well–run, and is gradually replacing its fleet with newer examples of its current types.
* Chief Executive: Boris Demchenko
* Address: 196210 St. Petersburg, Pilot St., 18/4
* Tel: (812) 122 9924 Fax: (812) 104 3702 Transaero
The largest of Russia's "non Aeroflot' airlines, Transaero was the one hardest hit by the country's currency collapse in 1998 — passengers dropped by 13%, to 1.35m, the first fall since its foundation in 1992. The carrier returned much of its fleet, by agreement, to its lessors. It is left with its (owned) II–86 and seven 737s. It has reduced its average stage length to medium range, by dropping its US and Far Eastern destinations. 1999 will see another fall in traffic, but it improved load factors, and reported profits for the first time in the first half of 1999. Transaero will add two more 737–700s early in 2000, and is looking at other fleet options, including the possibility of adding Tu–214s (a higher weight Tu–204) for reopening some of the closed routes.
* Chief Executive: Nikolai Kozhevnikov
* Address: 103340 Moscow, Sheremetyevo 1 Airport
* Tel: (095) 578 5060 Fax: (095) 578 5038 Sibir
The airline's new management has reported small growth in passenger numbers (up 2%, up to 0.62m in 1998, probably a little more in 1999) despite the fact that overall Siberian numbers fell heavily in the year.
Sibir claims that this was achieved by adjusting schedules to the times required by the customers, by improving service in terms of cabin staff friendliness, catering, and cleanliness, and by adding in services from other towns and cities in western Siberia. Its routes to Germany, the Middle East and China all are growing.
It has taken the unusual step of handing over its unprofitable local services, plus the aircraft serving these routes to another Novosibirsk–based airline. With the only overhaul hangar in Siberia, it has begun to offer excess capacity (after attending to its own fleet needs) to other airlines in the region.
In Russian accounting terms, it broke even in 1998, but this included the payment for two additional aircraft, modernisation of the hangar, and moving its creditors from two to three months in arrears to an up–to date situation, with fuel prepaid for one month (such things are important in even beginning to understand Russian accounts). Sibir has recently reached agreement with the manufacturer to lease an initial two Tu- 214s for delivery in mid 2000.
* Chief Executive: Vyacheslav Filiev
* Address: 663115 Novosibirsk Region, Tolmachevo Airport
* Tel: (3832) 22 75 72 Fax: (3832) 32 22 71
Kras Air (Krasnoyarsk Airlines)
Despite a 5% fall in traffic to 0.6m passengers in 1998, Kras Air rose from eighth to sixth place in the volume of traffic carried in 1998, and reported profits. Traffic is expected to fall further in 1999.
* Chief Executive: Boris Abramovjch
* Address: 663020 Krasnoyarsk, Yermelianovo Airport
* Tel: (3912) 23 63 66 Fax: 3912 24 48 95
Kolavia (Kogalym Avia)
Founded in 1993 as a joint venture between a major Russian oil company and the oil city of Kogalym: 60% of its business comes from the oil industry, Kolavia has grown to take the seventh place in traffic volumes for I998, and it has done this with a staff of just 350 and with a fleet of just six Tu–154s plus a single Yak 40 used for executive charters.
It also has some helicopters for aerial work and to carry oil workers to remote sites. Traffic in 1998 rose by 25% to 0.54m (this included a proportion of holiday passengers, which will not be repeated in 1999 due to the economic problems). Kolavia has recently added four Tu–134s to its fleet.
* Chief Executive: Nikolai Zolnikov
* Address: 626481 Tyumen Region, Kogalym Airport
* Tel: (34867) 23 101 Fax: (34867) 29 695
Kuban Airlines
The Stavropol–based regional airline rose to eighth position for 1998 by carrying 0.5m passengers, even though this represented a fall of 17% on 1997. It flies a fleet mainly of Yak 42s on scheduled and charter services in south–west Russia.
* Chief Executive: Ivan Babichev
* Address: 350026 Krasnodar, Airport
* Tel: (8612) 55 25 08 Fax: (8612) 37 38 11
Domodedovo Airlines
Domodedovo is another carrier that saw a heavy fall in passenger numbers after the financial crisis — the 1998 total was 0.49m, some 22% down on the previous year.
Although this resulted in a small loss for the year, the airline managed to complete the full payment for its third Il–96–300 by early 1999, and took delivery in May. It plans to develop its trans–Siberia routes, and to open a new Moscow–Macau service in Spring 2000.
* Chief Executive: Alexander Akimov
* Address: 103325 Moscow, Domodedovo Airport
* Tel: (095) 323 8991 Fax: (095) 952 8691
Tyumenaviatrans
With a drop of 32%to 0.48m passengers, Tyumenaviatrans fell from sixth to tenth position in 1998. But the other airline based in the city, Tyumen Airlines, fared even worse, with a 48% decline to 0.33m. 1999 results will be worse. However, the company also has a large aerial work department, mainly for the extensive oil interests in its region.
* Chief Executive: Vladimir Illarionov
* Address: 625025 Tyumen, Plekhanovo Airport
* Tel: (3452) 23 21 94 Fax (3452) 23 23 95
Others
Other significant players in the Russian aviation market include the following relatively successful operators.
Gazpromavia, operating mainly gas and energy industry related services, more than doubled traffic to 0.3m in 1998.
Mavial, based in the far eastern city of Magadan, after several years of major decline traffic rose by 85% in 1998 to 0.24m.
Karat, offering a "no frills" service from Moscow to cities in western Russia, grew by 94% to 0.20m in 1998.
By contrast, airlines in steep decline include the following:
BAL–Bashkiri, the airline of the Republic of Bashkortostan, lost (not literally) 45% of its passengers in 1998 — traffic was down to 0.4m.
Omskavla's traffic fell by 40% to 146,500. Sakha National Air, the airline of the far eastern Republic of Sakha/Yakutia lost 73% of its traffic, carrying 0.12m passengers in 1998.
Komiavia, the Komi Republic's major airline, saw traffic fall by 75% to 0.1m; it has now been relegated to domestic routes in Komi, and its other services have been transferred to rival Komiinteravia.
MAIN RUSSIAN AIRLINE FLEETS
MAIN RUSSIAN AIRLINE FLEETS
ARIA
Vnukovo
Pulkovo
Trans-
Sibir
Kras
Kolavia
Kuban
Domode-
Tyumen-
Total
aero
Air
dovo AL
aviatrans
IL-96-300
6(6)
3
9(6)
IL-96M
(17)
(17)
IL-96T
(3)
(3)
IL-86
17
12
9
1
7
4
50
IL-76TD
12
11
4
27
IL-62
5
6
17
28
TU-154
29
23
22
15
18
7
6
120
TU-134
12
11
1
4
28
TU-204
7
7
TU-214
(2)
(2)
AN-2
58
58
AN-24
4
3
10
17
AN-26
4
3
12
19
YAK-40
1
1
22
24
YAK-42
11
11
A310-300
11
11
737-200
5
5
737-400
10
10
737-700
2(2)
2(2)
767-300ER
2(2)
2(2)
777-200
2
2
DC-10-30F
1
1
Total
107(28)
42
42
8(2)
23(2)
48
12
17
24
108
431(32)