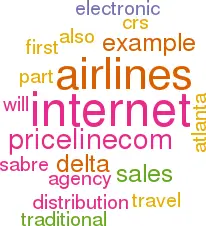 Just how important is the Internet to airlines? Very, according to ebullient columnist Holly Heggeman who covers the subject for TheStreet.com and Planebanter.com. In fact, she argues that Internet exposure (percentage of sales via the Internet) will become the fourth basic financial benchmark for stock analysts after yield, unit cost and load factor.
Internet distribution is undoubtedly the cheapest means of distribution available, which is why e–ticketing took off in the first place. But there is also some evidence the Internet may be effective in pushing up unit revenues.
There are two aspects to this. The first is well known: the Internet is used to sell off excess seats at bargain prices through companies like Priceline.com, seats which otherwise would have no revenue attached to them. Delta, for example, has confirmed that a measurable improvement in its RASM is due to participation in Priceline.com.
The second trend is only now emerging: in the US several airlines have revealed that the average price of tickets sold via their own websites is actually higher than that through traditional channels. The reason is increasing use of the Internet by business travellers who are getting used to buying business–class tickets on the web.
In short, usage of companies like Priceline.com maximises load factor; usage at the airlines' own websites maximises net yield.
Cyber competition trends
Another trend has been dubbed "competitive advantage homesteading". The prime example would appear to involve Priceline.com and its airline shareholder Delta. As part of its investment in the Internet company and its agreement to become the first major participant in its electronic seat sales, Delta insisted that Priceline.com would not offer competing airlines' capacity out of Atlanta, Delta's main hub. Northwest has complained and has targeted Atlanta with a traditional low–fares campaign. The Delta/Priceline.com agreement might have more critical implications for AirTran (formerly Valujet), which is also based at Atlanta.
In the case of the online travel agency Preview Travel (recently merged with the leading electronic agency Travelocity.com, which as part of Sabre has recently been spun off by AMR Corp.), there have been questions raised about the new commission rates being charged. Apparently, airlines have been told that either they will have to pay higher commissions or increase advertising to keep their listing on the website.
This is very reminiscent of the early 90s when American's Sabre CRS was ahead of the game, and American exploited the situation to the full by skewing the listing of its schedules against those of its competitors on the CRS. Eventually, legislation was brought in to regulate CRS practice. Also, rivals came up with their own competitive responses. Southwest, for example, quit Sabre to concentrate fully on direct sales, and consequently became the pioneer of website sales, which is a part of its great success story (see pages 10–15).
The same sort of process is developing in today's cyber–world. Those airlines with control of the dominant electronic distribution channels are exploiting their leads to the maximum, safe as yet from the attentions of the regulators. Other airlines are working hard on their strategic responses — the multi–airline portal planned by United, Delta, Northwest and Continental is an example.
Presumably the idea here is to fill the vacuum that is being created as traditional human travel agents are eliminated. Yet the travelling public will increasingly demand access to an industry–wide, neutral agency. Better that the four Major airlines (from three different global alliances) fill this vacuum than an industry newcomer.