A fly on the wall
Repercussions of the SIA - Virgin Atlantic deal January 2000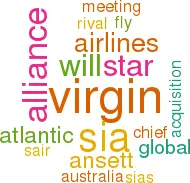 Oh to be a fly on the wall at global alliance quarterly meetings when airline chief executives discuss and debate the state of the industry. For example, at the latest oneworld meeting the American Airlines team no doubt were called upon to update their alliance partners on their unilateral deal with Swissair. BA in particular would have been listening closely, having just lost out to Swissair in their bid to purchase 20% of LOT.
Now the focus of attention for any fly interested in the aviation industry must turn to the next meeting of the chief executives of the Star Alliance, where Cheong Choong Kong, the deputy chairman and chief executive of Singapore Airlines, will explain the thinking behind his airline's decision to buy 49% of Virgin Atlantic.
SIA has been a somewhat reluctant member of the global alliance fraternity, a sentiment shared perhaps by its great regional rival, Cathay Pacific. Both airlines entered into the alliance game relatively late, when their structure had already been set by the major US and European carriers. They also committed themselves at a time of relative weakness following the (temporary) collapse of the Asian economies.
Rather than join a strategic alliance, SIA for some time has pursued a policy, in some respects similar to that of the SAir Group, of expansion through acquisition. Like SAir, SIA has a strong balance sheet; unlike SAir, SIA had, until the Virgin acquisition, failed to get into the ownership game. It tried to buy into Qantas, Ansett, Thai, China Airlines and an Indian start–up all without success.
SIA's entry into Star fooled some into perhaps believing that SIA was now fully embracing the global alliance concept. The fact is that it is pursuing a clever dual track approach. Referring to the Virgin purchase, SIA states: "this big investment ... will move it nearer to its goal of being a major global group of airlines and airline–related companies". It should be noted that the acquisition of a stake in Virgin Atlantic completes SIA's round the world network, and Branson has stated that his airline will remain outside Star.
So at the next Star meeting, the SIA CEO may be met with some stony faces. As the only Star partner with access to the transatlantic market from Heathrow, United will be keen to hear how SIA code–sharing agreements with Virgin Atlantic will impact its services. Similarly, a financially strengthened Virgin will pose a serious threat to the transatlantic ambitions of Lufthansa/SAS–backed–British Midland.
There are also repercussions in the southern hemisphere. Virgin Australia (outside the SIA deal, but nonetheless backed by a richer Branson thanks to SIA) is set to become a low cost rival to Star partner Ansett. Further, Virgin Atlantic currently serves the Australian market through a code–share with Ansett. It will be interesting to see whether the Ansett code–share survives or whether Virgin links up exclusively with SIA's wide–ranging network to Australia.
Still, Virgin Atlantic could be integrated into the Star Alliance at some point in the future when a UK–US open skies is signed and BA/AA antitrust immunity is finally agreed. Then Virgin, armed with more Heathrow slots, would be even more effective competitor against oneworld. And then Virgin Australia could become the low cost arm of Ansett, which would target oneworld rival Qantas.