Russian aviation: traffic recovery sunk by the rouble crisis January 1999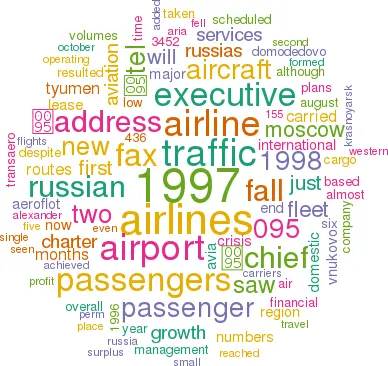 In our annual survey of Russian aviation, Aviation Strategy looks at a mixed year for the region's airlines. Although Russian traffic fell again in 1997, the fall in numbers was relatively small — from 26.9m to 25.1m. This is the first time since 1990 that the drop has been in single digit percentage terms — 7%.
1998 started promisingly; almost all the major carriers reported increased traffic. However, the August financial crash resulted in an overnight collapse of traffic. Four months later the airlines have had to adapt to a changed situation — frozen bank accounts and dramatic falls in passenger and cargo volumes. Some have had to re–enter the world of barter to achieve some sense of reality; those with foreign earnings have found ways to cover some of their hard currency debts externally. But no airline has had an easy time.
In the first six months of 1998, traffic levels were 4.1% below those of 1997, with 10.4m passengers carried. By August, just as the crisis began, the decline had reached 5.3% overall. In freight, the first six months saw a fall of only 0.1%, but by the end of August the eight–month fall had reached 5.2%.
From surplus to shortage
To make matters worse, the surplus of aircraft in airline fleets, which has allowed them to avoid the expensive question of new aircraft, has begun to dry up. Many of the surplus aircraft, which have remained parked due to falling traffic, have come to the point where they need either an expensive overhaul or scrapping. With low traffic, scrapping seems more likely, and indeed the total Russian jet passenger fleet fell from 1,753 at the beginning of 1998 to 1,331 at the end of September. The current fleet has just 41 western jets. But with the mix of long–and short–haul traffic, and with relatively low utilisation currently being achieved, Russia's Federal Aviation Service calculates that by the end of winter 1998/99, there will not be enough aircraft to carry the passengers seeking to travel.
This presents a problem for airlines. The last generation of Soviet aircraft came to Russia's airlines paid for by the state, and even though their fuel costs were markedly higher than similar generation and capacity western aircraft, overall costs were lower. Today, new or used Russian aircraft must be paid for, and there is almost no loan or lease funding available domestically for Russia's airlines — so their opportunities to obtain new aircraft are low. The only other possibility for fleet renewal is to convert a number of low–time military trainer and transport aircraft back to airline standards, and thus allow low cost Stage II aircraft to meet domestic market needs.
But the lack of funding is also hurting Russian and CIS manufacturing industry; in 1997, only five new airliners were delivered, and the cash shortage has seen most of the industry's younger staff seek other employment — it is now rare to see anyone under 40 working on aircraft production lines. And that will, in time, mean a further crisis.
For the short- to medium–term, good news is not in sight. The current financial crisis is hurting every aspect of the economy, and GDP seems set to fall even further. The middle class, a new phenomenon in Russia, has taken the brunt of the pain, and, at best, has put its travel plans on hold. But it is important to remember the country's resources in minerals, timber, agriculture and its people and their technical achievements. For those with a longer vision, the country will come back to strength and prosperity.
ARIA
Continuing its growth, ARIA brought 1997 passenger levels up by some 2% to 3.9m as it began more domestic services to feed its international routes. Although the growth numbers are small, only seven former Aeroflot units recorded any growth in the year, and the airline's management does seem to have a focus. Some 2.8m passengers flew with ARIA in the period January 1st to August 10th, just before the financial crisis struck Russia, but the next two months saw heavy falls for all airlines so it is difficult to make an assessment of ARIA's traffic for the full–year.
By the end of October, seven 737–400s, two 777–200s and two A310s had joined the fleet in 1998, and ARIA and GECAS have announced plans for the lease of four 767–300ERs in 1999, (replacing two older 767s, plus two A310s). The first new IL–96 — a T (or freighter) version powered by PW2337 engines — is expected early in 1999, and the airline is considering the lease of some additional IL–62s for domestic routes; but no decision has, as yet, been taken on the TU–204.
Chief Executive: Valeri M. Okulov
Address: Moscow 125167 Leningradski Prospekt 37
Tel: (095) 752 9001 Fax: (095) 155 6647
Vnukovo Airlines
A further fall in traffic saw Vnukovo carry just 1.8m passengers in 1997, which still leaves it in second place among Russia's airlines, and the largest domestic airline. Its new owners, the Russian Aviation Consortium, have merged another of their subsidiaries into Vnukovo, and have adopted their corporate colours for the airline. In October 1998 the airline announced that it was transferring its Moscow operations from Vnukovo Airport (where it and its predecessor Aeroflot unit had been based since its foundation in 1936), to Domodedovo due to the level of airport and fuel charges. But it plans to maintain contact and hopes that "the problem can be resolved".
Chief Executive (acting): Tatevos Surinov
Address: Moscow 103027 Vnukovo Airport
Tel: (095) 436 2576 Fax: (095) 436 2572
Transaero
The largest of Russia's 'non Aeroflot' carriers, Transaero achieved 6% growth in passenger numbers in 1997, and flew some 1.6m passengers. But this figure was disappointing and it did not achieve its targets. 1998 has not provided better news; although scheduled traffic in the first six months showed a growth of 10%, a lack of capacity saw charter figures fall heavily and overall just 0.7m were carried.
Meanwhile, although Transaero reported an operating profit, its overall results in 1997 are a loss — unannounced, but believed to be about $18m.
Responding to the fall of the rouble, Transaero and its lessors agreed that three DC- 10–30s and two 757s should be returned, and that the airline "would concentrate on its smaller aircraft needs", and on international routes rather than domestic.
1998 has seen the introduction of the 737- 700, (adding to five 737–200s), and a single 767- 300ER, which is replacing the DC–10–30s on the airline's long–haul routes; and it has seen an attempt to replace the board defeated. But the way forward will not be easy.
Chief Executive: Alexander Pleshakov
Address: 103340 Moscow Sheremetyevo 1
Airport
Tel: (095) 578 5060 Fax: (095) 578 5038
Pulkovo Aviation Complex
Still operating as a combination of Pulkovo airport and Pulkovo airline, the St. Petersburg company returned a profit, (by Russian accountancy rules) equal to almost $28m in 1997, despite a traffic fall to 1.4m passengers. It added two more TU–134s to its fleet in the year, but has by now withdrawn all its AN–12 cargo turboprops. It is now under some pressure to separate the airline from the airport even though the synergy generated by the two operations has been a major factor in its profitability.
Chief Executive: Boris Demchenko
Address: 196210 St. Petersburg, Pilot St. 18/4
Tel: (812) 122 9924 Fax: (812) 104 3702
BAL-Bashkiri
Based at Ufa, the capital of the autonomous republic of Bashkortostan, BAL–Bashkiri in 1997 reached the fifth highest passenger carrier position for Russia's airlines despite a 19% traffic fall. Passengers numbered just 738,000, almost half of that of the fourth highest, and are typical of the problems caused by the enormous financial strains of the Russian people outside the two major cities, which results in little money being available for air travel.
Chief Executive: Rinat Baembitov
Address: 450056 UFA, Airport
Tel:(3472) 52 97 40 Fax: (3472) 52 97 52
Tyumenaviatrans
The break up of Aeroflot saw two sizeable companies formed in the western Siberian oil region of Tyumen. One of these, Tyumenaviatrans, was formed with a large aerial work fleet and a small regional fleet. It went on to purchase five new TU–154Ms and added some major trunk routes and international charter services, and 1997 saw it reach sixth place in Russia with 702,300 passengers, up 4% on 1996.
Chief Executive: Vladimir Illarionov
Address: 625025 Tyumen, Plekhanovo
Airport
Tel: (3452) 23 23 93 Fax: (3452) 23 23 93
Tyumen Airlines
The second airline based at Tyumen, Tyumen Airlines saw traffic volumes fall by 26% in 1997. It had taken most of the passenger services from the old Aeroflot, along with a sizeable cargo fleet. But passenger numbers came to just 638,000 in 1997 and left it in seventh place. 1998 will show a further fall of at least 20%.
Chief Executive: Yuri Yermolaev
Address: 625033 Tyumen, Roshchino Airport
Tel: (3452) 39 44 12 Fax: (3452) 39 44 58
Kras Air - Krasnoyarsk Airlines
Russian fiscal requirements, which added some $12m to the cost/lease of the RB211–powered Tupolev TU–204–120s ordered by Kras Air, have resulted in the deferment of their delivery for some time. Traffic fell by about 3% in 1997, to 632,000, but the first eight months of 1998 saw a significant growth. The appointment of a new governor (Alexander Lebed) to the Krasnoyarsk region resulted in a change of management at the airline.
Chief Executive: Boris Abrahamovich
Address: 663020 Krasnoyarsk, Yemelianovo
Airport
Tel: (3912) 23 63 66 Fax: (3912) 24 488 96
Domodedovo Airlines
With the break up of the Domodedovo Civil Aviation Production Association, the separated airline was also divided with part going to the Eastline company. The major scheduled routes stayed with Domodedovo Airlines, and its 1997 traffic was determined to be 626,000 passengers. The airport, maintenance base and 'state properties' have been separated.
Chief Executive: Alexander Akimov
Address: 103325 Moscow Region, Domodedova
Airport
Tel: (095) 323 8991 Fax: (095) 952 8651
Sibir
Despite a significant growth in traffic volumes in 1997, when 609,200 passengers were carried (up a substantial 50% on 1996), the 1997 annual general meeting saw a change of management. With revenues of $102m, a net loss of $0.2m resulted for 1997; the new management have begun a determined restructuring of the airline and have formed close alliances with several other airlines based in towns and cities close to Sibir's base at Novosibirsk — Russia's third–largest city. The alliance works under Sibir's name, and includes integrated timetables and route structures.
Chief Executive: Vyacheslav Filyev
Address: 663115 Novosibirsk Region, Tolmachevo
Airport
Tel: (3832) 22 75 72 Fax: (3832) 32 22 71
While the above airlines were the top 10 by passenger volumes in Russian for 1997, other newsworthy carriers follow:
Kogalymavia - Kola Avia
Kola Avia ended 1997 with 431,000 passenger, figures up some 37% on 1996. It has continued to grow in 1998 and has developed new services, including its second Moscow route to Sheremetyevo Airport, mainly to interline passengers for international flights.
Chief Executive: Nikolai Zolnikov
Address: 626481 Tyumen Region, Kogalym
Airport
Tel: (34867) 23 101 Fax: (34867) 29 695
AJT Air International
Now six years' old, AJT became the first holiday charter carrier to enter the top 20 Russian airlines in 1997; its passenger numbers grew from 108,000 in 1996 to 398,600 last year. The airline flies mainly summer charter and inclusive tour type services from Moscow to Turkey, North Africa and southern European resorts with a fleet of IL–86s.
Chief Executive: Sergei Gusak
Address: 125167 Moscow, Leningradski
Prospect 37/7
Tel: (095) 155 5495 Fax: (095) 155 5495
KMV - Kavkazia Mineralnie Vodi
KMV achieved a profit of $3m despite a 15% fall in traffic to 377,500 passengers. It continues to lease several TU–154s to Iran, and became the third Russian airline to introduce the TU–204 to regular passenger service early in 1998 when it took delivery of a single 204–100 on lease from engine manufacturer Perm Motors. (Perm Airlines had earlier taken Perm Motors first TU- 204–100.)
Chief Executive: Vasili Babaskin
Address: 357310 Mineralnie Vodi, Airport
Tel: (86531) 77 000 Fax: (86531) 31 828
Rossiya
The Government Transport Company, responsible for carrying the President and Government on official journeys, has supplemented revenues over the past few years by operating some scheduled and charter services. In 1997, it carried 247,000 passengers on these flights.
Now plans have been prepared to divide the company into three parts; governmental flights will be hived off into a purpose executive operation; passenger scheduled and charter services will be renamed and reformed; while its two AN–124s will be the basis of a cargo charter airline.
Chief Executive: Vladimir Katchnov
Address: 103027 Moscow, Vnukovo Airport, 1st.
Reisovaya St 2
Tel: (095) 436 2665 Fax: (095) 436 2328
Baikal Avia
With a 26% fall in passengers carried in 1997, the Irkutsk–based Baikal Avia carried just 232,000 passengers in 1997; and October 1998 saw its fight between shareholders end up in a court battle which eventually declared Baikal Avia bankrupt.
Russian fleet plans
Russian fleet plans
ARIA
Vnukovo Airlines
Transaero
Pulkovo AC
BAL-Bashkiri
Tyumenaviatrans
Tyumen Airlines
Kras Air
Domodedovo AL
Sibir
Kola Avia
AJT
KMV
Rossiya
TOTAL
IL-96-300 6
2 (1)
1 (1)
9 (2)
IL-96M
(17)
(17)
IL-96T
(3)
(3)
IL-86
18
22
1
9
2
7
5
64
IL-76F
12
12
IL-76
7
11
4
22
IL-62
21
7
22
14
64
IL-18
2
3
5
TU-154
33
23
20
11
5
16
15
16
8
11
11
169
TU-134
12
10
4
16
5
17
64
TU-204
3
(10)
1
4 (10)
AN-124-100 1
2
3
AN-12
9
9
AN-2
31
77
108
AN-24
4
10
13
4
31
AN-26
12
7
3
22
AN-28
5
5
AN-74
4
4
MI-2
1
1
MI-6
24
24
MI-8/17
13
201
6
8
228
MI-10
7
7
MI-26
16
16
YAK 40
27
3
8
38
YAK 42
2
2
A310
10
10
767-300
2 (4)
1
3 (4)
777-200
2
2
737-400 7 (3)
7 (3)
DC-10F
9
9
757-200
3
3
737-200
5
5
737-700
2
2
FLEET
133
50
12
39
72
379
68
45
30
23
14
5
17
65
952
ORDERS (27)
(10)
(1)
(1)
(39)