Air France - closer to the day of glory January 1999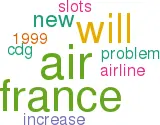 Air France is taking its final steps towards privatisation, or opening–up of capital as it has to be referred to in France. Latest betting is that a sale of about 20% of the airline will be made in March 1999 with the aim of raising Ff 3.5–4.0bn ($627–717m).
According to chairman Jean–Cyril Spinetta, Air France has four key strategic thrusts:
"Playing a trump card";
Building global alliances;
Creating new social dynamics;
Improving profitability.
The trump card is Paris CDG airport. In contrast to its competitors Air France stands to benefit from a major capacity increase at its main hub, with a third runway being completed next year, a fourth scheduled for 2001 and a new terminal for 2003. The number of slots and the capacity to handle passengers will both increase by more than 50%. This will enhance its hub system: the number of connections between short- and long–hauls is set to increase by 38% in 1999.
The problem for Air France is how to keep competitors from benefiting from these new slots given, for example, BA's aspiration eventually to operate intercontinental service from Paris. The tactic of blocking the development of the American/Air Liberté enclave at Orly by banning intercontinental service to that airport now looks dangerous as this operation would probably benefit from a switch to CDG.
Air France has to fill the new slots with its own or its allies' services. One problem is that Air France has been undermined in its own domestic market by BA, Swissair and KLM, which have signed up most of the available regional franchisees (see Aviation Strategy, December 1998). Also, Air France's domestic shuttle operation, La Navette, links Orly (rather than CDG) to the main provincial cities. The other problem is that Air France does not have a transatlantic partner yet.
However, Air France now states explicitly that it will chose the US partner in 1999. Will it be Continental or Delta? Delta would appear to be the better choice because of its dominant position on US–continental routes and because it will probably be easier to unravel the Delta/Swissair/Sabena alliance than extract Continental from its Northwest/KLM/Alitalia amalgam.
"Creating new social dynamics" basically means the agreement with the pilots' union, whereby in return for permanent wage concessions the pilots will be able to own up to 12% of the airline with a further 4% going to other employees over at least five years. Their wages are supposed to converge with those of BA, Lufthansa and KLM over a seven–year period. This agreement is not exactly a breakthrough in labour relations but it might just protect the airline from the type of strike action that disrupted the World Cup last summer.
For details of Air France's projections of enhanced profitability we will have to wait for the prospectus. The airline's managers have a reasonably good turnaround story to relate, but will they be able to answer awkward questions from investors about the future? For example, how much will Air France simply be relying on expansion to reduce unit costs, and can the recent improvements in unit revenue be maintained as the industry moves into the down phase of the cycle?