Slots sales: the multi-million dollar debate January 1999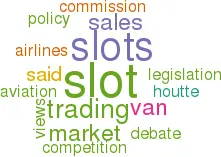 The interminable debate on slot sales continues. Logic appears to be on the side of slot sales (see Aviation Strategy, September 1998), although opposition to sales from some quarters is as entrenched as ever. Intriguingly, however, there appears to be a growing public difference of opinion within the Commission. At a recent European Aviation Club seminar on slots held in Brussels, the views of the representatives from DG4, the competition directorate, and DG7, the transport directorate, were clearly not aligned.
Christine Schreiber, from Van Miert's cabinet at DG4, said that on the subject of slot trading the views of Van Miert remained unchanged — i.e. that he was very sceptical about the process itself. If airlines were allowed to sell slots in the open market this would lead to the perpetuation of the larger carriers' current dominant position and that it would prevent the entry of new entrants.
DG7's views, as presented by Ben Van Houtte, were more flexible. He said that the Commission had "yet to make any firm policy decisions defining its policy towards slots", and that the EC was waiting for the results of a study that would be completed in the first half of 1999.
However, Van Houtte added that the Commission was clear on some points, particularly that more transparency is required on slot trading. Existing EU legislation permits slots to be traded for "genuine" reasons but Van Houtte described some exchanges as a "sham". He added that the EC believed that legislation will need to be introduced to give legal powers to slot co–ordination committees and that their accountability should in future come under the EC's supervision rather than that of the member states. Furthermore, the EU was concerned that in some cases these committees were not acting independently as some of the slot co–ordinators were still to be found on the payroll of airlines.
The mechanism of slot trading
The European Aviation Club meeting also featured an equally complex debate about the mechanism of slot trading, if it is eventually allowed.
Barry Humphreys of Virgin Atlantic said that he would approve of a market approach to slot trading but only when all the disparities of the marketplace had been removed — i.e. when all airlines had been privatised and acted in a truly commercial manner.
Humphreys suggested that some 5–10% of slots should be handed back to the co–ordinator each year and re–allocated on a fair basis. He reemphasised the view that grandfather rights were now the largest single barrier to new competition.
David Starkie of Economics–Plus said that a fully liberalised trading market should exist for slots, which would bring unconstrained market forces to bear. He acknowledged that this could lead to further market concentration and predatory behaviour, but such misdemeanours could always be dealt with under general competition and antitrust legislation. Although the incumbent operators would benefit from a windfall gain this only reflected the revenue stream that had been created by that slot usage.
Phil Evans of the UK Consumers' Association argued for an "economically efficient" system. Firstly, grandfather rights should be abolished and, secondly, a closely regulated, independent and centralised after–market in slots be created. He felt that slot auctions would not work because of collusion.
Targeted re–allocations were one possibility, but would require the need for criteria on confiscation and re–distribution. If this was too radical he proposed that a leasehold arrangement might provide a middle way. Slots would be the property of the airport and leased to, and maintained by, the airlines.
The catalyst for action on slot sales may come with the UK Department of Trade and Industry's again delayed decision on whether British Airways can sell the 267 slots the EC is demanding it gives up in order to get approval for the American alliance. But the problem is that BA itself now wants the Dti to delay this decision, so the EC is as far from crystallising its policy as ever.