Russian aviation: the Wild East starts to calm down January 1998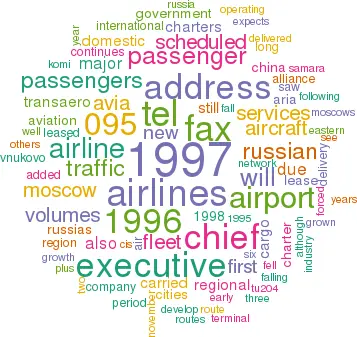 Russia's aviation industry appears to be settling down following a frantic period of start–ups and reorganisation in the years after the break–up of the former Soviet Union. As of November 1997 325 Russian airlines held operating licences, a slight fall on the 329 of a year earlier. Just 20 were start–ups — mostly holiday charters, shopping trips or freight charters.
Passenger volumes fell from 31m in 1995 to 26.9m in 1996, but indications are that volumes will level out in 1997. While domestic traffic will continue to fall, international traffic — which grew by 40% in 1996 — is expected to grow by another 30% in 1997, to reach 13m. Thus, international traffic has grown from 6% of the market in 1990 to almost 50% in 1997, revealing increasing demand by Russians to see the outside world. The chart (right) shows a similar trend for all CIS airlines.
1997 was a year when many Russian airlines finally started to overhaul their finances. This followed a disastrous 1996, when state- or partially state–owned airlines lost approximately $300m — $11 per passenger. The losses were caused by falling volumes, rising costs, low fares and falling GDP — and the pain that followed forced many Russian airlines to face market realities.
In November 1997, a group of major regional airlines, including Samara Airlines, Krasnoyarskavia, Komi Avia and Sibir, agreed a co–operation pact in order to "protect themselves" from the dominance of Moscow–based airlines. A second alliance is also being formed by a group of eastern Russian airlines.
Part of the reason for the alliance trend is the pressure on airlines from the continuing delay in new aircraft programmes; only five new passenger aircraft were delivered by Russian manufacturers in 1996, and 1997 was not much better. But, the first of Sirocco's westernised TU–20ks was scheduled to be delivered before the end of 1997, and the first 30–seat AN–38 regional turboprops was also due for delivery before the end of 1997.
Meanwhile, 1997 saw the certification of the AN–38, the IL–114, (a 60–seat regional turboprop), and Sirocco's TU–204–120, the version with RB 211–525 engines and western avionics. The new PW2337 powered IL–967 — the cargo version — should be approved shortly, and the next few years should see the passenger IL–967, the 100- seat TU–334, the 64–seat BE–200, the 19–seat BE–32, the 50–seat AN–140 turboprop and some others receive certification. One hurdle still to be crossed will be the need to certify not only the aircraft but also the manufacturing factory and component suppliers; this practice was not considered necessary in the state–owned industry of the Soviet Union, and there is still some reluctance to accept the new rules.
While coping with these developments, Russia's airlines have been trying to turn themselves into well managed, profitable carriers — with varying degrees of success. Aviation Strategy profiles the most important Russian airlines over pages 15–17:
Aeroflot - Russian International Airlines (ARIA)
ARIA is still the largest passenger and freight airline in Russia, and 1997 saw a number of key developments. ARIA continued to expand its domestic route network and began some hub type services through three Russian cities. But a proposed alliance with Continental — including a daily Moscow–Newark code–share — has been delayed as Continental has not received approval to fly the route. However, a new board at ARIA has continued to renew the fleet; the first 737s are due in April 1998, additional A310s have been leased (from GECAS) and two 777s will be leased from ILFC are due in the Spring. They will fill the gap before IL–967s are delivered. And a close look is being taken at several Tupolev TU–204 versions to replace the TU–154 and IL–76.
Chief Executive: Valeri M. Okulov
Address: Moscow 125167, Leningradski Prospekt 37
Tel: (095) 7529001 Fax: (095) 1556647
Vnukovo Airlines
Early in 1997 a Moscow court invalidated the 1995 sale of Vnukovo Airlines, and so the Russian government still retains a "golden share" (= veto) for major decisions. 1996 traffic volumes fell to 2m passengers, a figure which still leaves the airline in second position in Russia. It flies only domestic scheduled services (although it has applied for international routes) plus an expanding domestic/international charter network.
Vnukovo is understood to be finalising a lease of up to 20 TU–204s.
Chief Executive: V. M. Romanov
Address: Moscow 103027, Vnukovo Airport
Tel: (095) 4362576 Fax: (095) 4362572
Domodedora Civil Aviation Production Association
The long expected government order to divide the Domodedora organisation came in November 1997. The airport terminal has already been separated and is now operating independently, and the airline and administration will divide in January. The airline section of the Association carried 1.5m passengers in 1996. In 1997 scheduled services were started to Uzbekistan, Azerbaijan and China, and charter services were expanded to the UAE, Italy, Greece and Spain.
The airline has turned down the opportunity to fly charters to North America due to the cost of upgrading its ageing fleet. $25m has been spent expanding cargo terminal capacity, and work on a $60m terminal will begin early in 1998.
Chief Executive: L. S. Sergeev
Address: Moscow 103225, Domodedovo Airport
Tel: (095) 3238507 Fax: (095) 9528651
Pulkovo Aviation Company
The St. Petersburg–based airline achieved 2% passenger growth in 1996, to 1.5m, as it continues to develop both scheduled and charter services. A lack of long range equipment has forced the airline to agree to ARIA being approved to operate a Moscow–St. Petersburg–New York service, but it is unlikely that Pulkovo will ignore this route for too long. It continues to lease out surplus capacity, and is looking at possible replacements for its fleet.
Chief Executive: B. G. Demchenko
Address: 196210 St. Petersburg, Pilot St. 18/4
Tel: (812) 1229924 Fax: (812) 1043702
Transaero
Transaero flew 1.6m passengers in 1996 — 50% up on 1995. Although by August 1997 scheduled passenger numbers had grown again — by 26% — a lack of aircraft resulted in charter volumes falling. Overall, passenger growth was 9%.
In the first eight months of 1997 Transaero achieved a $38m operating profit on revenues of $209m, up 3.5% on the same period in 1996. Transaero serves 29 cities from Moscow's Sheremetyevo airport — 20 in the CIS and 9 others.
In 1997, Transaero ordered six long range IL- 96Ms, for delivery starting in 2001. Two 737–700s are due early in 1998, on lease from Germania, and at least 10 will be added in the next few years, along with 10 767–300s and 10 more 757s.
Transaero is also interested in the TU–204.
Chief Executive: N. Kogevnikov
Address: 103340 Moscow, Sheremetyevo Airport
Tel: (095) 5785060 Fax: (095) 5785038
Kras Air/Krasnoyarsk Avialinii
Although traffic volumes were almost unchanged in 1996 at 1.4m, Kras Air has ordered the first 10 Rolls Royce–powered TU–204–120s from Sirocco as part of a fleet modernisation plan. Unexpectedly, it has opted to purchase the first three aircraft (due for delivery December 1997- March 1998) and is likely to lease the others. It continues to lease out some surplus aircraft, most recently an IL–86 to new carrier Trans European, and several TU–154s to Iran.
Chief Executive: V. I. Medvediev
Address: 663020 Krasnoyarsk, Yermelyanovo Village
Tel: (3912) 236366 Fax: (3912) 244896
Samara Air Company
Samara has lead the way in building co–operation and alliances among Russia's regional airlines (see introduction). It has also introduced flexible tariffs to expand its passenger base which has grown to 530,000 round trips in 1997. It has added an FFP, and has new interline agreements with British Airways and Finnair. It operates scheduled services domestically, plus to China, Israel and Austria.
Chief Executive: A. F. Kozlov
Address: 443064 Samara, Kurumoch Airport
Tel: (8462) 227530 Fax: (8462) 227105
Baikal Avia
Baikal Avia expects to carry some 560,000 passengers in 1997. Following the major disruption resulting from the customs seizure of its leased 757, the airline incurred major financial losses for the year. With regional government support, it is currently working to develop an alliance of Siberian airlines which will focus on fleet commonality.
Chief Executive: V. N. Kovalenko
Address: 664009 Irkutsk, Shiriamov Str. 13
Tel: (3952) 344250 Fax: (3952) 349250
Khabarovsk Air Detachment/ DAK-Far Eastern Air Company
In 1996, this far eastern Russian airline carried more than 500,000 passengers, mainly on domestic routes but with some services to the US and to China. About half its fleet remains active; but overhauls have not been carried out on low passenger routes. It still plans to add IL–96s, but these will be delayed until traffic improves.
Chief Executive: P. I. Sevostianov
Address: 6880012 Khabarovsk — 12 Airport
Tel: (4210) 372577 Fax: (4210) 378222
Komi Avia
Komi is expects to have carried 570,000 passengers in 1997, a similar figure to 996. The airline employs 6,000 people but a major restructuring is possible following a fare freeze imposed by the government of the autonomous republic. This is believed to be having a considerable impact on the airline's revenue.
Chief Executive: A. V. Yeshenko
Address:167610 Komi Republic, Syktyvkar Pervomaiskaya St. 53
Tel: (82122) 22797 Fax: (82122) 25583
Ural Airlines
Ural AL flew 1m passengers in 1996. The city of Yekaterinburg is becoming a popular business destination, and the local airline is facing competition from Lufthansa and British Airways as well as domestic carriers such as Transaero. It has added some AN–12s and AN–26s to its fleet.
Chief Executive: S. N. Skuratov
Address: 620005 Yekaterinburg Airport, Sputnikov St. 6
Tel: (3432) 342367 Fax: (3432) 266657
Sibir
The Novosibirsk–based former Aeroflot unit became a private company in 1994, and now serves 20 CIS cities plus Frankfurt, Hanover, Sharjah and Urumchi (China). It also operates charters to Bulgaria, Germany, Israel, Cyprus, Syria, Turkey and China. In 1996 it carried 0.65m passengers. Turnover was $94m, with a $0.44m net loss.
Chief Executive: G. V. Kulichev
Address: 633115 Novosibirsk Region, Tolmachevo Airport
Tel: (3832) 227572 Fax: (3837) 322271
Chita Avia
Chita Avia will carry an estimated 235,000 passengers in 1997 — a 2.3% drop on 1996. However, the airline — in which the government retains a 14% stake — has been improving airport facilities, and three Tu–154Ms have been bought. With traffic demand down for the moment, two Tu–154s are leased out to Iran. Scheduled services are flown to six major cities in Russia and to Beijing. Charter flights operate to Greece and Turkey.
Chief Executive: N. I. Semonov
Address: 6720188 Irkutsk Region, Chita Airport
Tel: (30222) 41045 Fax: (30222) 66396
Kogalymavia/Kola Avia
Kola Avia has dispensed with its helicopter fleet and added six Tu–154Ms as it focuses on developing scheduled passenger services and oil support flights. It is currently looking for suitable regional aircraft. In 1997 400,000 passengers were carried (10% up on 1996), and the growing oil industry means that passengers are forecast to increase to 1m by 2002.
Chief Executive: N. N. Zolnikov
Address: 626481 Tyumen Region, Kogalim Airport
Tel: (34667) 23101 Fax: (34667) 29695
Remex
A new cargo operator with an unusual background, Remex was established to allow Russia's airlines to pay for aircraft overhauls not with money, but by leasing their aircraft to the over–hauler for a period to repay the cost. It began operations in April 1997 and flies charters to western European cities. Remex expects to double its fleet in 1998, and possibly acquire Yak–42s.
Chief Executive: K. Vartanov
Address: 125047 Moscow, 2nd. Tverskaya — Yamskaya St. 52
Tel: (095) 2509520 Fax: (095) 2510567
Bykovo Avia
A difficult period has seen a battle to control the airline, which is based at Moscow's smallest civil airport. As a result traffic volumes have fallen.
General Director: G. I. Sytnik
Address: 140150 Moscow Region, Bykovo Airport
Tel: (095) 5545583 Fax: (095) 5548073
Karat
Karat continues to develop a domestic scheduled network from Moscow's Vnukovo airport, as well as charters to the Middle East and Europe. 1996 passenger volumes were 220,000.
Chief Executive: V. V. Mikhaev
Address: 117571 Moscow, Vernadskogo Prpt 125A
Tel: (095) 4342114 Fax: (095) 4332633
Atran
Atran increased cargo volumes by 7% in 1996 to 70m tkms, and the first nine months of 1997 saw traffic growth of 47%. Customers include Lufthansa, Martinair, and UPS.
Chief Executive: R. R. Khristal
Address: 109004 Moscow, Zemianoi Val 66/16
Tel: (095) 2444072 Fax: (095) 2442933
Volga Dnepr
Russia's first non–Aeroflot airline, and the major independent cargo carrier, saw traffic fall 14% to 0.25m tkms in 1996. Traffic fell another 30% in 1997, partly due to difficulties in obtaining An–124 engine spares. Delays in the Tu–204 programme have forced it to negotiate with Sirocco for up to four cargo versions of the 204–120, and it also plans to add four Il–967s for delivery after 2001.
Chief Executive: A. I. Isaikin
Address: 432062 Ulyanovsk, Karbishevo St. 14
Tel: (8422) 202671 Fax: (8422) 204997
RUSSIAN FLEETS
RUSSIAN FLEETS

| | ARIA | Vnukovo AL | Domodedora | Pulkovo AC | Transaero | Kras Air | Samara AC | Baikal Avia | DAK | Komi Avia | Ural Airlines | Chita Avia | Sibir | Kola Avia | Remex | Bykovo Avia | Karat | Atran | Volga Dnepr | TOTAL |
| --- | --- | --- | --- | --- | --- | --- | --- | --- | --- | --- | --- | --- | --- | --- | --- | --- | --- | --- | --- | --- |
| IL-96-300 | 6 | | | | | | | | | | | | | | | | | | | 6 |
| IL-96M | 17 | | | | 6 | | | | | | | | | | | | | | | 23 |
| IL-967 | 3 | | | | | | | | | | | | | | | | | | | 3 |
| IL-86 | 17 | 22 | | 9 | 1 | 4 | | | | | 4 | 7 | | | | | | | | 64 |
| IL-767D | 17 | | | | | | | | | | | | | | | | | | | 17 |
| IL-76TD | | | 4 | | | | | | | | | | | | 6 | | | | | 10 |
| IL-76 | | | | | | 12 | 3 | 6 | | | | | | | | | | 7 | 2 | 30 |
| IL-62 | 7 | | | | | 5 | | | 22 | | | | | | | | | | | 34 |
| IL-62M | | | 25 | | | | | | | | | | | | | | | | | 25 |
| IL-18 | | | 2 | | | | | | | | | | | | | | | | | 2 |
| IL-9-300 | | | 2 | | | | | | | | | | | | | | | | | 2 |
| TU-154 | | | | 22 | | 22 | 14 | 12 | 22 | | 20 | | | | | | | | | 112 |
| TU-154M | | | | | | | | | | | | | | 6 | | | | | | 6 |
| TU-154B/M | 29 | 25 | | | | | | | | | | 14 | 7 | | | | | | | 75 |
| TU-134 | 13 | | | 16 | | | 8 | | | 35 | | | | | | | | | | 72 |
| TU-204 | | 3 | | | | | | | | | | | | | | | | | | 3 |
| AN-124-100 | 1 | | | | | | | | | | | | | | | | | | 7 | 8 |
| AN-12 | | | | | | | | 6 | | 3 | 4 | | | | | | | 8 | | 21 |
| AN-2 | | | | 6 | | 20 | | 11 | | 45 | | | 24 | | | | | | | 106 |
| AN-24 | | | | | | | | 9 | 17 | 12 | | 5 | 7 | | | 10 | | | | 60 |
| AN-26 | | | | | | | | 6 | 10 | 12 | 8 | 4 | 3 | | | 6 | | 6 | | 55 |
| AN-28 | | | | | | | | | | 19 | | | | | | | | | | 19 |
| AN-32 | | | | | | | | | | | | 1 | | | | | | | 1 | 2 |
| MIL 8 | | | | | | | | 12 | | | | | | | | | | | | 12 |
| YAK 40 | | | | | | 7 | 4 | | | 10 | | | | | | | | | 7 | 19 |
| YAK 42 | | | | | | | 3 | | | | | | | | | 12 | 8 | | | 23 |
| A310-300 | 10 | | | | | | | | | | | | | | | | | | | 10 |
| 767-300ER | 2 | | | | 10 | | | | | | | | | | | | | | | 2+10 |
| 777 | 2 | | | | | | | | | | | | | | | | | | | 2 |
| 737-400 | 10 | | | | | | | | | | | | | | | | | | | 10 |
| DC-10-30 | | | | | 3 | | | | | | | | | | | | | | | 3 |
| 757 | | | | | 5+10 | | | | | | | | | | | | | | | 5+10 |
| 737-200 | | | | | 5 | | | | | | | | | | | | | | | 5 |
| 737-700 | | | | | 10 | | | | | | | | | | | | | | | 10 |
| TOTAL | 102 | 50 | 33 | 53 | 14 | 70 | 32 | 62 | 71 | 136 | 36 | 31 | 41 | 6 | 6 | 28 | 8 | 21 | 17 | 817 |
| Orders | 32 | | | | 36 | | | | | | | | | | | | | | | 68 |