Delays and dilemmas in Brussels January 1998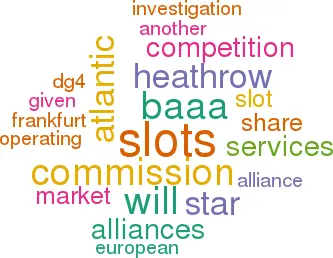 The Commission's deadline for reporting on the BA/American alliance has slipped again. Now the Commissioners involved — Karel van Miert at DG4 (Competition), Neil Kinnock at DG7 (Transport) and Jacques Santer (President of the Commission) — will not make their recommendation to the Council of Ministers until the end of February, further testing the patience of Messrs Ayling and Crandall, who announced their plans in June 1996.
Part of the reason for the delay must be to do with the workload at DG4: scarcely a day goes by without a newspaper report on van Miert's involvement on some high profile investigation into other sectors — telecoms, computer software, financial services etc. But also, the scope of the investigation into BA/AA — because it was broadened to include a comparison of Star and Atlantic Excellence alliances — has become much more complicated.
DG4's original analysis of the implications of BA/American focused on city–pair market shares, and concluded that the two carriers would have to give up 350 slots at Heathrow (roughly 8% of their total slots at the airport) in order to maintain the competitive balance. In the new investigation the analysis covers competition between hubs, and appears to accept the premise that in future global competition will be between alliances.
This puts a new perspective on the relative dominance of the European alliances, and in particular the perceived and actual differences between the proposed BA/AA grouping and Star, whose main constituent -the Lufthansa/United agreement — had previously been approved by the Commission with minimal conditions.
In terms of capacity shares (flights) the BA/AA alliance (plus Canadian and Qantas) has a smaller market share, 42%, at Heathrow than Star at Frankfurt, 66%, or the other two alliances. On Atlantic services BA/AA's share at Heathrow is higher than the other alliances' at their home hubs, but 66% versus 59% for Star does not appear to be too significant. Also, Star partners account for 19% of Atlantic frequencies from Heathrow.
Slot quality versus quantity
If BA were to reduce its share of the Atlantic market at Heathrow to Star's at Frankfurt this would imply giving up about 56 slots. This is much less than the Commission's demand for 350 slots, but the important point is that they are Atlantic slots. On average BA made an operating profit of about £650,000 ($1.1m) per weekly slot in 1996/97 on services to the Americas, while on intra–European services the average operating profit per slot was practically zero (slot profitability has been estimated from reported number of landings by BA on North Atlantic services and operating results by region from the annual report).
DG4 has been insisting on quality as well as quantity of the slots to be given up. But if some of the given–up slots were to go to United, then the Commission would, in effect, be adjusting the competitive balance in favour of Star. And if it does this does it then become obliged to look at other aspects of European hub dominance?
Lufthansa's 95% share of the German domestic market at Frankfurt might be considered an issue, but the Commission has opted out on this one, referring Deutsche BA's recent complaint against Lufthansa concerning abuse of a dominant position to the Kartellamt, the German competition authority.
Another possible dilemma for the Commission is that in agreeing to the BA/AA alliance it will be giving the nod to a UK–US open skies agreement which the US authorities are insisting on as a condition of their approval of BA/AA. Yet in December DG7 decided to pursue legal action against the eight European states that have signed individual opens skies agreements with the US, as well as the UK. The justification for this action is that the Commission ultimately aims to take over external aviation relations, and individual countries are supposed to be facilitating this transition, but in practice are not.
Despite all this, a compromise solution is rumoured. Total slots to be given up by BA/AA will be between 220 and 250, and there will be frequency caps on some routes. However, these slots will only have to be given up when requested by another airline and then only if the Heathrow Scheduling Committee is unable to provide them from other sources. Such a proposal should be acceptable to BA/AA, considering that Heathrow slot supply is increasing at 3% pa, and it should satisfy the Commission, as it will be able to claim to have extracted a significant concession. Whether EU competition policy is made any more coherent is another matter.
ALLIANCES' MARKET SHARES AT EUROPEAN HUBS
ALLIANCES' MARKET SHARES AT EUROPEAN HUBS

| | | | | | |
| --- | --- | --- | --- | --- | --- |
| | Domestic | Intra-Eu | Atlantic | Other | Total |
| Shares at own hubs | | | | | |
| BA/AA/CP/QF at LHR | 58% | 38% | 66% | 36% | 42% |
| Star at FRA | 95% | 53% | 59% | 57% | 66% |
| Atlantic Excellence at BRU | 100% | 50% | 59% | 67% | 56% |
| KLM/NW/UK at AMS | 84% | 84% | 67% | 56% | 62% |
| Shares at competitors' hubs | | | | | |
| BA/AA/CP/QF at FRA | 0 | 6% | 5% | 1% | 3% |
| BA/AA/CP/QF at BRU | 0 | 7% | 20% | 0 | 6% |
| BA/AA/CP/QF at AMS | 0 | 55 | 0 | 0 | 3% |
| Star at LHR | 0 | 14% | 19% | 11% | 12% |
| Star at BRU | 0 | 9% | 10% | 4% | 8% |
| Star at AMS | 0 | 5% | 4% | 4% | 4% |
| Atlantic Excellence at LHR | 0 | 1% | 0 | 7% | 3% |
| Atlantic Excellence at FRA | 0 | 3% | 13% | 3% | 3% |
| Atlantic Excellence at AMS | 0 | 2% | 8% | 8% | 3% |
| KL/NW/UK at LHR | 0 | 5% | 0 | 2% | 3% |
| KL/NW/UK at BRU | 0 | 3% | 0 | 0 | 3% |
| KL/NW/UK at FRA | 0 | 3% | 5% | 0 | 1% |