Airline Incubation:
The Serial Investors Jan/Feb 2018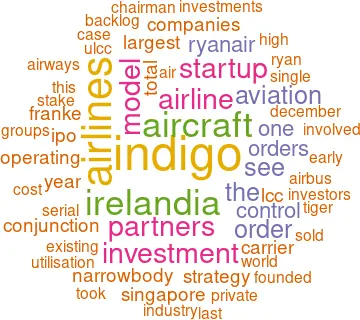 At the end of December 2017 Airbus confirmed a series of orders that included the largest single order it had ever received for its narrowbody A320 family: a massive order for 430 aircraft to be delivered over the next eight years brokered by Indigo Partners.
The order is to be split between the Partnership's four current ULCC airline investments: Hungary based Wizz Air, Frontier (USA), Volaris (Mexico and Costa Rica) and new Chilean start-up JetSMART. The total value of the order at list prices was put at $50bn — but the discounts that Airbus would have been willing to settle at were probably extraordinarily deep.
This single order (along with other announced orders at the end of December) pushed the European manufacturer into the lead position in the annual OEM orders race, aiding the swan-song accolades for the departure of Airbus's retiring sales director John Leahy (see Aviation Strategy December 2017).
Adding these aircraft to their existing portfolios, the Indigo Partners' airlines have a total 659 aircraft on firm order against a current combined fleet of 238 units (see table). This is equivalent to a combined 11% of Airbus's narrowbody backlog (excluding unidentified and non-commercial orders) and 5.5% of the world total narrowbody backlog. The next largest A320 customers are the Indian LCC Indigo (no relation) and AirAsia with 7% each. In contrast Boeing's largest exposure on the narrowbody fleet is to flydubai, Southwest and Lion Air with orders accounting each accounting for around 6% of their identified commercial 737 backlog.
Who are these guys?
Indigo Partners is one of a handful of related private equity companies involved in the serial development of LCCs and ULCCs round the world. It is headed by 80-year-old Bill Franke, who seems to have been hooked into the industry to rescue and turn round America West Airlines in the early 1990s. He ran America West as Chairman and Chief Executive from 1993-2001.
He founded Indigo Partners in 2002 in conjunction with private equity firm TPG's David Bonderman, who came to notice in the industry on the then Texas Pacific Group's acquisition of Continental Airlines in the early 1990s — at a time that Continental was regarded as a basket case.
They were both involved in Ryanair — Bonderman has been Chairman since 1996, and Franke was a pre-IPO investor — helping to transform a regional turboprop operator and junior competitor to Ireland's flag-carrier Aer Lingus into an LCC and the largest intra-European carrier it is today.
Intriguingly connected to that common stable is Irelandia Investments, another airline incubator, founded by the Ryan family as an investment vehicle and run by Declan Ryan, scion of Tony Ryan's Guiness Peat Aviation heritage and one of the original founders and former CEO of Ryanair. (His brother Cathal, co-founder and Ryanair pilot, tragically died young in 2007). Both Indigo and Irelandia were involved in the establishment of Tiger Airways in Singapore in 2003 (now fully owned by Singapore Airlines) and the defunct associate Indonesian carrier Mandala Airlines.
There have been suggestions that both Airbus and IAE are investors in Indigo or its funds. This may reflect some conspiracy theory thinking to help explain why they only buy A320s — not one of these groups' airlines have ordered any 737s from Boeing — but it is quite possible that there is some form of formal understanding that improves their purchasing power to ensure the lowest cost of equipment.
However, in a recent article in TheStreet Franke denies the imputation saying "I'm agnostic about airplanes: we look for the best deal. I am agnostic [on aircraft manufacturers]. I guarantee you I am."
All these companies are private, and there is very little financial information freely available. Indigo Partners is particularly secretive, and does not try to blow its own trumpet. Irelandia is somewhat different. On its website it has a counter disingenuously noting the total number of LCC passengers carried on the airlines in which it has invested (currently standing at over 1.15bn), and continues to boast its representation in those carriers where it has sold or now has minimal interest.
These serial investors have found a "cookie-cutter" business financing model. It is simple — adopting the KISS principles of the airline operating models in which they invest:
take a major stake in a start-up or existing airline;
have significant control of the airline through management and board representation;
use existing contacts and expertise to acquire cheap aircraft (whether leased or bought);
use their financial muscle to achieve low financing costs;
concentrate on high aircraft utilisation, ultra-low cost operating model;
aim for IPO and exit route.
The core airline operating model imposed on the investment targets is patently based on that of Ryanair (itself developed from the Southwest model):
single aircraft type;
point-to-point short-haul services, short turnaround, high aircraft utilisation;
no hotac, locally employed crew, maximum crew utilisation;
secondary airports (where available), avoidance of high airport costs;
outsourced, or OEM guaranteed, maintenance while ensuring strong control over safety and quality;
price unbundling, ancillary revenue emphasis;
concentration on bottom-line profitability, low admin overheads.
In each case the model has had to be adapted to local market conditions in terms of marketing, advertising, positional imaging and education of the merits of the ultra-low cost model.
One of the first investments by both groups was in Asia. And it was joint: each took a 24% stake in startup Tiger Airways in Singapore. Despite this being the area of the aviation world with one of the highest growth rates, since then the two have effectively concentrated on the Americas. (Indigo established Wizz Air in Europe in 2004, but Irelandia is excluded from investing in companies in Europe that would compete with Ryanair).
In the US, Indigo Partners transformed Spirit Airlines into a ULCC from an initial investment in 2006, sold out in 2013 and acquired Frontier Airlines to do the same. Irelandia took an advantageous stake in Allegiant in 2005 and helped transform it also into a focussed LCC (see Aviation Strategy Jan/Feb 2015).
Irelandia helped develop Viva Aerobus as a startup in Mexico in conjunction with local partner bus company IAMSA in 2006. It sold out last year to concentrate on other South American markets (see below). Indigo Partners bought into Mexico-based Volaris in 2006 (and which had a successful IPO in 2013). See Aviation Strategy September 2014.
Indigo announced last year the establishment of Chilean-based startup JetSmart currently operating domestic services and a route from Santiago to Lima with five A320s. Irelandia founded Rionegro-based VivaColombia in 2012 in conjunction with IAMSA, its partner in VivaAerobus. Following Irelandia's withdrawal from the Mexican carrier early last year, it has taken control of VivaColombia and established a Lima-based startup Viva Perú in 2017.
Neither of the two have expressed interest in Africa.
Returns
Among other "case examples", Irelandia highlights its investment in Singaporean Tiger Airways. It and Indigo each took 24% of the start-up in conjunction with Singapore Airlines and Temasek in 2004 (with Bill Franke as Chairman and Declan Ryan on the board). It turned a profit in the third year of operation. By the time of the IPO in 2010 the carrier had grown to 17 aircraft, 35 routes and 3m passengers. The IPO valued the company at US$560m and Irelandia boasts that it made a 28x return on its investment.
No wonder they continue to expand the ULCC model; and in doing so increase their influence, and disruption, on the industry. Will they go long haul?
Is this part of a trend? These investment companies are helping to divorce the relationship between nationality of ownership and control of airlines and nationality of operation inherent in the bilateral system under ICAO. Perhaps in the same way that major US investment funds hold effective control through their stakes in the top carriers (see Aviation Strategy November 2016).
INDIGO PARTNERS: COMBINED FLEET
In Service
On Order
Wizz
Volaris
Frontier
JetSmart
Total
Wizz
Volaris
Frontier
JetSmart
Total
A319
12
18
30
A320
64
41
5
110
8
8
A320neo
14
41
55
72
75
165
56
368
A321
24
24
17
17
A321neo
19
19
184
34
34
14
266
Total
88
67
78
5
238
281
109
199
70
659
IRELANDIA: VIVA AIR FLEET
A320
In Service
On Order
VivaColombia
12
50
Viva Air Perú
2
14
50