Boeing and Airbus orders 2015 Jan/Feb 2016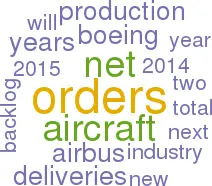 Airbus beat Boeing in the annual PR race for orders in 2015. In the year it achieved announced net sales of 1,036 aircraft (after allowing for cancellations and conversions) down from 1,456 in 2014 compared with the Seattle-based manufacturer's 769 (half the previous year's 1,432). Total industry net orders are estimated to have totalled 2,193 in the year down from a peak of 3,698 in 2014.
Airbus gained from two particularly large orders in the narrowbody segment. Indigo, the indian LCC, put in an order for 250 A320s and Wizz Air for another 110 of the type. Total A320 orders (neo and ceo) amounted to just short of 900 units. On top of this were net orders for 140 A330s, net cancellations of 3 A350s and a mere net two new A380 orders.
Boeing meanwhile received net new orders for 588 737s, 49 767Fs (from FedEx), 58 777s (including ten each from Qatar and United) and 71 787s.
On deliveries however, Boeing outshone Airbus with an overall production of 762 aircraft against 635. On narrowbodies the two were evenly matched delivering 495 737s and 491 A320s respectively (equivalent to around 40 aircraft a month each).
Overall, the outstanding industry backlog is estimated at nearly 14,700 aircraft to be delivered from 2016. This is up by 400 units from the end of 2014 and represents some nine years of current production. The backlog schedule of deliveries suggest production levels of around 1,600 aircraft a year for the next four years.
In February the doyen of equipment forecasting, Ed Greenslet, published his Airline Monitor update of long term projections. Controversially, he has brought forward his expectation of the next industry downturn from 2021 to 2018, adding in an assumption that with low oil prices there will be a lower rate of retirement of older equipment, and that the combination of slower growth in China, collapse in commodity prices and US Dollar strength will have a material impact on demand.
As a result, his new forecasts suggest that 2015 will be the peak for aircraft deliveries in this cycle. Moreover he is suggesting that total deliveries over the next few years may be less than those suggested by the order backlog, implying that the manufacturers' plans to build production rates (particularly of the narrowbodies) may be mistaken.
Boeing Orders 2015
737
Carrier
NG
MAX
767
777
787
747
BBJ
Total

Asia/Pacific

Air Tahiti Nui
2
2
ANA
5
3
8
EVA Air
7
18
25
Korean Air
30
7
37
Qantas
5
5
Ruili Airlines
30
30
Silk Way Airlines
3
3
SilkAir
6
6
Sriwijaya Air
2
2
Virgin Australia
4
4
Asia/Pacific Total
7
70
14
28
3
122

Europe

AirBridgeCargo
2
2
Enter Air
1
1
Jet2.com
30
30
Norwegian
19
19
Ryanair
3
3
Swiss Global Air Lines
3
3
TUI Travel
1
1
THY
10
10
Europe Total
33
11
3
20
2
69

Latin America

Air Austral
2
2
COPA
51
51
GOL
9
9
Latin America Total
60
2
62

Middle East/Africa

EL AL
3
3
Ethiopian
6
6
Etihad
2
2
Oman Air
20
20
Qatar
14
14
Middle East/Africa Total
20
16
9
45

North America

Alaska
6
6
Atlas Air
1
1
Delta
20
20
FedEx
49
49
United
10
10
North America Total
26
49
10
1
86

Lessor

AerCap
100
100
ALC
8
8
BOC Aviation
13
11
24
GECAS
2
2
SMBC Aviation Capital
10
10
Lessor Total
15
129
144
Business Jet / VIP Customers
2
2
2
1
7
Unidentified Customers
151
117
15
38
321
United States Navy
13
13
Gross Orders
247
409
49
58
99
6
1
869
Cancellations/Conversions
(68)
(28)
(4)
(100)
Net orders
588
49
58
71
2
1
769
Airbus Orders 2015
A320
Area
Customer
ceo
neo
A330
A350
A380
Total

Asia/Pacific

Air New Zealand
2
2
AirAsia
(9)
9
ANA
4
3
7
Asiana
25
25
Indigo
250
250
Korean Air
30
30
Lion Air
(9)
9
Peach Aviation
3
3
Philippine Airlines
(10)
12
2
SIA
4
4
Tigerair
(2)
2
Vietjet Air
15
21
36
Asia/Pacific Total
(6)
361
4
359

Europe

Acropolis Aviation
1
1
Aer Lingus
2
2
Atlantic Airways
1
1
British Airways
15
15
Croatia Airlines
(4)
4
easyJet
6
30
36
Groupe Dubreuil
1
1
2
Iberia
20
5
8
33
Lufthansa
(1)
1
TAP
39
14
53
THY
20
4
24
Vueling
15
15
Wizz Air
(10)
110
100
Europe Total
(8)
255
26
9
282

Latin America

Avianca
100
100
Latin America Total
100
100

Middle East/Africa

Israir
1
1
Middle East Airlines
1
1
Rwandair
2
2
South African Airways
5
5
Middle East/Africa Total
1
8
9

North America

Frontier Airlines
12
12
North America Total
12
12

Lessors

ALC
3
30
26
1
60
ACG
1
1
Avolon
4
4
BOC
3
2
5
CALC
2
2
CASC
30
30
CIT
5
5
GECAS
60
60
IAC
30
20
50
Standard Chartered
2
2
Lessor Total
47
91
80
1
219
Private Customer
1
4
2
7
Undisclosed
13
50
27
2
3
95
Gross Orders
60
861
143
16
3
1,083
Cancellations
(13)
(11)
(3)
(19)
(1)
(47)
Net Orders
47
850
140
(3)
2
1,036
DELIVERIES 2015
Boeing
Airbus
Type
No.
Rate†
Type
No.
Rate†
737
495
41.25
A320
491
40.92
767
16
1.33
777
98
8.17
A330
103
8.58
787
135
11.25
A350
14
1.17
747
18
1.50
A380
27
2.25
Total
762
Total
635