Japanese LCCs and Abenomics third arrow Jan/Feb 2015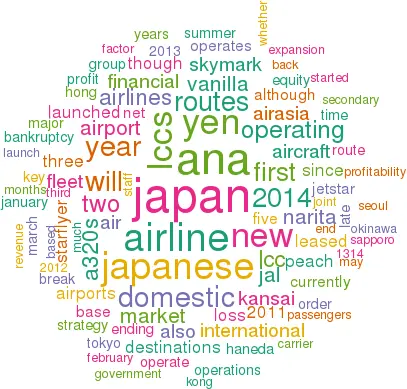 Until relatively recently Japan was a LCC-free zone, dominated by JAL and ANA supported by secondary airlines like Skymark, Starflyer and Air Do, sometimes described as low cost but generally following a traditional airline model. And like the stagnant Japanese economy, domestic air transport hasn't grown since 2001 — 92m passengers then, the same number in 2013.
About five years ago the Japanese MILT (Ministry of Land, Infrastructure, Transport and Tourism) began to explore a new policy for Japan — the introduction of LCCs and the parallel privatisation of regional airports. This was a part of the third "arrow" of Prime Minister Shizi Abe's approach to ending Japan's lost decade; the first two arrows of Abenomics related to monetary stimulus and fiscal reform while the third arrow concerned deregulation, privatisation and restructuring.
In typical Japanese fashion the experience in other countries was studied closely. The UK provided a good example of how regional airports could be sold off from local government ownership and revitalised. It was also noted how the success of these sales depended on the growth strategies of dynamic aggressive LCCs, which didn't exist in Japan. (As Stelios Haji-Iannou has observed, Japan is the last great unexploited market for LCCs.)
The operating models of the most successful European, Asian and American LCCs were dissected with the aim of transplanting the most useful bits into the Japanese industry. It is of course rather difficult to transfer the entrepreneurial drive of LCC leaders, but this could, it was thought, be created through joint ventures with the likes of AirAsia and Jetstar.
Japanese LCCs were never intended to replace the incumbent carriers. Indeed, the LCC strategy had to accommodate the restructuring and turn-around of JAL whose bankruptcy necessitated a $4.6bn government bailout in 2011. Equally important was the situation of ANA, the dominant domestic operator and disadvantaged by the government rescue of JAL.
Consequently, the new LCCs have launched in Japan have been closely associated with the country's legacy carriers, specifically with ANA's multi-brand policy. Consumer reports from Japan indicate that domestic passengers appreciate these new entrant and the significantly lower fares on offer. Major questions remain as to whether these LCCs will overcome the conflict issues that have arisen between subsidiaries and full-service parents everywhere else in the world. AirAsia's partnership with ANA has already failed, and Tony Fernandes intends to re-enter the Japanese domestic market this year, but with partners in the Japanese retail sector rather than a local airline. Once established LCCs are not going to go away, but it may be that the current group of LCCs represent a transitory stage before the emergence of fully independent LCCs. Peach Aviation
Peach Aviation
Japan's new wave of LCCs started with Peach Aviation, which is based at Kansai airport in Osaka. It was originally founded under the name A&F Aviation in February 2011 as a joint venture between All Nippon Airways and Hong Kong-based private equity company First Eastern Investment Group. A month later The Innovation Network Corporation of Japan (INCJ) — a Tokyo-based a public-private partnership between the Japanese government and major corporations — also invested into the start-up, and the airline's equity is currently owned 38.7% by ANA, 33.3% by First Eastern and 28.0% by INCJ.
Peach began operations in March 2012 and today a workforce of 650 operate a fleet of 14 A320s out of Kansai and a secondary base at Naha airport on Okinawa (though it reportedly has plans to open a base at Tokyo Haneda too). The A320s have an average age of less than two years and are all leased from GECAS, Avolon and SMBC. They operate to 15 destinations, 10 of which are domestic and five international — Hong Kong, Seoul (Incheon), Busan, Taipei and Kaohsiung.
Four more leased A320s are planned, and they will allow gradual expansion of the network to two types of destinations — secondary airports within Japan, and to selected international cities. A new route between Okinawa and Hong Kong launches in late February this year, but beyond that there are no other confirmed new routes — although China, Thailand and Vietnam all on the wish list.
How fast Peach will grow depends partly on how the airline will solve the growing problem of a shortage of pilots — in the summer of 2014 Peach cancelled more than 15% of its total capacity (some 2,000 flights) due to a pilot shortfall, with reports suggesting that some staff had been tempted over to rival LCCs due to higher salaries.
Interestingly, part-owner ANA didn't transfer any of its pilots across to Peach temporarily in order to help it through that summer crisis, with a senior ANA executive saying: "Basically, they have to handle the problem on their own; we have to maintain the firewall between the two airlines' operations." That's consistent with ANA's claimed policy of minimal influence on Peach's strategy since it launched, though staff have been seconded, particularly in the early stages — although a more important factor may be that ANA is also facing a pilot shortage situation of its own (as do most other Japanese airlines).
In its last reported financial year (13/14, the 12 month period ending March 31st 2014), Peach saw operating revenue more than double to Yen 30.6bn (€230m), based on 3m passengers carried and a load factor of 83.7%. This allowed the airline to break into profitability for the first time — at the operating level a loss of Yen 1bn in 12/13 turned into a profit of Yen 2bn (€15m) in 13/14, while a net loss of Yen 1.2bn in 12/13 turned into a Yen 1bn (€8m) net profit in 13/14.
Vanilla Air
Based at Tokyo's Narita airport, Vanilla Air started life as AirAsia Japan, which was launched as a joint venture between the AirAsia group and ANA back in August 2011. However, AirAsia withdrew from the initiative in October 2013, selling its stake to ANA, after the carrier was reported to have the lowest load factors among the three new LCCs in Japan. Japanese sources indicate that among the several major issues the airline had at the time was an absence of a distribution deal with Japanese travel agents (which are a key part of the Japanese market) and a website that was not fully translated into Japanese (clearly a major inconvenience for domestic customers). AirAsia has since announced that a new AirAsia Japan will start service out of Chūbu Centrair airport (in central Japan) in the summer of 2015 as a joint venture with local partners that include Rakuten, a Japanese e-commerce company.
After ANA took full control of the old AirAsia Japan, the LCC was rebranded as Vanilla Air in November 2013, initially operating with two aircraft (after the original fleet was returned to AirAsia). Today the airline employs around 500 and has a fleet of nine A320s leased via ANA from AWAS or SMBC. They operate to three other domestic airports, but a key part of the strategy is to build up international routes, which currently include four destinations: Seoul, Hong Kong, Taipei and — since February this year — to Kaohsiung in Taiwan.
Until recently the plan was for the fleet to grow by a single aircraft by the end of FY15 (ending March 2016), but in an update to its strategy released at the end of January 2015 ANA stated that in order to ensure profitability in FY16 it would slow down the introduction of new aircraft. The Seoul route will be suspended from March, though Vanilla says services will start to Guam and Saipan at some time in the not-too-distant future. Indonesia is also believed to be a key target market for Vanilla.
In April this year Vanilla will move its Narita operations from Terminal 2 to the new LCC-dedicated Terminal 3, and ANA's strategy for the LCC is to rebuild the Vanilla business at Narita through "increased brand recognition, simplified reservation system, improved aircraft utilization efficiency, and reduced CASK" before an expansion " mainly with a focus on international".
But ANA also sees the "success of Vanilla routes in/out of Kansai as springboard from which we develop Okinawa as the second hub and strive to break into the Asian market". Crucially ANA says that as the Vanilla fleet has expanded it has become clear that "increasing yield is a priority assignment", though it insists that "it is important that the LCC be free to set fares and establish routes independently; it is not the case that we assume demand segregation between ANA and LCC".
In the first meaningful results period for Vanilla Air (the first three-quarters of FY14 — the nine months covering April to December 2014), the ANA Group revealed that LCC's load factor reached 76.9%, with 821,000 passengers carried in the period — although no financial information has been released.
Jetstar Japan
Jetstar Japan launched operations a few months after Peach, in July 2012 (with its launch brought forward from the end of the year because of Peach's market entry). Based at Narita airport in Tokyo and with a secondary base at Kansai airport in Osaka, Jetstar Japan is owned by JAL (with 47.1% share of equity in the airline) and Qantas (47.1%).
However, that division is significantly different from when the LCC was founded in 2011, at which time JAL and Qantas had a 33.3% share each, with 16.7% each held by founding partners Mitsubishi Corporation and Century Tokyo Leasing. But since then Jetstar Japan has struggle to break into profitability, and as a result two capital injections by JAL and Qantas (of Yen 11bn — €81m — between them in November 2013 and another Yen 11bn — €76m — in November 2014) has seen their equity percentage rise, with Mitsubishi and Century not participating and hence seeing their interest fall to 2.9% each — although each of the four companies keep their original percentages in terms of voting rights at the LCC, despite the adjustments to equity (or "economic rights", as they are called under the terms of the deal).
The latest capital injection came after the airline posted a third consecutive year of losses. In financial year 13/14 — the 12 months to June 30th 2014 — revenue more than doubled to Yen 29.1bn (€212m), but despite that the net loss totalled Yen 11.1bn (€81m), 26% worse than the net loss in the previous financial year.
Though the second largest airline in the Jetstar Group (after the Australian operation), the Jetstar brand has relatively little resonance in the Japanese market. But the biggest factor in the airline's poor performance so far has been poor decision making by management. For example, the launch of a hub at Osaka's Kansai airport was nothing short of a disaster for Jetstar Japan. Its opening was delayed five times before it finally came online in June last year, with the airline citing a lack of maintenance staff as the key reason for the delay. Unfortunately, during the delay as many as six A320s earmarked for Kansai were essentially left completely unused (they were parked at Narita), with a significant effect on the airline's bottom line.
Jetstar Japan currently operates 20 A320s (of which 11 are leased) on 18 routes between 11 domestic destinations, and the launch of international routes is seen as crucial in helping the LCC break into profitability. The first is a three times a week service between Osaka and Hong Kong that will commence in late February. It's a route that JAL no longer serves, and the relationship with JAL is such that new routes are unlikely to be launched that would compete against an existing JAL service.
Delivery of outstanding A320s on order was paused in 2014 as the airline struggled to break even, but expansion restarted in October 2014 with two new A320s delivered by the end of the year.
Jetstar Japan has close ties with its parent airline, with codesharing and FFP links with JAL. The LCC also has a codeshare relationship with American Airlines, and in January this year a codesharing deal started with Qantas.
Spring Japan
Spring Airlines — China's first LCC that was founded back in 2004 — established a subsidiary in Japan in 2013, although it didn't launch its first flights until August 2014. Shanghai-based Spring Airlines owns 33% of the Japanese carrier, with the remainder split between various Japanese investors.
Spring Japan currently operates three 737-800s leased from GECAS and AWAS out of Narita airport to three domestic destinations — Hiroshima, Saga and Takamatsu — and has plans to add a fourth 737 this year.
That's a much smaller operation that Spring Airlines, which operates 48 A320s on 70 domestic and international routes. In January it launched a successful IPO on the Shanghai stock exchange that raised more than US$280m to fund international expansion, including an international base at Kansai. However, none of these funds have been allocated for investment in the Spring Japan itself.
StarFlyer
StarFlyer was launched by two former executives at Japan Air System and ANA as Kobe Airlines back in 2002, before being renamed as StarFlyer in May 2003. Based at Kitakyushu Airport in the south of the country, the airline also has bases at Haneda, Fukuoka, and Kansai airports, and currently operates nine A320s (with one A320 on outstanding order) with an average age of just over two years (of which seven are leased from GECAS or AWAS) to six domestic destinations, plus Seoul and Busan in South Korea.
With 600 staff StarFlyer is a so-called hybrid airline, operating to primary airports, having wider seats and enhanced in-flight services, while attempting to operate with low costs. The airline has extensive links to ANA, sharing its reservations system and codesharing and with ANA taking an 18% stake in December 2012, making it the single largest shareholder. StarFlyer undertook an IPO on the Tokyo stock exchange in December 2011, since when the share price has yo-yoed significantly.
The rise of the new LCCs has impacted StarFlyer significantly. In late 2013 StarFlyer retrenched by trimming its workforce by 30, suspending a route to Busan and cutting its fleet from 11 to 9 aircraft.
This measures don't seem to have had much of an effect. In the 2013/14 financial year (ending March 31st 2014), StarFlyer posted a 31% rise in revenue to Yen 33bn (€248m), but at the operating level a Yen 481m operating profit in 2012/13 turned into a Yen 3.4bn (€26m) operating loss in 2013/14. Similarly, a Yen 288m net profit in 2012/13 became a Yen 3bn (€23m) net loss a year later.
Air Do
Air Do started operations on the Tokyo-Sapporo route in 1998, but was forced into bankruptcy protection in 2001, when it was in effect rescued by a consortium in which ANA was a key investor. ANA is now a major shareholder in Air Do and operate various code-shares.
Air Do operates in a leisure dominated market, with its core business being seasonal routes from the Tokyo Haneda to its base at Sapporo in the northern Hokkaido region in Japan Traffic volumes are high in the summer, allowing it to fill its three 767s to charter carrier levels. It fleet of ten 737s are deployed on thinner routes from Sapporo. The airline is reported to be marginally profitable.
Skymark Airlines
In late January Skymark became the first Japanese airline in more than five years to file for protection under Japan's bankruptcy laws.
Skymark was established by a number of private investors (including the HIS travel agency) back in 1998, although after years of financial troubles entrepreneur Shinichi Nishikubo invested into the airline, becoming the CEO and today holding the largest single stake, with a 30% share.
Through the 2000s the airline gradually disposed of a seven 767 aircraft, but in 2011 it ordered four A380s, which were to be used with a three-class service on trunk routes to Europe (London, Paris and Frankfurt) and the US (New York). The next year Skymark also agreed leases for seven A330-300s, for delivery in 2014 and 2015.
However, after the new LCCs entered the market in 2012 life became more challenging for Skymark, particularly as Vanilla Air and Jetstar Japan have bases at Narita, directly competing against Skymark's main base at Haneda. Much to Skymark's annoyance, the A380 order was unilaterally terminated by Airbus in the summer of 2014, with the manufacturer expressing concerns over whether Skymark could finance the aircraft. The two parties have since been arguing over contractual terms and obligations, with Skymark saying that Airbus is demanding an "unreasonable cancellation fee", reportedly for as much as $700m. A330 deliveries had gone ahead though, with the first five aircraft arriving in 2014 and being used on domestic trunk routes from Narita to Sapporo and Fukuoka.
Skymark currently employs 2,200 and operates a fleet of 28 737-800s (all leased) and five A330-300s to 14 domestic destinations, with other operating bases at Kobe, Naha, Fukuoka and New Chitose airports. However, under relentless pressure from the new LCCs, in the first half of the 14/15 financial year (the six months ending September 30th 2014), Skymark saw revenue drop 0.7% to Yen 45.2bn (€325m), with an operating profit of Yen 2bn in H1 13/14 turning into a Yen 4.4bn (€32m) operating loss in H1 14/15.
Skymark said it would reduce its Narita network down to just three routes (Sapporo, Yonago and Okinawa), though a continued future without a link with one of the two legacy carriers looked unlikely. In January it filed for bankruptcy, with the airline citing the decline of the Yen the prime driver behind its decision, given its exposure to aircraft leases and fuel purchased abroad that are denominated in Dollars. But clearly a more significant reason was the risky decision by management to buy A380s in 2011, at a time when the Yen's strength versus the Dollar was high.
Skymark is reshuffling management and says it will no longer fly A330s, instead becoming a single-model operator, but this is too little too late, and whether Skymark will emerge from bankruptcy will depend entirely on whether the carrier will receive financial help from ANA. The only, but possibly significant, attraction for ANA is Skymark's Haneda slots, though these are all domestic slots rather than international which could be traded with US Star Alliance partner United. As always a Japanese solution may be available.
Japan's LCC Fleet
| | | | | | | | | |
| --- | --- | --- | --- | --- | --- | --- | --- | --- |
| | Peach Aviation | Jetstar Japan | Vanilla Air | Spring Japan | StarFlyer | Skymark Airlines | Air Do | Total |
| A320 | 14 | 20 | 9 | | 9 (1) | | | 52 (1) |
| 737-500 | | | | | | | 6 | 6 |
| 737-700 | | | | | | | 4 | 4 |
| 737-800 | | | | 3 | | 28 | | 31 |
| 767 | | | | | | | 3 | 3 |
| A330-300 | | | | | | 5 | | 5 |
| Total | 14 | 20 | 9 | 3 | 9 (1) | 33 | 13 | 101 (1) |