Aer Lingus: pricing the Shamrock Jan/Feb 2015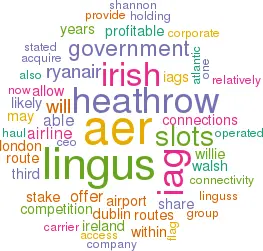 Aer Lingus' independence has been in question since it was privatised in 2006 through an IPO on the Irish stock exchange (at €2.20 a share). Within weeks of the initial flotation local competitor Ryanair had launched a bid at €2.80 a share, and eventually built up a stake of 29% in the Irish flag carrier. The takeover attempts by Ryanair have consistently been politically rebuffed at local, EU (and, strangely, UK) levels. Etihad meanwhile built a modest investment and tried to interest Aer Lingus in its peculiar alliance strategy. Now IAG has weighed in with a bid to acquire the company finally persuading the board to recommend an offer of €2.55 a share (including a €0.05 per share dividend) valuing the company at €1.3bn.
The issue is politically sensitive. When the airline was privatised eight years ago the government retained a 25% stake but insisted that it had a veto on any sale or transfer of slots at Heathrow. From a strategic point of view the Irish government wants to ensure that there are sufficient connections from Dublin, Shannon and Cork into London's hub airport to guarantee long haul connections from Ireland to the rest of the world through Europe's prime gateway.
The Heathrow slots are probably the most valuable of all Aer Lingus's assets. Following BA's acquisition of BMI in 2012, EI is the third largest operator by movements at London Heathrow after BA and Virgin Atlantic. The valuation of slots at Heathrow is a particularly arcane subject — Aviation Strategy has been involved in a number of projects in the past few years to validate valuations of slots at the airport. From our analysis it seems likely that the EI slot portfolio at that airport could be worth £250m or a quarter of the value that IAG is offering for the company.
Once IAG achieved the nod of agreement from the Aer Lingus board it has tried to assuage the political fears. IAG's CEO Willie Walsh (himself a former CEO of Aer Lingus) spoke before the Oireachtas (the two houses of parliament) promising that IAG would guarantee:
The Aer Lingus slots at Heathrow would not be sold even to other IAG airlines
Aer Lingus' name, head office location or place of incorporation in the Republic of Ireland, cannot be changed; and,
The Aer Lingus Heathrow Slots would be operated on Irish routes for at least five years and, within that general commitment, three daily slots would be operated on London Heathrow — Shannon and four daily slots would be operated on London Heathrow — Cork.
Importantly, IAG's plans are based on retaining the Irish nationality, the Aer Lingus brand, and international connectivity for the island state.
What's the attraction for IAG?
First, given that Heathrow is so heavily constrained it may be argued that Aer Lingus provides (through access to the relatively unconstrained Dublin airport) the third runway that IAG's British Airways unit will eventually need for expansion. (Even were the Davies commission to recommend that Heathrow gets a new runway, it would not come into operation before 2025). Dublin (and Shannon) certainly have a competitive advantage in being the only airports in Europe to provide US immigration pre-clearance. The thought may be that with the benefit of BA's corporate accounts it will be able to divert traffic from the UK regions westward through Ireland on US routes. There could also be marginal group benefits from multi-hub routing through adding a third (fourth, if Barcelona is included) hub to the IAG airline network.
Secondly, it would bring Aer Lingus within the immunised metal-neutral North Atlantic joint venture IAG runs with BA, American and Iberia (and Finnair). Although Aer Lingus is a relatively small player on the route, it is one of the last meaningful European independents with 1.7% of the seats on offer over the pond. It would also presumably promote the idea that Aer Lingus rejoins the oneworld alliance.
Thirdly, it would acquire an airline with a good and profitable brand. Although EI has not been exceptionally profitable it has been able to hold sway against the Rottweiller competition from Ryanair, reinvent itself as a quasi-LCC, and (unlike the other European majors) make money on short haul operations.
Fourthly, because of the holding company structure IAG put in place at the time of the merger between BA and Iberia, it should be able to extract reasonable synergies. IT, Cargo, FFP could now be relatively easily subsumed into the group functions, along with increased supplier, fuel and aircraft purchasing power.
Importantly, as Willie Walsh emphasised to the Oireachtas, IAG has no real interest in the Aer Lingus Heathrow slots per se. BA has a sufficient number of the total slots at its main base to be able to manipulate its route structure to produce the return BA needs. Apart from anything else the connectivity that the Irish Government seeks through its flag carrier's access to Heathrow is highly beneficial to BA itself.
What benefit to Aer Lingus?
First of all, Aer Lingus would gain a resolution to the uncomfortable position of having Ryanair as an unwelcome and potentially disruptive 29% shareholder.
Secondly, the size, power, corporate and equity strength of Europe's third largest (but most profitable) airline group will allow a significant level of protection against the vagaries of the economic and air transport cycle.
In addition there is likely to be a redivision of the routes between London and Dublin (the strongest O&D route within Europe) which (competition authorities' concerns notwithstanding) should significantly improve returns on what we believe is one of Aer Lingus's most profitable routes.
Fourthly, the corporate power of the BA network, the Avios FFP currency, the North Atlantic joint venture, and maybe the oneworld connections, could provide significantly greater connectivity and more security in expanding the long haul network.
Competition authorities' reactions
The EU is likely to look (as always) at direct competition concerns. Its main focus is likely to be on forcing the combined entity to allow access to others on to the DUB-LHR route, with perhaps some forced disposal of slots to allow competitors to offer rival services. This in itself will raise interesting questions: which carrier realistically will be able to compete against EI, unless it be Ryanair or easyJet. In which case this could prove to be the catalyst to allow the first real LCC into the highly expensive Heathrow. On the other hand the UK competition authority is probably going to rub its hands in glee in having got rid of the thorny problem of trying to force Ryanair to sell its stake in Aer Lingus to below 5%.
Bouncing the ball in the other court
Meanwhile the Irish Government appears to have rejected the first salvo of attack from IAG. It has stated that it needs more assurance on jobs and growth prospects before it would consider selling its 25% stake. In particular it seems to seek "firm commitments and details" on how Air Lingus's transatlantic routes would be expanded and guarantees on connections between Ireland and Heathrow beyond the five years promise from IAG. As Paschal Donohue, the Irish Minister of Transport stated, "the information and commitments that have been provided to date do not at present provide a basis on which the government could give an irrevocable commitment to accept an offer to dispose of its shares, should one be made by IAG." He added that the government remained "open to considering any improved proposal from IAG".
This now leaves the ball in IAG's court. Willie Walsh has stated that he wants the backing of the Irish Government, and obviously would prefer to acquire full ownership; but that could just be part of the opening gambit. There may be little to stop IAG pursuing an offer for the Irish flag carrier accepted by the other shareholders that leaves the Irish Government with a 25% minority holding, however uncomfortable that may be on control grounds (but then Aer Lingus has successfully blocked Ryanair's attempts to exercise shareholder control despite its 29% holding). Interestingly, Stephen Kavanagh, appointed as Aer Lingus CEO in February, is close to Willie Walsh, not only being his preferred candidate for leadership of the Irish airline, but also a potential top executive at IAG. The solution will be Irish.
Atlantic Seat Share 2014
| | |
| --- | --- |
| Alliance/Group | Share |
| Star Alliance | 32.1% |
| oneworld | 31.5% |
| SkyTeam | 19.3% |
| Virgin Atlantic | 7.6% |
| Aer Lingus | 1.8% |
| Other (13) | 7.7% |
IAG Passenger Traffic
| | | |
| --- | --- | --- |
| | Passengers (m) | RPK (bn) |
| BA | 39.6 | 138.4 |
| Iberia | 10.6 | 42.7 |
| Vueling | 17.2 | 21.4 |
| | | |
| Aer Lingus | 11.1 | 16.1 |