Airbus: the long road to being normal Jan/Feb 2014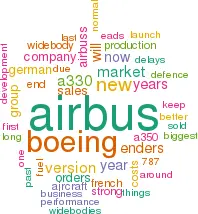 Airbus entered 2014 with a new name, new owners, a new head office and a record backlog. The parent company EADS now calls itself Airbus Group, recognising that a global brand is better than an ugly acronym and that commercial jetliners bring in the large majority of profit and sales. Nearly three quarters (73%) of its shares are now freely floated; of the rest, French and German state investors each have 11%, while a Spanish entity has 4%. Daimler and Lagardère sold their stakes and, although the three governments' combined stake rose slightly, they no longer have any blocking shares and are not supposed to have any say in strategy, as a previous shareholders' pact was dissolved. The new group head office "campus" is being built beside the Airbus division base at Blagnac airport, Toulouse.
The backlog of more than 5,000 orders will keep Airbus busy for over eight years at current and projected production rates. Airbus went into last year forecasting orders of around 700, and was surprised as the rate rose through the year to yield more than double: with 1,503 net orders, it outsold Boeing, which recorded 1,355 orders (see pages 17 and 18). Of course, such yearly score cards are a crude measure and can be misleading: Boeing has at least one huge widebody order pending that should have been sealed in November and given it a big lead. This year Airbus says its aim is to keep its book-to-bill ratio over one as it lands slightly more orders than the 700 or so aircraft it is due to deliver. Both manufacturers expect the market to soften after last year's rush of deals.
So, in its 44th year of existence, what trends will shape Airbus's future? Airbus group Thomas Enders has long been keen to turn Airbus into "a normal company". That was supposed to have started back in 1999 when the EADS structure was created and Airbus ceased to be a marketing consortium. But progress stalled after BAE Systems sold its one-fifth stake, and the French and German partners, with no one left to referee their disputes, began to quarrel over practically everything. Things calmed down in the past five years under the leadership of Frenchman Louis Gallois at the helm of EADS, while the former German paratrooper Tom Enders ran Airbus.
When Enders stepped up in 2012 to run the parent company he tried to seal a merger with BAE Systems to form a civil and military aerospace company that would have been bigger than Boeing. The British company, anxious about shrinking defence budgets in America and Europe and regretting the previous management's decision to sell out of Airbus (a move which drove then-Prime Minister Tony Blair into a rare fit of temper), was keen, but Angela Merkel, the German Chancellor, whose disdain for all things military is strong, vetoed the deal. Another reason was her fear the French and British would lord it over the Germans in the combined group.
The irony now is that Enders is moving headquarters into France and cutting defence jobs heavily in Germany. Some anxious souls in Toulouse, however, now fear that the Germans are taking over at Airbus, albeit on French territory. Fabrice Brégier, the soft-spoken engineer running Airbus, could be relegated to co-pilot by the hard-driving Enders, who looks and acts like central casting's idea of a paratrooper. For the moment things are quiet and Airbus refuses to comment any longer on the German government's refusal to cough up its full share of the launch investment for the A350, Airbus's new white hope in the widebody market.
Enders has as his other goal to bring Airbus Group's financial performance up to that of Boeing, whose gross margin of around 10% is double Airbus's. That will be difficult, with a much weaker defence business, but profits are moving in the right direction, with group earnings before tax, interest and exceptional items up 41% to €2.3 billion in the first nine months of 2013.
Duopoly rules
By its 25th birthday in 1995, Airbus had grabbed a fifth of the commercial jet market from Boeing and driven McDonnell Douglas virtually out of the jetliner business and ultimately into the hands of Boeing. Nowadays duopoly rules apply with the Americans and Europeans roughly sharing the market, with Airbus dominating narrowbody sales and Boeing stronger in widebodies. Airbus's ebullient sales chief, the American John Leahy, likes to point out that since 2008 Airbus has actually sold more twin-aisle planes than Boeing (1,056 vs 1,042) but such point-scoring may be aimed at hiding a weakness of Airbus: the gaps in its twin-aisle product range.
The strong performance in widebodies in the past five years was partly due to strong sales of the A350, the first of which is due to be delivered to Qatar Airways by the end of this year, but Airbus matched Boeing only thanks to airlines unexpectedly turning to that faithful old workhorse of the widebody fleet, the A330, to fill gaps caused by the delays to the 787 Dreamliner.
In contrast to the four-engined A340, which went out of production several years ago, the A330 became a star performer, the best widebody Airbus has ever produced. But sales dipped below 80 last year, and Boeing is now smoothly ramping up production of 787s, so the late flowering of the A330 (launched in 1993) could soon come to an end. At the lower end of twin-aisles (200 to 300 seats) the A330 is up against the smallest version of the 787, with its superior fuel economy thanks to its lightweight composite body. At the larger end of widebodies, Boeing's planned new version of the 777, the 777X (as it is still called) outperforms the biggest version of the A350. So what will Airbus do about this?
The clues lie in what has already happened in the single-aisle market, where Airbus extended its lead over Boeing when it launched an A320neo, with improved engines from CFM International and Pratt & Whitney. Boeing dithered over following suit, because it wanted to stick with the 737NG until it was time to launch an entirely new single-aisle in the mid 2020s. Eventually Boeing bit the bullet and its re-engined 737MAX has proved to be as successful as the A320neo.
As Airbus has a more normal shareholding structure, it is coming under the same pressures as Boeing to deliver financial performance; investors are both companies have reason to be cheerful as their share prices have both at least doubled over the past two years, well outperforming market indices.
Given the painful experiences of delays to Airbus's A380 and to Boeing's 787, there is a reluctance to launch all-new products. Boeing had hoped to reduce risks on the Dreamliner by bringing in risk-sharing partners, but the complicated supply chain of this distributed manufacturing merely multiplied delays and swelled costs.
The success of the re-engined A320 is causing Airbus to consider using the same tactic to prolong the life of the A330. Airbus managers admit only that re-engining the plane is an option. However, in a world where an all-new aircraft costs around $15 billion to develop there is a strong motive to upgrade existing offerings. That is what Boeing is doing with the 777X, which will carry as many as far as the earlier 747s did, with much better economics. Airbus has already an A350-1000 under development and is widely expected to unveil another derivative to rival the biggest Boeing twin-jet. That project will compete internally with an A330 neo to get investment funds.
With new engines (and development costs paid by engine-makers Rolls-Royce, or even General Electric, in return for exclusivity) and a lower list price reflecting its long production run and written-down costs, an A330neo could compete with some of the smaller 787s. Other A330 options for Airbus are a heavier version for more load and range and a de-rated lighter version (smaller fuel load making the difference) aimed at being a shorter-range high-capacity regional aircraft primarily for the Chinese market.
Since Tim Clark, chief executive of Emirates, has been responsible for most of the A380s on order, Airbus has to pay attention when he starts talking about putting new engine technology into the super-jumbo to improve its fuel economy. This demand to keep feeding the latest technology of new planes into older members of the fleet could be changing the dynamics of the aircraft business, bringing the engine-makers more closely into product development.
This was first obvious when GE helped get the best-selling version of the 777, the -300ER into the air, a move now being followed by Rolls-Royce with the biggest version of the A350. "Give us exclusivity and we'll come up with a better engine just for you and radically upgrade your products."