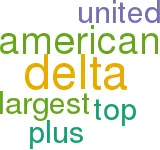 Delta, American, United and Southwest are now four of the top five largest airlines in the world by market capitalisation. Who could have thought it possible? Delta and American each in turn are nearly twice as highly valued as the next largest in the world — Air China (inflated by the differential valuation of `A' and `H' shares). Thirty years ago we could have said the same about the Japanese carriers — but now the recapitalised JAL is merely the twelfth largest carrier and ANA does not quite appear in the top 15.
Even five years ago the joke went that you could buy all six of the top US network carriers for a truck-load of Mars bars. In that time we have seen the long-awaited consolidation in the US come to fruition: all of the majors have gone through Chapter 11 and merged with the obvious partners and the six have become three. The industry has significantly reduced capacity and has exhibited a remarkable constraint marked as "capacity discipline".
In the charts opposite we are comparing like for like, amalgamating the capitalisations of merged airlines eg Delta = Delta plus Northwest, AMR = American plus US Airways, UAL = United plus Continental.
As the articles in Aviation Strategy in the past three issues have emphasised, Delta, United and the new American are all pursuing strategies to provide returns above their repective weighted average cost of capital; and the stock markets have begun to believe that strong consistent returns may finally be achievable.