Hainan Airlines: Rapid expansion plus acquisitions Jan/Feb 2012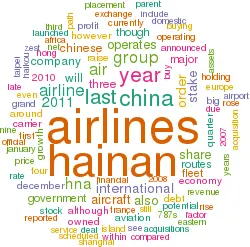 Though still in the shadows of the Big Three (Air China, China Southern and China Eastern), Hainan Airlines is likely to report a substantial net profit for 2011. But can the fourth-largest airline in China by fleet size continue to carve out a profitable niche against its government-supported rivals?
Hainan Airlines was formed in 1993 following a restructuring of the former Hainan Provincial Airlines, at which time it became the first private airline in China. It was renamed as Hainan Airlines in 1997 and launched its first international service in 2001. While the Big Three benefited greatly from the government-mandated consolidation of the Chinese aviation industry through the 2000s (see Aviation Strategy, September 2007), Hainan Airlines steadily expanded its domestic network and gradually built up a series of international routes.
It wasn't an easy process though, and Hainan Airlines recorded an operating loss of US$145m and a net loss of $134m in 2008. However, the airline has been progressing steadily since then, both in terms of operational efficiency and financial results. Hainan Airlines has been managing capacity more effectively over the last few years, and overall load factor has risen from the low 70s as of 2004 to around the 80% mark for the last few years (see chart, page 15).
In 2010 Hainan Airlines posted a 44% rise in revenue to US$2.2bn, even though passengers carried fell 3.5% year-on-year to 11.5m. Operating profit reached $286m in 2010 (compared to exactly $0m in 2009) and net profit rose to $361m (compared with $22m a year earlier). The improved fortunes continued through last year, and in the third quarter of 2011 Hainan Airlines reported $1.3bn of operating revenue (28% up compared with July-September 2010), with operating profit
Island location
Hainan Airlines is based at Haikou in Hainan province, an island off the south coast of China. The Chinese government has designated Hainan as an "International Tourist Island" and as a result in 2010 more than 40 major infrastructure and development projects for the island were approved. These include connection to the Chinese high-speed rail network, while in 2011 Hainan was given an exemption from airport departure taxes in China.
Though, operationally Hainan Airlines is part of the China-based HNA Group, which also has substantial aviation, travel, logistics and finance businesses, and which in 2011 had total assets of more than $33bn and revenue of $15.7bn. For example, the HNA Group also controls Haikou Meilan International Airport.
Hainan Airlines is listed on the Shanghai stock exchange. Among the major shareholders there is a complex series of relationships and cross-holdings. Currently 41.6% of Hainan Airlines is owned by the Grand China Air Holding Company — a holding entity created in 2007 that is owned by the Hainan province government (48.6%), George Soros (18.6%), and the HNA group (32.8%). Other shareholders include Haikou Meilan International Airport (10.5%, and in turn owned by the NHA Group), the Hainan Provincial Development Holding Company (a holding company for the regional government — 7.2%), HNA Group (7.2%), Changjiang Leasing (an indirect subsidiary of the HNA Group, with 6.3%) and American Aviation (which is controlled by George Soros's Quantum Fund, with 2.6%).
Today Hainan Airlines operates scheduled and charter services to more than 90 destinations around the globe, although
International focus
Like the Big Three, Hainan Airlines is facing increasing competition on domestic routes from China's high-speed rail network. It is still expanding domestically — in November it launched routes between Dalian-Nanchang-Sanya and Jinan-Dalian-Haikou, both of which use 737-800s – but it is increasingly turning its attention to international routes.
Outside of China, Hainan Airlines operates to Taipei, Seoul, Phuket and Sydney in the Asia/Pacific region, 10 destinations in Europe and Russia (Istanbul, Berlin, Brussels, Budapest, Zurich, Moscow, St. Petersburg, Novosibirsk, Krasnoyarsk and Irkutsk), plus Seattle and Toronto in North America and Luanda in Africa via Dubai. A route to Istanbul was started in July last year and to the Maldives in November, while a non-stop A330 service between Beijing and Zurich started in May last year. A route between Lanzhou on the Chinese mainland and Taipei in Taiwan was launched in January this year, although initially the flights will only run until March.
Hainan Airlines currently codeshares with 10 carriers, including Etihad Airways, Korean Air and EVA Air, and in December 2011 the carrier announced a codesharing and FFP deal with American Airlines.
Hainan Airlines operates an 89-strong fleet (see table, page 16), comprising 13 Airbus models and 75 Boeing aircraft, of which the vast majority are narrowbodies (72 737s). The rest of the fleet comprises three 767s, 10 A330s and three A340s. However, Hainan Airlines has 43 aircraft on order, including 15 A320 family models, nine 737-800s, 10 787s and nine Embraer 190-100LRs. Although rival China Eastern cancelled its order for 24 787s last year because of the delay to deliveries, Hainan Airlines says it is committed to its order for the model. The first of the 787s is scheduled to arrive in September this year, with deliveries being completed in 2014, and those 787s will signal an increased push on international services.
Acquisition speculation
As well as organic growth, Hainan Airlines is also considering acquisition as a path to secure greater revenue from international markets. The airline is helped by the deep pockets of its parent company — the HNA Group — which has been on a buying spree recently as it targets 40% of its total assets being based outside China within the next three or four years. Among its acquisitions in 2011 were GE's container leasing company SeaCo (for $1bn), but it is now believed to be specifically on the look-out for opportunities in Europe, though in December last year it pulled out of a deal to buy a 20% stake in Spanish hotel group NH Hoteles (which owns 400 hotels in Europe, Latin America and Africa) for $430m due to "volatility and uncertainty in global financial markets".
Last year HNA Group bought a 49% stake in ACT Airlines, a Turkish cargo carrier that operates a fleet of four A200-B4s. The Istanbul-based airline will be rebranded as MyCargo Airlines B4s and now plans to increase its fleet to 10-15 aircraft within the next two years.
Hard facts, however, on potential acquisitions for Hainan Airlines are much harder to ascertain. While HNA Group would like to establish a major transportation hub in Europe, rumours have swirled about deals in Germany and France. Last year Hainan Airlines was believed to be one of the potential investors that held talks with Air Berlin, with some unconfirmed reports indicating that Hainan was the preferred option for the German airline, due the perceived deeper pockets thanks to the financial strength of parent HNA Group.
And in December reports circulated in France that Hainan Airlines was negotiating to buy a stake of between 40% and 49% in French airline Aigle Azur. Aigle Azur operates 12 A320-family aircraft between France and Portugal and north Africa and is owned by entrepreneur Arezki Idjeroudiene. The deal apparently would lead to flights between France and China, it was reported, although yet again nothing further has been announced. Similarly, a potential investment in Hungary's flag carrier, Malev, by HNA Group also came to nothing.
In 2011 Hainan Airlines was also linked to the acquisition of a minority stake in Manila-based Zest Air. Zest operates 13 A320-family aircraft and four Chinese-built Xian Aircraft MA60s on domestic routes and to Busan, Seoul, Incheon and Taipei. Zest was previously known as Asian Spirit before Filipino-Chinese businessman Alfredo Yao bought the airline in 2008.
Closer to home, in December 2011 Hainan Airlines announced it was buying a 19% stake in sister carrier Hong Kong Airlines for US$133m. Hong Kong Airlines operates nine A330-200s, an A320 and five 737s mostly on regional routes within the Asia/Pacific region, although it plans to launch a service to London in March and has more than 70 aircraft on order, of which eight will be delivered this year, and is controlled by Hainan's parent company, the HNA Group. Hong Kong Airlines had wanted to IPO early this year in order to raise at least $300m but in January made a decision to postpone the process until the third quarter of 2012 due to turbulent economic conditions. The carrier needs to raise funds in order to finance a significant expansion of its fleet, as in January it announced an order for 10 A380s, with the first aircraft scheduled to be delivered in 2015.
Other potential rumoured investments for Hainan Airlines include a 40% stake in Yunnan Lucky Air for $130m and a 22% stake in Tianjin Air for $107m (in which it already owns a 0.8% stake). Last summer Hainan Airlines was also reported as wanting to buy the 32% of China Xinhua Airlines it doesn't currently control from Grand China Air for $160m. But what is confirmed is that Hainan Airlines is buying the 13% of Chang An Airlines it doesn't own for $45m, thereby making it a wholly owned subsidiary.
Problems ahead
But despite improved results and the continued expansion, Hainan Airlines does face some major challenges. Debt has been rising at Hainan Airlines (it had a debt to asset ratio of 81% around this time last year), which the company said was having "an adverse effect" on its operations, and unlike Air China, China Eastern and China Southern, the independent Hainan Airlines can't raise funds from the central government. Late last year the airline issued $150bn worth of three-year bonds with a yield of 6%, while it is currently also selling several real estate assets and projects to Grand China Air, its controlling shareholder, for US$678m in order to bolster its cash reserves.
Last summer the airline also filed a plan with the Shanghai stock exchange to raise Yuan 8bn (around US$1.2bn) in a private share placement, with at least $900m of the proceeds used to reduce bank loans and the rest going to replenish working capital. The share issuance would have diluted the shareholding of Grand China Air to around 34% and reduced the debt to asset ratio of to 72% post the share issue. However, in late January this year the airline said in a new regulatory filing that this placement would only go ahead at a share price level 35% less than originally planned, and as a result in order to raise the same $1.2bn that it needs it would be increasing the number of shares placed from 1.24bn to 1.91bn.
The news hit the airline's shares hard, but even before this announcement concern about the airline's debt was a major factor behind the recent poor performance of the share price. Since listing on the Shanghai stock exchange Hainan's share price has varied considerably (see chart, above). After hitting a peak in late 2007 the stock collapsed in 2008 before mounting a steady recovery through 2009 and 2010. However, for the last 12 months the trend has been firmly downwards, and the share price so far this year showed no signs of reversing that path – even before the shock news of the revised share placement terms.
And while Hainan Airlines is seen as being more commercially driven than the Big Three, it still operates within the political constraints of the People's Republic. The airline's annual report has profiles of the key management team, with four of them listed as "communist party members"
Another major problem facing Hainan Airlines over the coming year is just how much underlying passenger demand will hold up as the so-called "soft landing" in China's economy occurs. Growth in the Chinese economy has been slowing for the past 12 months, and official Chinese government figures claim that GDP rose by "just" 8.9% in the fourth quarter of 2011, less than the 9.1% growth rate of the third quarter and 9.5% of Q2 and 9.7% of Q1. Even though many economists consider official Chinese government statistics on its economy to be questionable — with real GDP being lower than the official figure — the fourth quarter rate was the lowest quarterly growth rate figure released by the government's statistics department in the last 10 quarters, and the cooling down trend in the economy is pretty clear.
When and how this relative economic slowdown will filter through into aviation traffic is unclear. In December 2011 (the last month for which data is available), passengers carried rose 29% to 1.8m, with an ASK increase of 23.4% lower than a 27% rise in RPKs and resulting in a 2.4 percentage rise in load factor to 83.2%. For the moment it appears a cooling economy hasn't affected Hainan Airlines' traffic, and the airline will continue on a growth path for the foreseeable future – subject to getting its debt level under control.